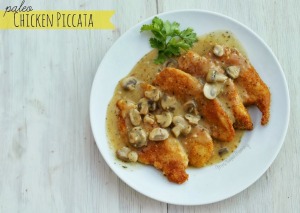 I'm sure you have all experienced "that awkward moment when…" you finish washing all of the dishes, and then you turn around and see the pots and pans piled up on the stove. It has happened to me on many occasions. This recipe should help you out with that. One skillet, one meal. And if I may say so myself, it is DELISH.

Chicken Piccata
Ingredients:
1 lb chicken, thinly sliced
1 C pork rinds, finely crushed*
2 eggs, whisked
2 TB olive oil
3 TB butter or Ghee
1 C mushrooms, sliced
2 cloves garlic, minced
1/2 TB tapioca flour
1 1/2 C chicken broth, divided
2 TB orange juice
2 TB parsley
salt and pepper
* I like to use my food processor to crush my pork rinds. just pulse a few times until it resembles a meal.
Directions:
Season chicken with salt and pepper.
Dip chicken in eggs, then coat in pork rinds.
In a large skillet, heat oil to medium-high.
Cook chicken 3 minutes per side. Remove from skillet, and keep warm.*
Add butter to skillet, followed by the mushrooms, and garlic. Cook until nicely browned, about 4 minutes.
Add 1 C chicken broth, and 2 TB orange juice, scraping the bottom of the pan to mix in all the flavor.
Bring to a boil.
In a separate dish, combine 1/2 C chicken broth with 1/2 TB tapioca flour.
Slowly whisk tapioca mixture into the pan.
Season with parsley, salt and pepper.
Pour sauce over chicken, and serve immediately.
*I kept my chicken warm on a foil lined and covered baking sheet in the oven on 250.