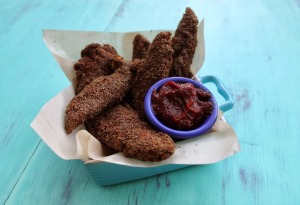 If you haven't noticed yet, my family eats a lot of chicken. There are several reasons for this, such as organic chicken is cheaper and easier to find than most other meats….but the main reason being that i just love chicken. I have always loved chicken, as a matter of fact. When I was a little girl, no matter what restaurant we went to, I always ordered chicken fingers. Ihop? Chicken fingers. Longhorns? Chicken fingers. Chinese? Cat fingers. Wait, what?
There was a short period of my childhood that I proclaimed to be a vegetarian. I just love animals so much, and it broke my little heart to eat them. But even then….I still ate chicken fingers. 🙂
This is my all time favorite chicken finger recipe. It is super easy, super tasty, and super healthy!
Flax Chicken Fingers
1 lb chicken tenders

1 C flax meal

1 TB tapioca flour

1 egg

seasoned salt, to taste

coconut or olive oil, for frying
In large skillet, heat about 1/2 to 1 C of oil to med-high.
In a shallow dish, whisk 1 egg.
In another shallow dish, combine flax meal, tapioca starch, and seasoning.
Dip chicken in egg, then into flour mixture.
Place chicken in oil, and cook for 3 minutes per side. (in batches of 3 or 4) dry on paper towels.
*the flax does get dark in color, but it is not burnt. Just perfectly crispy 😉
Homemade Honey Mustard
1/4 C homemade mayo

2 TB prepared mustard

2 TB honey