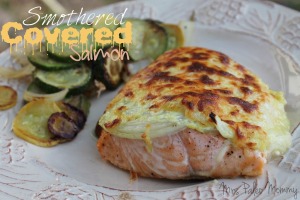 Cowboy loves fish. He would eat fish every day if i were willing to cook it. I am not quite as in love with it as he is, so I probably cook it once a week. My favorite fish is salmon. If I had to pick one kind of fish to eat every day for the rest of my life, salmon would be my choice. And this is most definitely my favorite salmon recipe. Because, in my opinion, cheese makes everything better.

Smothered Covered Salmon
Ingredients
3 salmon fillets
s&p, to taste
1/3 C homemade mayo
1 TB mustard
1 clove garlic, minced
1/2 large onion*, sliced
1/2 C Parmesan cheese (divided)
1/4 C mozzarella cheese
*Vidalia onions are the best for this recipe. When choosing your onion, flatter is sweeter.
Directions
Preheat oven to 400
Add salmon fillets to a baking sheet lined with foil, season with s&p
Arrange onion slices over the fillets, in a single layer
In a small dish, combine mayo, mustard, garlic, and 1/4 C parm cheese
Spread evenly over the onions
Bake for 15 minutes
Add remaining cheese, and broil on low about 3 minutes, until cheese is nicely browned.
The onions will become beautifully caramelized and the cheese forms a delicious crust. I have no doubt this will become a favorite for your family as it is for mine. My baby girl devours this every time.
-Yes, I understand that cheese is in no way considered Paleo. I believe that Paleo is a guideline that can be modified for each person. Every person is different, and so is their body. I have personally chosen to include dairy in my diet. I drink raw milk from a local farm. I make my own raw yogurt. I find the probiotics to be very beneficial to my healing. After I was diagnoses with Crohn's Disease, I also became lactose intolerant. After doing some research, I discovered that the reason I can not handle pasteurized, homogenized milk is because the process removes beneficial enzymes that help us digest the milk. So I switched to raw milk, and my problems were solved. If you are lactose intolerant, I recommend giving raw milk a try. Cheese is usually made from milk that has been pasteurized, so some people may not be able to tolerate it. I do find it helpful to drink a glass of raw milk whenever I do eat cheese, because the enzymes in the milk also help to digest the cheese. 😉
If you will notice, I have created a separate page for my "Imperfect Paleo" recipes. Any recipe that includes an ingredient that is not considered to be Paleo will be listed on this page. If you ever have any questions about any of my recipes, please feel free to comment, or email. I am here to help.