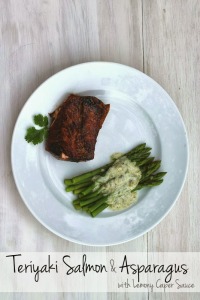 I always appreciate it when my husband comes grocery shopping with me. Its just no fun without him. I love to watch him with my daughter, playing with the twist ties, and waving at the "kitties" in the lobster tank. I was extra thankful he came with me on this week's shopping trip, because he stopped at the fish counter and asked me to make him my Teriyaki Salmon. It is seriously a huge accomplishment when my (non-paleo) husband requests one of my (paleo) recipes.
I also picked up some asparagus, which is one of my favorite veggies. I think it pairs nicely with fish. This Lemony Caper Sauce makes it extra tasty!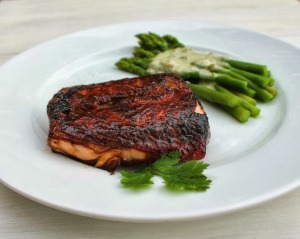 Teriyaki Salmon
Ingredients:
2 salmon fillets
2 TB coconut aminos
2 TB honey
garlic powder
salt & pepper
2 TB olive oil
Directions:
Season fillets with salt and pepper, and just a dash of garlic powder.
Rub fillets with coconut aminos, and honey. Refrigerate for 30 minutes.
Heat oil in lg pan on medium-high. Add fillets.
Cook about 3 minutes (depending on the thickness of your fillet), and flip. (You can see the flesh turn from a vibrant, bright pink, to a dull pinkish-white. Once it has cooked half way up, flip.) Reduce heat to medium-low, and cook about 6 more minutes, until cooked all the way through.
Roasted Asparagus
Ingredients:
1 bundle of asparagus
1 TB olive or coconut oil
salt and pepper
Directions:
Preheat oven to 500
Cut 1-2 inches from the bottom of asparagus spears.
Arrange in a single layer on a foil lined baking sheet.
Drizzle with oil and season with salt and pepper
Cook for 10 minutes, tossing half way through.
Lemony Caper Sauce
Ingredients:
2 TB butter, or coconut oil, softened
1 TB capers
1TB homemade yogurt, or sour cream (sub coconut cream for dairy-free)
1 tsp lemon juice
1 tsp chives
Directions:
Combine all ingredients in a food processor and blend until smooth. Serve over cooked asparagus.