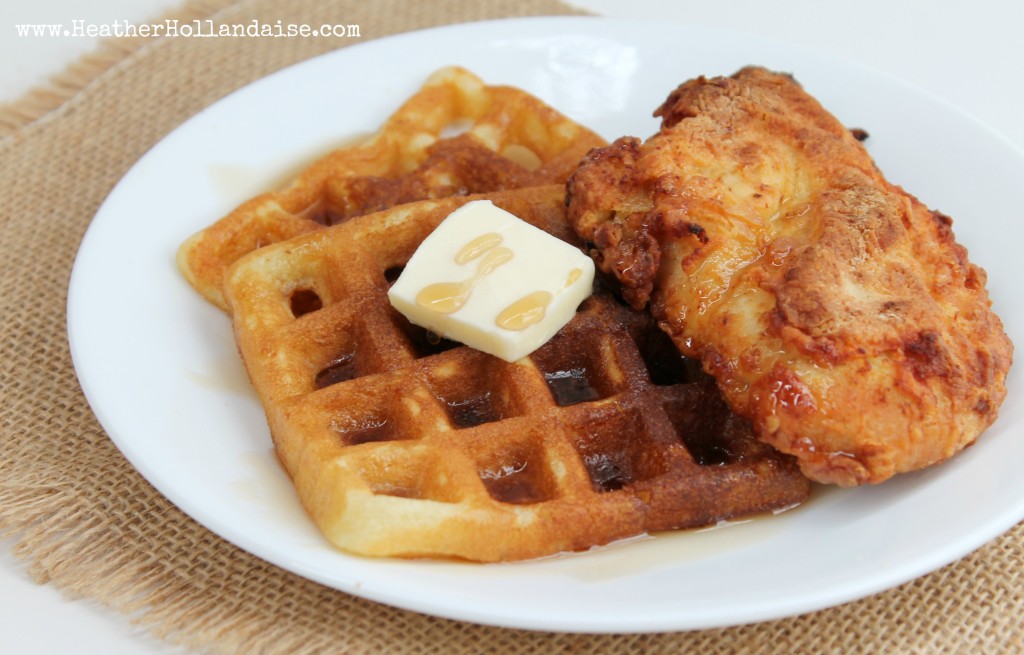 For the majority of my life, breakfast has always been some deadly combination of grains and sugar. Cereal, Poptarts, Pancakes, Waffles… I have never really been a bacon and eggs kind of gal. Don't get me wrong, I love bacon, and I love eggs. Unfortunately, habits are hard to break. I am still gradually trying to shift away from sweets in the morning. This recipe is a great combination of sweet and savory. My ultimate breakfast sandwich. Chicken and Waffles! And thank goodness, these waffles are grain and sugar free!

Chicken and Waffles
yeild: 3 sandwiches
Chicken:
Ingredients
3 chicken breasts
1 C almond flour
1/2 C tapioca flour
2 eggs, whisked
1/4 tsp garlic powder
1/4 tsp paprika
salt and pepper
coconut or olive oil for frying
Directions
Combine almond and tapioca flours, garlic powder, paprika, salt and pepper.
Coat chicken in flour mixture.
Transfer chicken to eggs, and back to flour.
Heat oil over medium high.
Add chicken, and cook about 3 minutes each side until golden-brown.
Transfer to paper towel to cool.
Waffles:
Ingredients
2 eggs
2 TB honey
1 1/2 C almond flour
1/4 Tapioca flour
1/2 tsp vanilla
1/2 tsp baking soda
1/2 C coconut milk
1 TB coconut oil, melted
Dash of salt
Directions
Combine all ingredients in a mixing bowl until you reach batter consistency
Pour about 2 large spoonfuls into heated waffle maker, and close. ( The batter will expand a little, so be careful not to overfill.)
Waffles are done when the waffle maker stops steaming.
Just sandwich your chicken between two waffles, top with some maple syrup, and enjoy!
Waffles may be frozen. Just pop into the toaster when you are ready for breakfast!