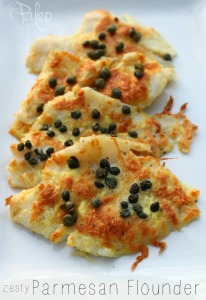 I love experimenting with fresh ingredients. It is so refreshing to come back to my kitchen after a weekend of eating away from home. I just open the fridge, grab whatever I think will taste good together, and start playing. Sometimes I wish I could compete on an episode of Chopped, just so I could have the opportunity to play around with all of those fancy fresh ingredients.

The organizer in me likes to put my groceries in the fridge according to what needs to be eaten first. This flounder was sitting on top, so I got that out along with some lemon, mustard, capers, and parmesan cheese. Personally, I love vinegar with fish. I think it elevates the flavor perfectly. The capers provided a wonderful little burst of vinegar in this dish.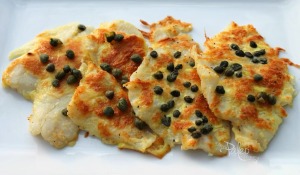 Zesty Parmesan Flounder
Ingredients:
4 fillets of flounder
1 egg
1 C parm cheese
1 tsp lemon
1 tsp mustard
2 TB capers
dash garlic powder
salt and pepper
Directions:
Heat oven to a low broil
In shallow dish, combine egg, lemon, and mustard
In another dish, combine parmesan cheese, garlic powder, salt and pepper
Coat fish in egg mixture, and then in cheese mixture
Arrange in a baking dish, and broil on low for 5 minutes.
Turn broil up to high and continue to cook for 3-5 minutes, careful not to burn.