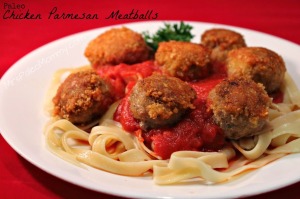 I can never resist the urge to take an everyday classic and turn it into something new and fun. Its what I do! In this case, I decided to twist two popular meals into one!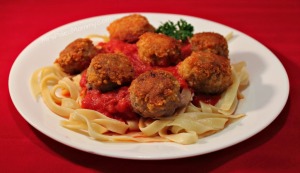 Chicken Parmesan Meatballs
Ingredients:
1 lb ground chicken
1 tsp italian seasoning
1 dash garlic powder
1 egg, whisked
1 C crushed pork rinds
1 C parmesan cheese
salt and pepper
4 TB olive oil, coconut oil, or lard
Directions:
Preheat oven to 400
Season chicken with italian seasoning and garlic powder, salt and pepper to taste
Roll into 16 golf-ball sized meatballs.
In food processor, combine pork rinds and parmesan cheese, just until blended, and transfer to a bowl
Roll each meatball in parmesan mixture, then in egg, then again in parmesan mixture.
Heat oil to medium-high
Brown meatballs, 8 at a time, for 3 minutes on each side.
Transfer to foil lined baking sheet, and finish in the oven for 5 minutes.
Serve with my Homemade Tomato Sauce over spaghetti squash, zucchini noodles, or Paleo Cupboard's Paleo Pasta.