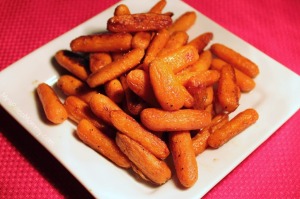 I am pretty infatuated with ginger. I love it in my tea (hot or cold), in my cookies, and especially in my carrots. The way these carrots are cooked, the tiny shreds of ginger get nice and crispy, and I absolutely love them!

Pan Roasted Ginger Carrots
Ingredients:
4 C baby carrots
4 TB olive oil
Fresh ginger
Salt and pepper
Directions:
In a large skillet, heat oil to medium. Add carrots to pan.
Peel the ginger, then using the shredding side of your vegetable peeler, shred about 2-4 TB into the pan.
Season with salt and pepper.
Cook for 25 minutes, tossing occasionally so that all sides are nicely browned.