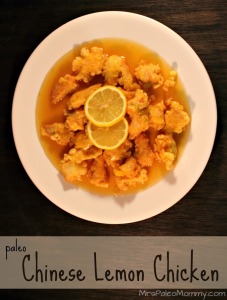 For those of you who missed the announcement, I'm expecting baby number two! Which means I have been having lots of cravings. It also means my husband has been having lots of cravings. Just as he did throughout my first pregnancy, he is going through sympathy pains, morning sickness, and intense food cravings. Where I have been craving BBQ, he has been partial to Chinese food. Since my hubby is trying to convert to Paleo, I wanted to come up with a version of my own that we could enjoy at home.
I am extremely pleased with what I came up with. Similar to sweet and sour chicken, the sauce would be better served on the side, to prevent the chicken from losing its crispiness. For the sake of photography, I poured the sauce over top.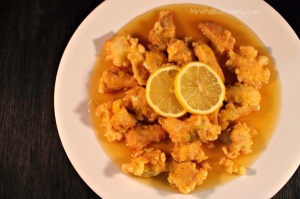 Chinese Lemon Chicken
Ingredients:
Chicken:
1 lb chicken breasts, cut into bite sized chunks
1/2 C tapioca flour
3 TB water
4 egg yolks, whisked
salt and pepper
olive oil for frying
Sauce:
1/2 C lemon juice
2 tsp chicken broth
2TB tapioca flour
4 TB honey
1 tsp grated ginger
1 3/4 C water
Directions:
Sauce:
In a medium sauce pan, combine all sauce ingredients except for the tapioca flour and chicken broth.
Bring to a simmer.
In a separate dish, mix the tapioca and chicken broth together. Slowly stir into the saucepan.
Bring mixture to a boil, and then remove from heat.
Chicken:
In a medium mixing bowl, combine tapioca starch with water.
Then observe the awesomeness of your liquid/solid. Go ahead. Swirl it around in the bowl. liquid. Now touch it. Solid. Mind blown?
When your done playing with your food, season it with salt and pepper, then mix in the eggs.
Toss chicken in mixture to coat.
Heat oil in a skillet to medium-high, and fry chicken about 6 minutes, turning half way through.
Dry on paper towels.