Creamed Spinach is one of my favorite side dishes. I make it for myself quite frequently. However, I have a hard time getting my husband to eat it. So I decided to stuff it inside some chicken breasts and see what happened. Problem Solved! He ate every last bite. And I loved it even more inside my chicken than I do all by itself.
Creamed Spinach Stuffed Chicken
Ingredients:
2 chicken breasts, butterflied and pounded thin
4 cups raw spinach
1 TB olive or coconut oil
1 TB minced onions
1/4 C raw dairy cream (coconut cream for dairy-free)
1/4 C parmesan cheese
1 TB grated parmesan cheese
salt and pepper
Directions:
In a large skillet, heat your oil to medium.
Add minced onions and spinach, toss until wilted.
Add cream, raise heat to medium-high, and bring to a boil, stirring.
Add parmesan cheese and stir until thickened.
Remove from heat and set aside.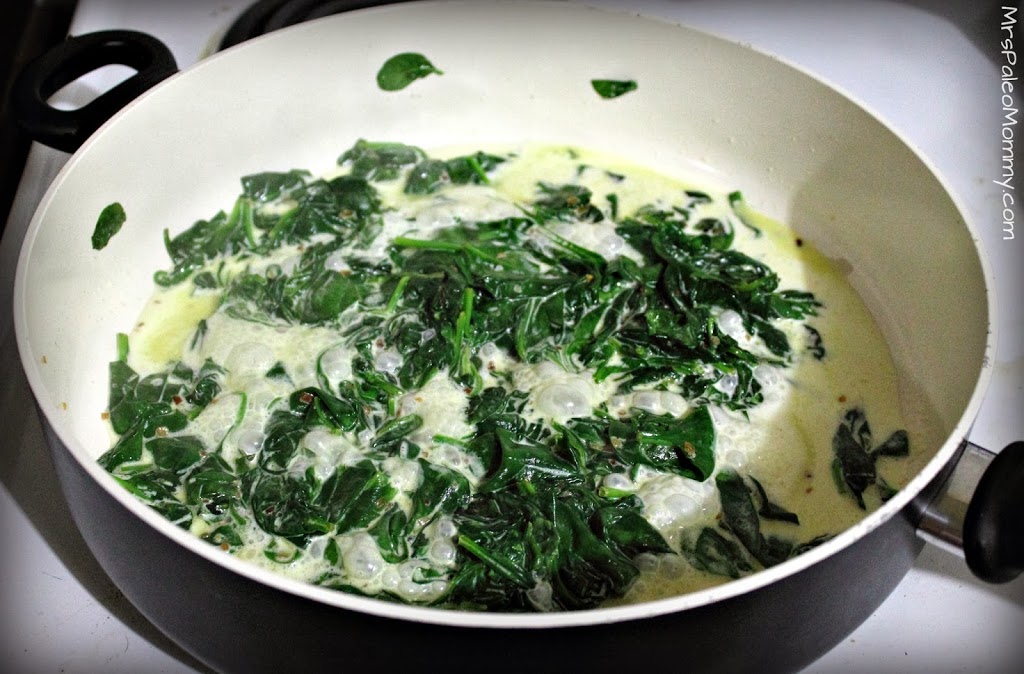 Once your chicken breasts have been butterflied, and pounded thin, place them in a glass baking dish.
Season lightly with salt and pepper.
Spoon half of your creamed spinach onto each chicken breast.
Roll and secure with toothpicks.
(This part is messy, but just stuff the spinach back in. The sauce will spill out, this is good.)
Add a little more pepper on top, and bake at 450 for 30 minutes.
If desired, add 1 TB grated parmesan cheese on top and broil just a few seconds until browned.
The left over gravy in the bottom of the pan is EXCELLENT on top of my Parsnip Puree.