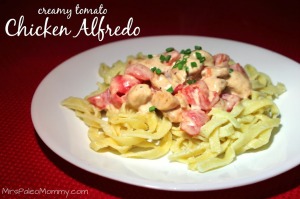 After a decent break from blogging, I am happy to announce, Mrs Paleo Mommy is back! To be honest, you probably still wont see quite as much of me over the next 7 months or so. Morning Sickness has kicked my butt this entire first trimester. And if this pregnancy is anything like my first, I can say so long for a couple of months, but it will be back with a vengeance!

Aside from dealing with maternity issues, things have just been pretty busy around here over the holidays. Our family only buys gifts for the little ones, however, I like to make homemade goodies for the adults. That means lots of crafting going on in the Holland home. I am pretty pleased with the gifts I gave out this year. I will share with you all some more about that in another post. Now, lets talk food!
Now that my appetite has finally returned, I have gotten back into the mood for experimenting. Of course, I had to start with some pasta. Not only because it is my favorite….but because my parents got me an awesome pasta machine for Christmas! They know me so well. 😉 This recipe got two thumbs up from my Cowboy. Literally, he took one bite, and with his cheeks stuffed, exclaiming "mmm!" he waved his thumbs at me. So without further ado….
Creamy Tomato Chicken Alfredo
Ingredients:
1/2 lb chicken breasts, diced into bite sized pieces
2 C raw dairy cream (or coconut cream for dairy-free)
1 can diced tomatoes, drained
1 C parmesan cheese (omit for dairy-free)
1/4 C diced onions
2 TB butter (or coconut oil for dairy-free)
Dash each of black pepper, celery salt, basil, ground oregano
serve over spaghetti squash, zucchini noodles, or Paleo Pasta, prepared
Directions:
Melt butter or oil in a large skillet over medium-high.
Add onions and chicken and cook until no longer pink.
Add seasoning and stir.
Add tomatoes and stir.
Add cream, and bring to a light boil, stirring continuously.
Add cheese and stir until thickened.
Serve immediately over pasta of choice.
(choose the paleo pasta.)