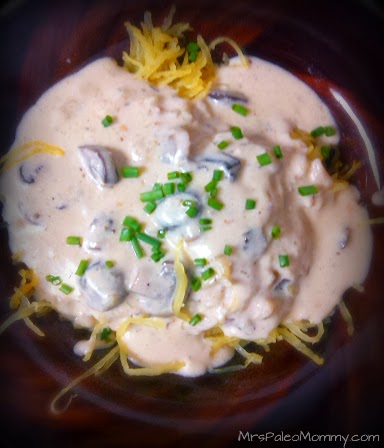 On a day like yesterday, when I had to take a little trip to the ER, and not return until after 8pm, I was VERY thankful to have thrown together this delicious meal in the crock pot at lunch time.

Don't worry, I'm fine. It just turns out that I had some deficiencies, which were making me feel like I could just fall over any second. This baby is sucking up all of my good stuff!
So after a long day spent in the hospital, it was super satisfying to come home to a meal already cooked and waiting for me. And boy was it good! Obviously, I was not in the mood to get out all my fancy photo props and whatnot, so I do apologize for the boring and not so pretty picture.
Crock Pot Mushroom Stroganoff
Ingredients:
1 Spaghetti Squash
1 package mushrooms, sliced
1 can of full fat coconut milk (or if you tolerate raw dairy, 1 C cream and 1/2 C milk)
4 TB butter
Salt and Pepper
Chives to garnish
Directions:
Add mushrooms, milk, and butter to crock pot.
Pierce squash all over with a fork and place in crock pot.
Cook on low 8 hrs or high 6 hrs
Carefully remove spaghetti squash and cut in half. Remove seeds and pulp. (it should separate effortlessly from the meat of the squash
Scrape the "noodles" out into your serving dishes
Season sauce with salt and pepper to taste and spoon over spaghetti squash. top with fresh chives.
For a meat-lover, just brown up a lb of ground beef in a skillet, and add it to the sauce!