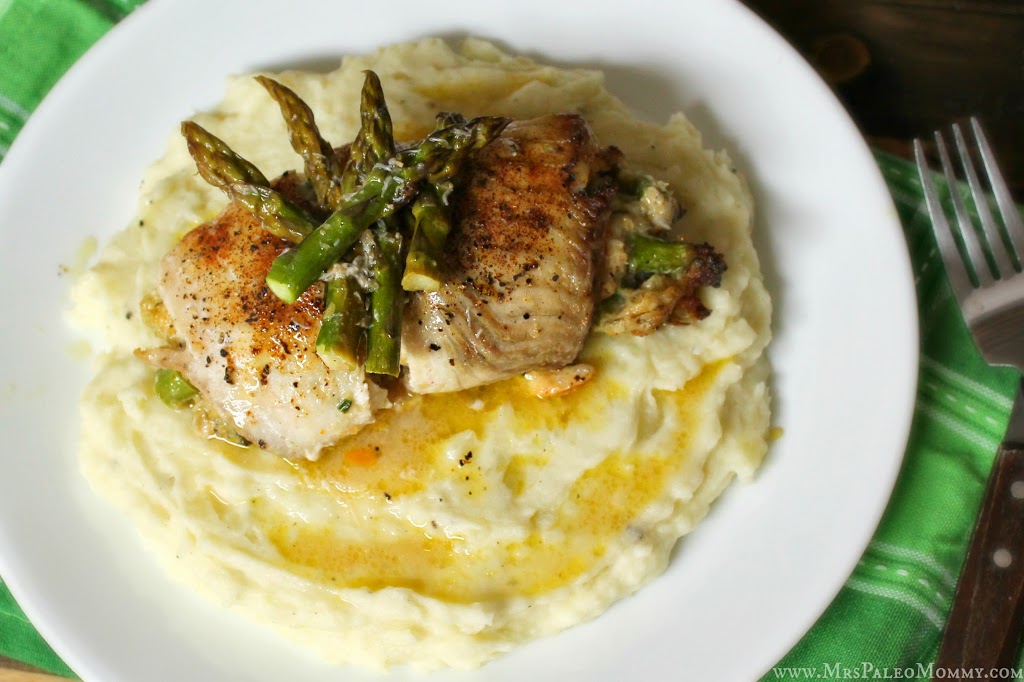 This fish was so yummy! My husband and daughter both scarfed it down. I especially loved the filling. I actually made some extra filling and saved it to eat for lunch. Looking forward to that.

Crab and Asparagus Stuffed Tilapia
Serves 4
Ingredients:
2 lg tilapia fillets, cut in half, lengthwise
4 TB olive oil, divided
3 mini peppers, chopped
2 TB onions, chopped
1 clove of garlic, minced
1 bunch of asparagus
1 C pork rinds, crushed
1 TB basil, chopped
1 TB parsley, chopped
1 1/2 tsp salt
1 tsp black pepper
1 tsp paprika, divided
1/2 C paleo mayo
1/2 C crab meat
1/4 C lemon juice
1/2 C chicken broth
2-3 tsp tapioca flour, to taste (optional)
Directions:
Heat 2 TB oil in a medium skillet over medium heat.
Add peppers, onion, and garlic and sauté about 5 minutes.
Trim the ends from your asparagus, (about an inch from the bottom) and discard.
Dice remaining asparagus, reserving the tips, and add to pan. Cook for an additional 3-4 minutes, and remove from heat.
In a small mixing bowl, combine pork rinds, basil, parsley, 1 tsp salt, 1/2 tsp pepper, 1/2 tsp paprika, and mayo. Fold in crab meat and asparagus mixture. set aside.
Preheat oven to 400.
In a glass baking dish, add lemon juice, chicken broth, and 2 TB oil.
Divide stuffing into 4 portions, and spoon into the center of each fillet.
Roll, and place in baking dish, seam down.
Sprinkle each fillet with remaining salt and pepper, and paprika.
Arrange asparagus tips around fish in cooking liquid.
Bake for 30 minutes.
Serve fish topped with asparagus
Cooking liquid may be thickened with tapioca flour, if desired. Mix together equal amounts of tapioca and water, then slowly add to liquid, stirring continuously. Serve over fish with my Parsnip Puree.
You can even substitute chicken breasts for the tilapia. Just pound it thin, about 1/4 of an inch, before stuffing.