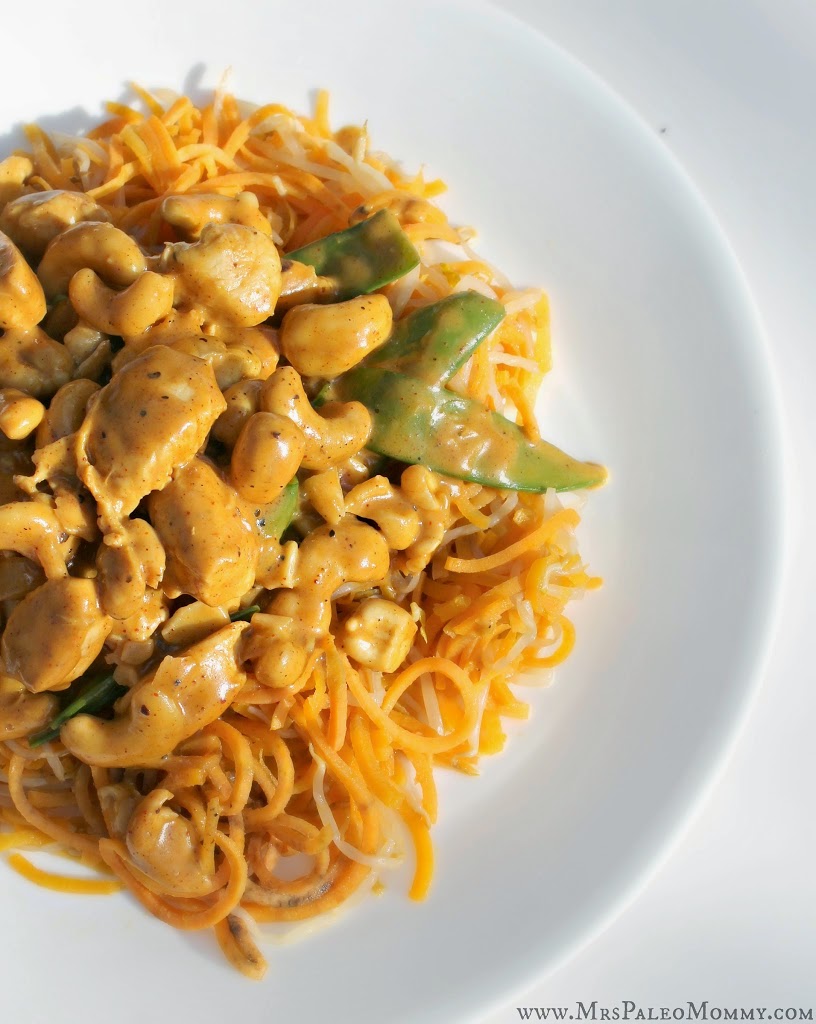 Curry Cashew Chicken
Serves 4
Ingredients:
1 lb chicken, diced
1 C snow peas
1/4 C onions, chopped
2 TB coconut oil
1/2 C chicken broth
1 C full fat coconut milk
1/2 C cashew cream
1/2 C cashews
1 TB curry powder
1/2 tsp chili powder
1/4 tsp ground ginger
1/8 tsp cayenne pepper (optional: for en extra kick!)
Salt and Pepper to taste
Directions:
In a large skillet, heat oil over medium heat
Add chicken to pan and cook until no longer pink, about 3 minutes.
Season with curry powder, chili powder, ginger, and cayenne pepper.
Add onions and snow peas to pan and cook another 2 minutes, until onions are tender.
Stir in chicken broth, coconut milk, cashew cream, and cashews.
Season with salt and pepper to taste and serve.
Sweet Potato Noodles with (optional) Bean Sprouts
Ingredients:
2 TB coconut oil
2 small or 1 large sweet potato, peeled and cut into noodles with a spiral slicer
1/4 C chicken broth
1 can of bean sprouts, drained (optional)
Directions:
In a large pot or skillet, heat oil over medium.
Add sweet potatoes and bean sprouts and toss.
Reduce heat to medium-low.
Add chicken broth, cover and cook for 6 minutes.