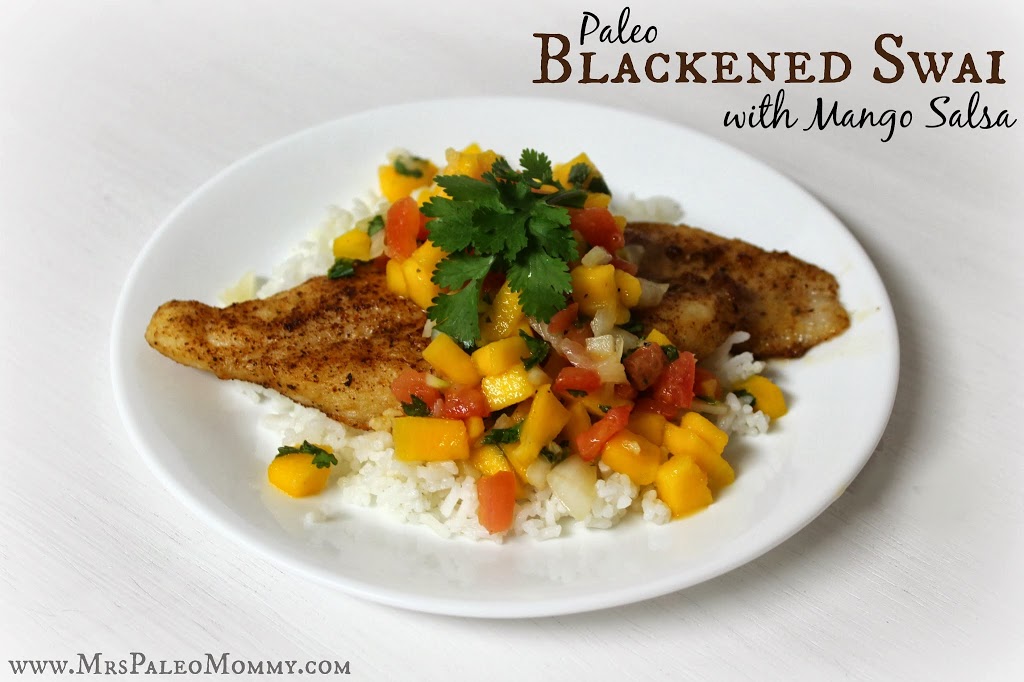 I made this dish for my family two times last week, and I kid you not, both times my husband exclaimed "This is a really good meal!"

I was actually very surprised, because usually he refers to this kind of meal as "frou frou food." But he ate every last bite. I even overheard him talking to his Pa on the phone, telling him "this mango stuff is freakin good!"
So there you have it. Paleo Blackened Swai with Mango Salsa. Cowboy approved.

Blackened Seasoning
Ingredients:
1 TB salt
1 TB paprika
1 TB cayenne pepper
1 TB chili powder
1 TB onion powder
1 TB garlic powder
1 tsp black pepper
1 tsp thyme
1 tsp oregano
1 tsp coconut sugar
1/2 tsp nutmeg
Keep this mixture of spices handy for fish, chicken, or whatever your heart desires to "blacken".
Blackened Swai
Ingredients:
4 Swai Fillets
2 TB coconut oil
Blackened Seasoning
Directions:
Heat oil in a large skillet over medium heat.
Season fish as desired with blackened seasoning
Add fish to pan and cook about 5-7 minutes each side, depending on thickness, until fish is no longer translucent in the center.
Serve over white rice, or riced cauliflower, and top with Mango Salsa.
Mango Salsa
Ingredients:
1 mango, peeled and diced
1/2 red onion, diced
1/4 red or orange bell pepper, seeded and diced
1/4 C cilantro, chopped
Juice of one lime
Directions:
Combine all ingredients in a mixing bowl. Chill until ready to serve.