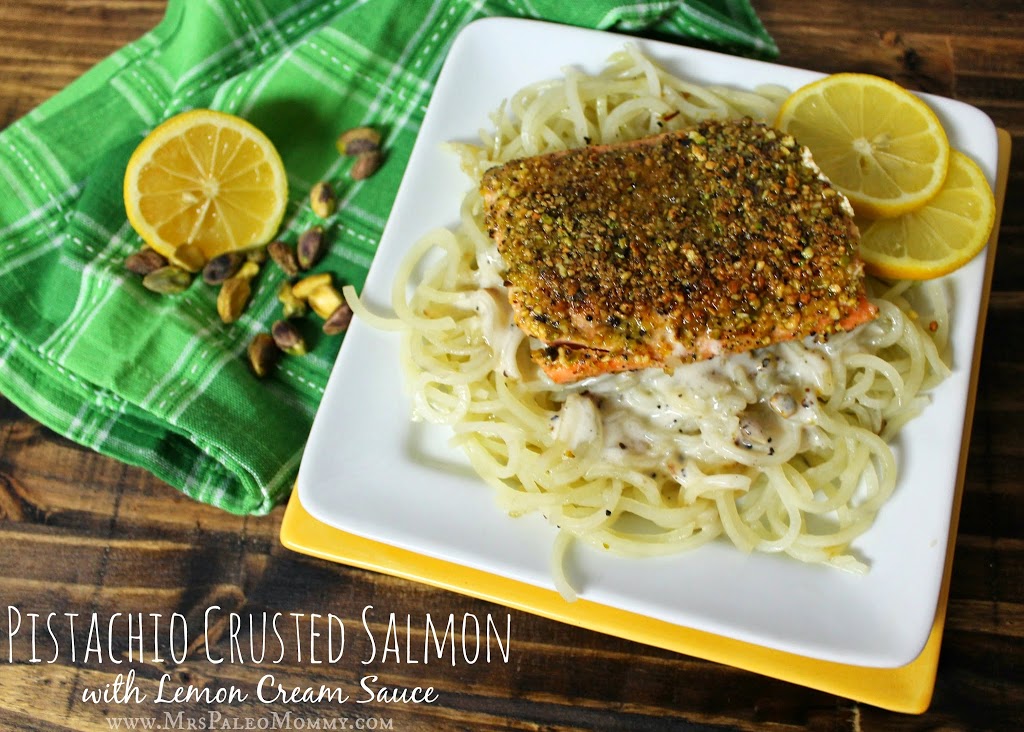 This recipe was so simple, yet it delivered an incredible amount of depth and flavor. The pistachios made a beautiful crust that didn't fall off in the pan, and the lemon cream sauce was spectacular! I can imagine many other uses for it. A side of asparagus would go perfectly with this dish. And if you don't own a spiral slicer (which you should!), you can substitute Paleo Cupboard's Paleo Pasta for the potato noodles!

Pistachio Crusted Salmon
makes 4 servings
Ingredients:
4 salmon fillets (individual size)
1/2 C pistachios
1/2 tsp salt
1/2 tsp black pepper
2 TB olive or coconut oil
1 garlic clove, minced
Directions:
Add pistachios, salt and pepper to a food processor. Pulse until crushed into a meal.
Dredge Salmon in pistachio mixture, coating evenly.
Heat oil in a large skillet over medium high and add garlic.
Add salmon to pan and cook 3 minutes.
Reduce heat to medium, turn and cook salmon 3 minutes more.
Serve with Lemon Cream Sauce over Potato Noodles.
Lemon Cream Sauce
Ingredients:
3 TB butter, or ghee
1 1/2 C chicken broth
3/4 C coconut cream (or raw dairy cream)
1/2 tsp lemon juice
2 tsp lemon zest
1/2 tsp salt
1/2 tsp black pepper
3 tsp tapioca flour
Directions:
In a small saucepan, melt butter over medium-high.
add chicken broth and cream and bring to a boil.
Stir in lemon juice, zest, salt and pepper. Reduce heat to low.
In a separate dish, combine tapioca with 3 tsp water.
Slowly stir into pan until sauce thickens, and remove from heat.
Potato Noodles
Ingredients:
4 potatoes, peeled and spiralized. (Cut into noodles using a spiral slicer.)
1/4 C chicken broth
Add potato noodles to a large skillet on medium-high. Add Chicken broth and simmer for 6-8 minutes, stirring occasionally.