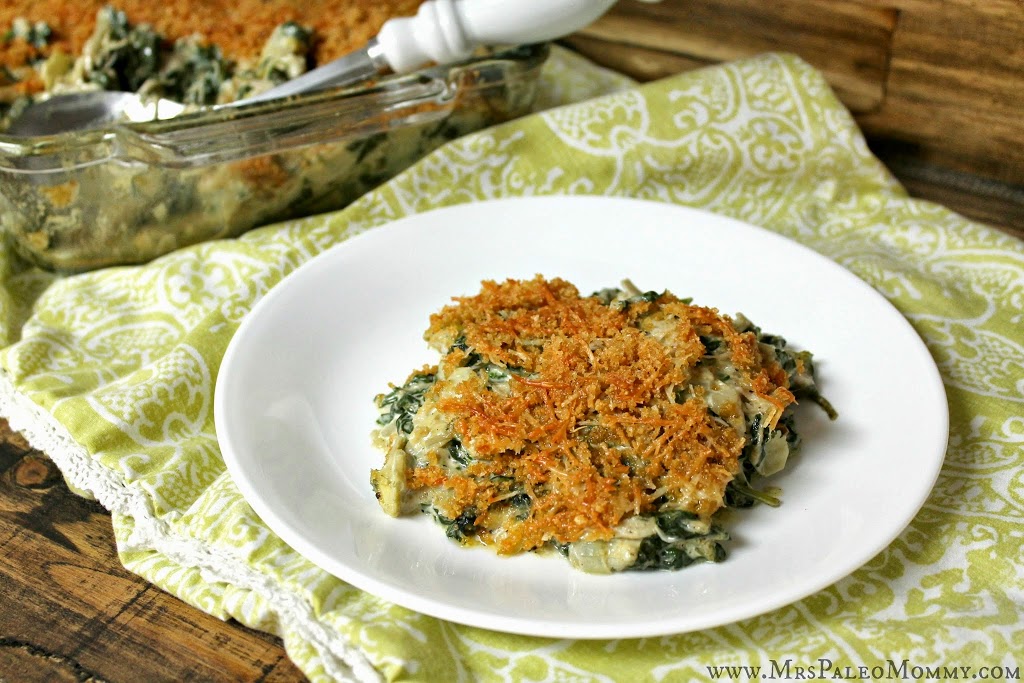 Spinach and Artichokes are such a delicious combination. In my teen years, I worked at Panera Bread Company, when they still had their original Turkey Artichoke Panini. It was all kinds of awesome. I used to bring one home with me every day when I got off work. I was also the heaviest I'd ever been in my life….but lets not get into that 😉
I started thinking in the direction of making a paleo turkey artichoke panini….but bread really is not my thing. Actually, baking is really not my thing. At all. So I will save that for a day when I am feeling truly ambitious. As for now, I decided a casserole would be much easier. And everyone loves easy, right? Right.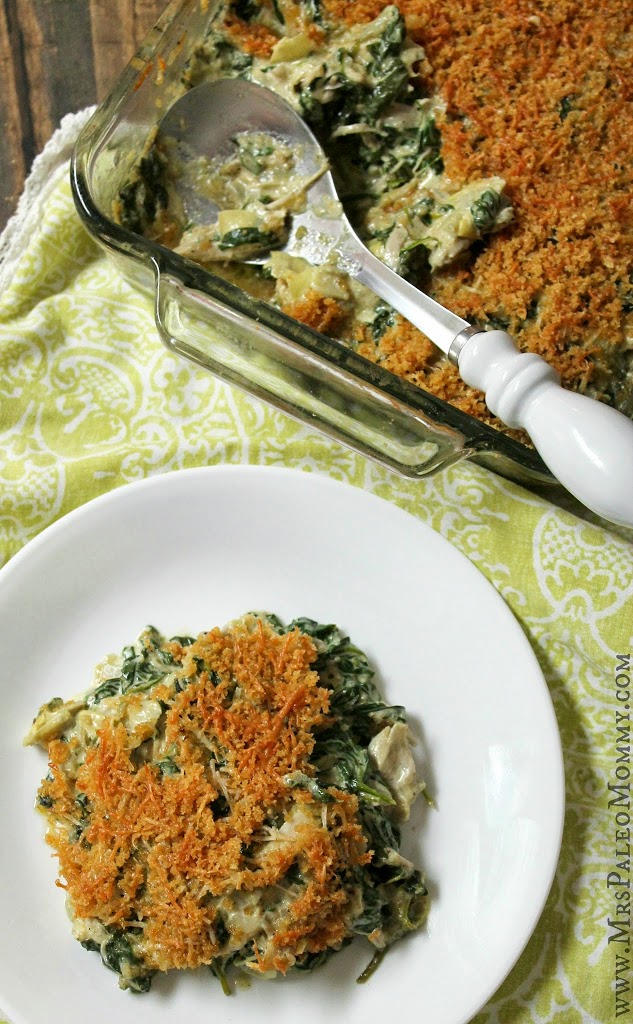 Spinach Artichoke Chicken Casserole
Serves 4
Ingredients:
2 Chicken breasts, cooked and shredded
1 16oz package of fresh spinach
1 14oz can artichoke hearts, drained
1 small onion, chopped
2 cloves garlic, minced
1 C parmesan cheese (Omit for dairy-free)
1 C paleo mayo
1/2 C coconut cream (or raw dairy cream)
1/2 C crushed pork rinds
4 TB olive oil or coconut oil
1 tsp black pepper
1/4 tsp paprika
Directions:
Preheat oven to 350
In a large pot, heat 2 TB oil over medium-high.
Add onions and garlic, sauté for 3 minutes.
Add remaining oil and spinach.
Cover and cook for 4-5 minutes, tossing occasionally, until wilted.
Remove from heat and stir in cream, mayo, and 1/2 C parmesan cheese.
Stir in chicken and seasonings, and transfer to baking dish.
Bake for 20 minutes.
Combine pork rinds with remaining parmesan cheese, and spread on top.
Increase heat to 400 and broil for 10 minutes.
I imagine this would make a great Spinach Artichoke Dip, if you just leave out the chicken. (which is what I was going to use it for in the first place)
I have not tried it yet without the cheese, but when I do, I will probably add in an egg to act as a binding agent….I think it would be a bit watery otherwise.