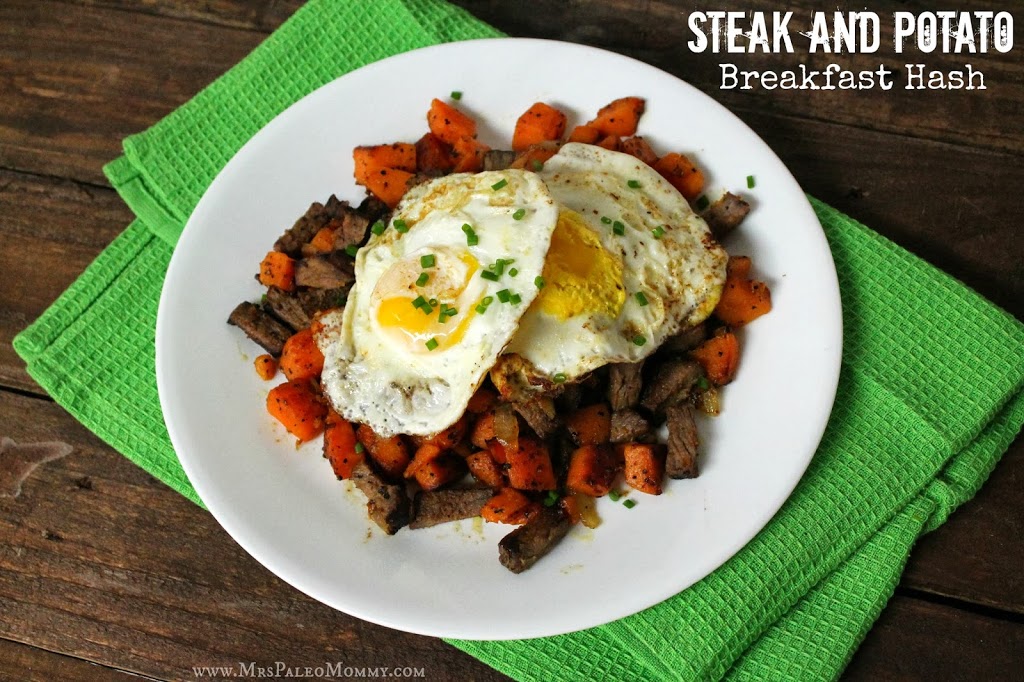 This hash is a great way to use up leftover steak, and an excellent source of iron and potassium, which I personally have been a little low on throughout this pregnancy.

Steak and Potato Breakfast Hash
serves 4
Ingredients:
1/2 lb leftover steak, diced
2 sweet potatoes, peeled and diced
1/2 C onions, chopped
salt and pepper
chives
4 eggs
1 TB butter, ghee, or coconut oil
Directions:
Add potatoes to a large skillet, and cover with water, about 1/2 in.
Cover and cook over medium-high about 3 minutes, until tender.
Drain water. Add butter, steak, and onions to pan.
Season with salt and pepper, and cook about 3 minutes, until onions are tender.
Transfer to serving dish.
In the same pan, cook eggs as desired. (I recommend leaving the yolk a little runny, as it creates a wonderful sauce when broken over the hash.)
If you don't happen to have leftover steak stashed away, just dice up some raw steak and toss in the pan for a few minutes until browned, then set aside and continue from the beginning.