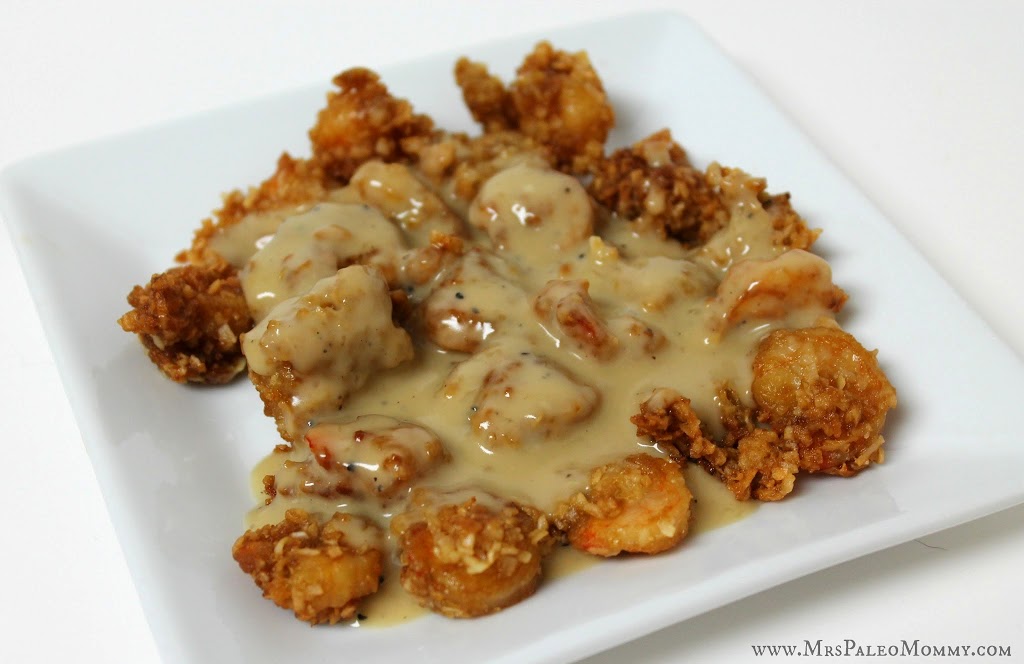 Ever since I can remember, my family has celebrated many occasions at a local Chinese restaurant called Dynasty. As many times as I have eaten there, I have never once ordered the Coconut Crystal Shrimp….until a couple of weeks ago. It was absolutely divine! The sauce was so good you could drink it. In fact, I practically licked my plate clean. Of course, I'm sure it was loaded with gluten and sugar. Regardless, I was inspired. Not that I am any kind of "Chopped champion" or anything….but I think I was successful at guessing what ingredients went into this dish, because it came out pretty spot-on. 🙂
Coconut Crystal Shrimp
Ingredients
For the shrimp:
1 lb shrimp, cooked peeled and deveined
1 C unsweetened shredded coconut
1/2 C tapioca flour
1/4 C coconut sugar
1/4 tsp salt
1/4 tsp pepper
1 egg, whisked
Coconut or olive oil for frying
For the sauce:
1 can coconut milk
2 TB coconut sugar
1 TB honey
1/4 tsp salt
1/4 tsp pepper
1 TB tapioca flour
1 TB cold water
Directions
For the shrimp:
Add coconut, tapioca, sugar, salt and pepper to a food processor. Pulse 2-3 times, until coconut is ground into flakes.
Rinse shrimp and pat dry.
Dip shrimp in egg, then coat in coconut mixture.
Heat enough oil to cover shrimp to medium-high and fry about 3 minutes, until lightly browned.
Dry on paper towels.
For the Sauce:
In a small saucepan, add coconut milk and bring to medium heat, stirring occasionally.
Add honey, sugar, salt and pepper and continue to stir until blended well.
Reduce heat to medium-low.
In a separate dish, mix together tapioca and water. Slowly add to pan, stirring continuously until thickened.