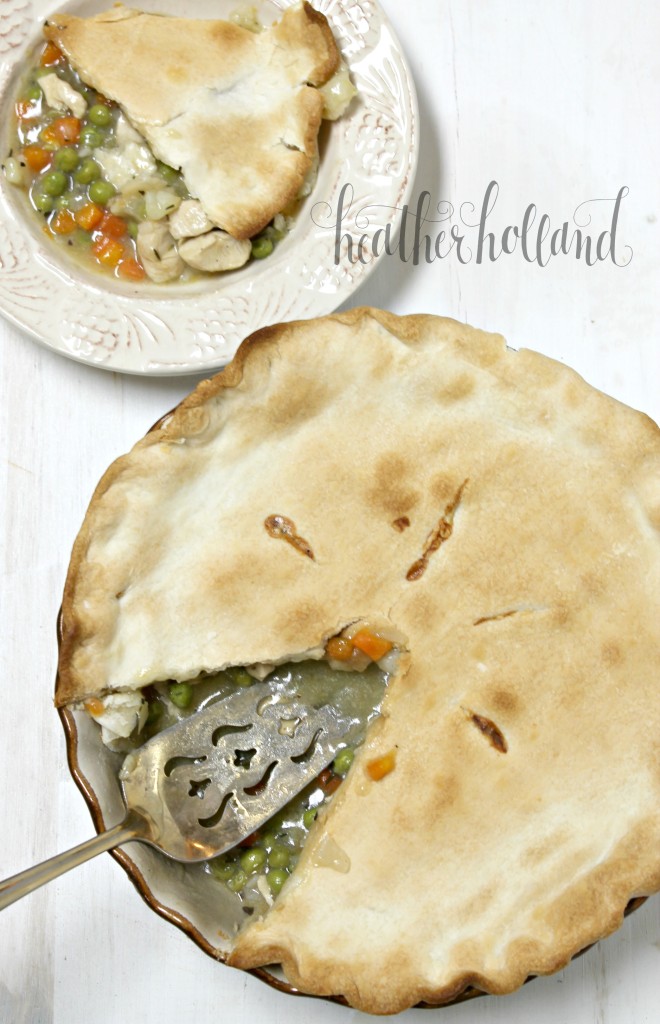 Comfort Food n.  Simple, home-style food that brings comforting thoughts of home or childhood.
If you are an American, and you were once a child, you must certainly have memories of eating chicken pot pie. Maybe it was your Grandmother's made from scratch, Crisco-in-the-crust, flour thickened goodness. Perhaps it was a can of veg-all and some Pillsbury biscuits on top. It was quite possibly some previously-frozen Marie Callenders. Regardless, the aroma alone that emanates from the kitchen when you whip this up will take you back to those wonderful (gluten-eating) childhood days.
Ingredients:
For the crust
1 1 /2 C almond flour
2 1/2 C tapioca flour
2 sticks of cold, unsalted butter
1 tsp salt
1 egg
2 TB cold water
For the filling
1 lb chicken, cubed
2 C chicken broth
1 whole sweet onion, chopped
4 TB butter
1 12oz bag of frozen peas and carrots
1 large potato, peeled and diced
1 tsp fresh thyme, chopped
1 tsp fresh rosemary, chopped
1 tsp fresh sage, chopped
1 tsp salt
1/2 tsp pepper
1 TB potato starch
2 tsp tapioca flour
2 TB water
Directions:
Prepare the crust-
In a food processor, pulse almond flour, tapioca starch, and salt until combined.
Cut butter into thin slices and add to processor. Pulse until mixture resembles a fine meal.
Add egg and 2 TB water and process until smooth.
Divide dough into 2 and chill.
Preheat oven to 425.
For the filling-
In a large skillet, melt butter over medium-high.
Add onions and cook until softened.
Add chicken, herbs, peas and carrots, and potatoes.
Season with salt and pepper. stir.
Pour in the chicken broth and bring to a boil.
Reduce to a simmer, cover, and cook 10 minutes.
Remove from heat.
In a small dish combine potato starch, tapioca flour, and water.
Slowly add to the skillet, stirring continuously until thickened.
To assemble-
Place one half of dough in between two pieces of parchment paper and roll out to fit your pie dish.
Remove top sheet of parchment and turn out into pan.
Pour in the filling.
Roll second crust as described, and place it on top.
Cut 5 or 6 slits in the top.
Cover edges with foil and bake for 15 minutes.
Remove foil and return to oven for 5 minutes.
Enjoy!