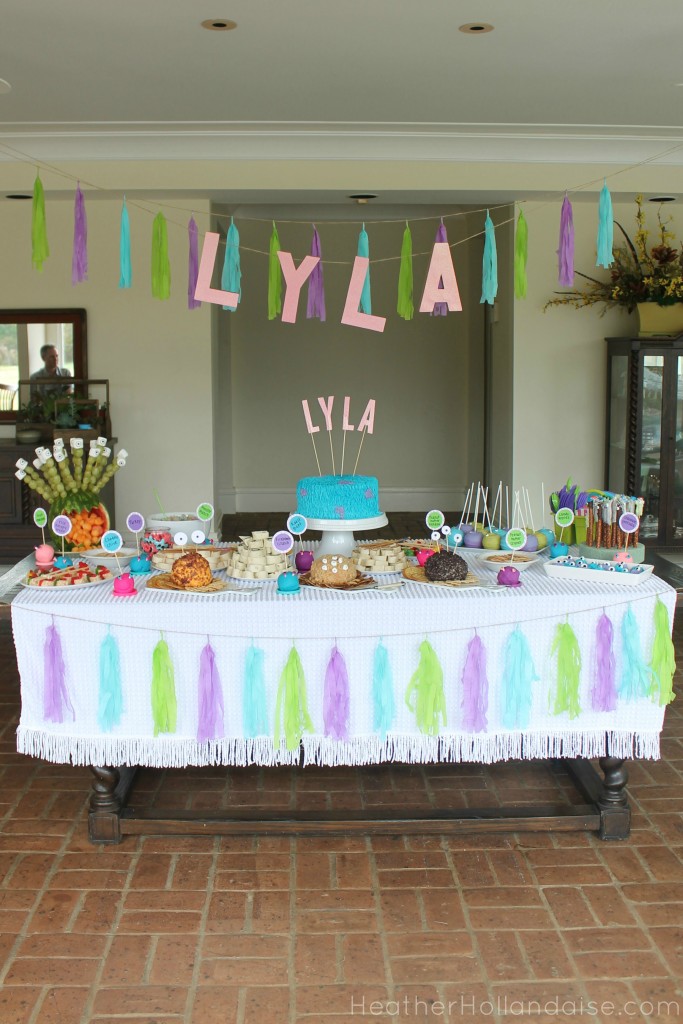 My little Lyla is four years old! I can hardly believe it. She has grown into such a bundle of fun and personality. And she certainly knows what she likes. This year, she had her heart set on a Monster's Inc birthday party. So I put together a Monster Mash I knew she would love!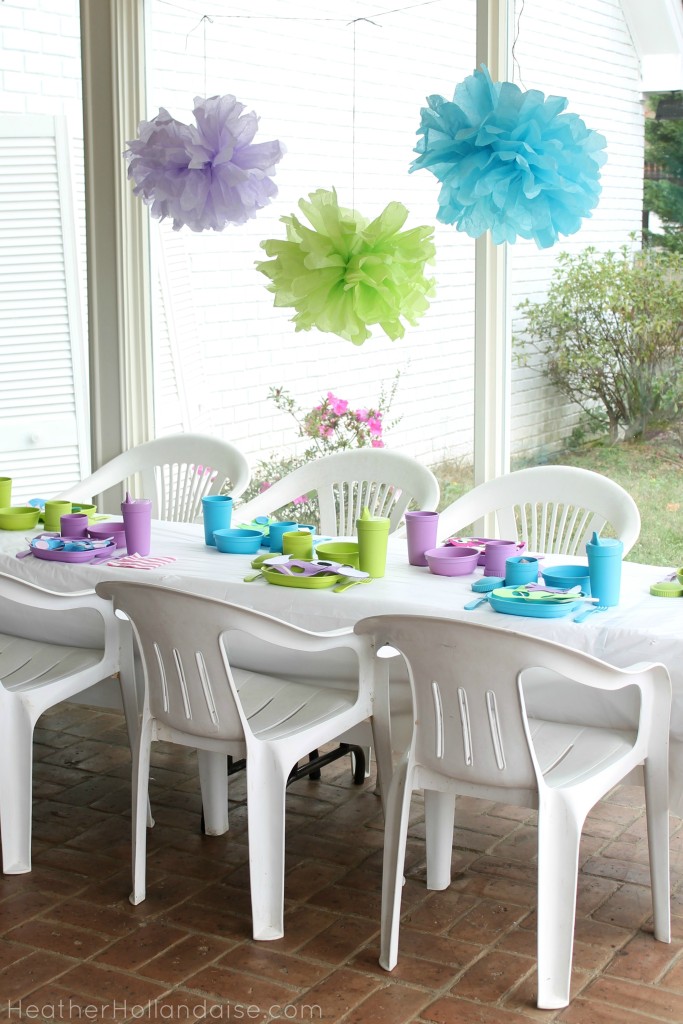 The kid's table was adorned with the beautiful Re-Play sets in our Monster's Inc colors, sky blue, green, and purple. Each setting included a divided plate, bowl, cup, snack stack, and utensils. I am in love with the bright colors and the durability of these sets. They are the only dishes I buy for my little ones!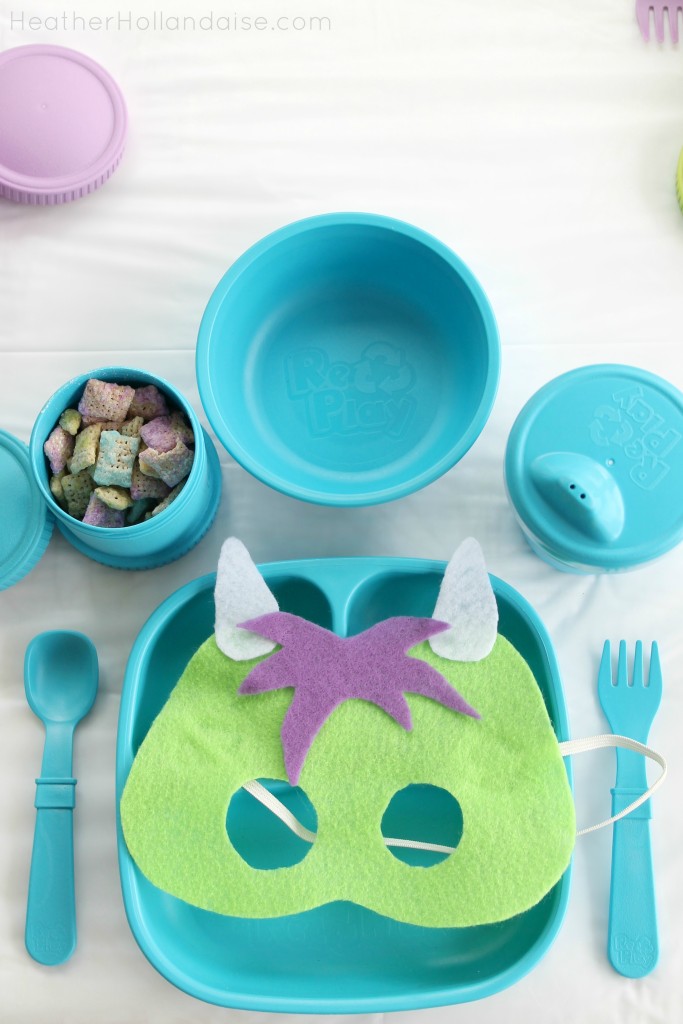 The snack stacks were filled with my monster munch, and the cups had raspberry punch! Each child also got a handmade felt monster mask to wear during the party, and to take home.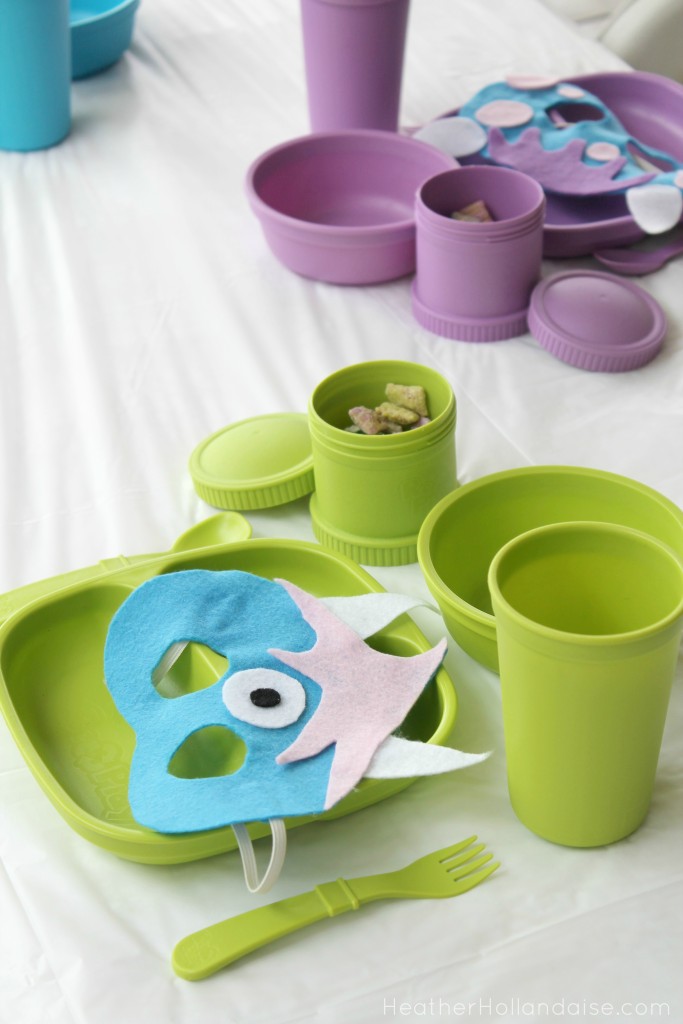 The kids loved the masks. No two were alike. They were simple to make, I just made one template for the eye holes and cut them all differently. Some had hair, some had spots, all of them had horns.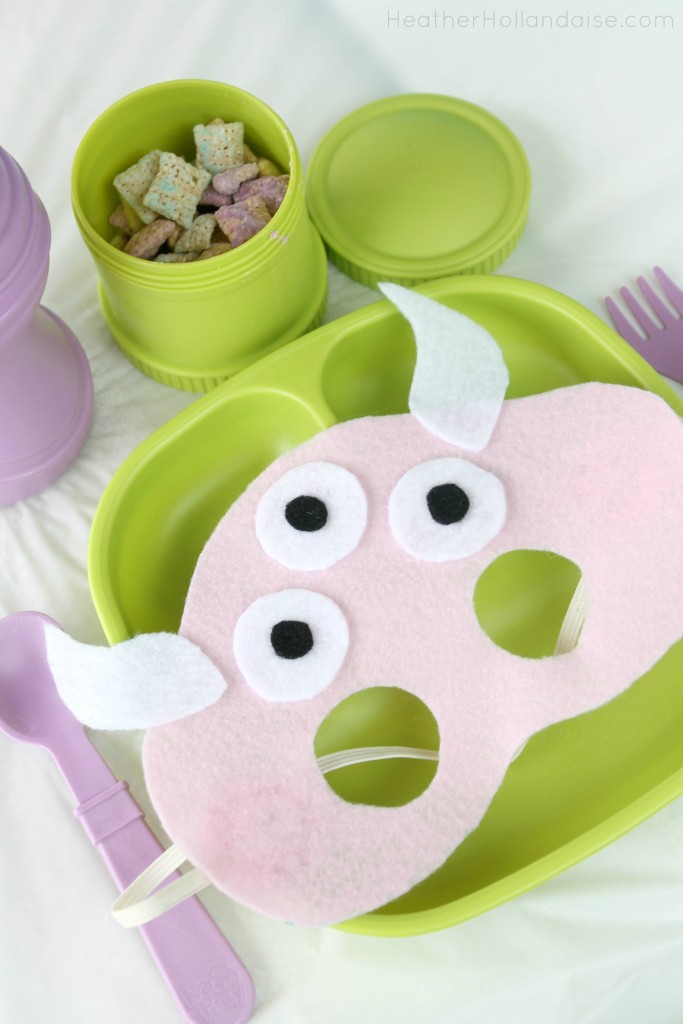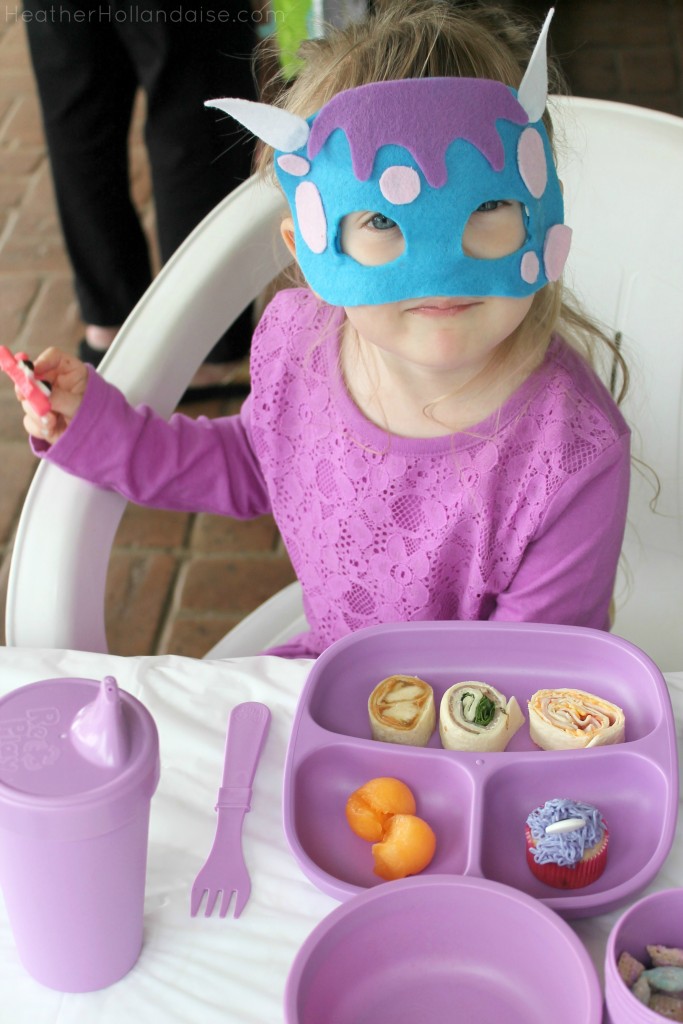 Playing dress up is Lyla's favorite. She has been wearing her mask around the house all week long. She loves to scare her Daddy when he comes home from work.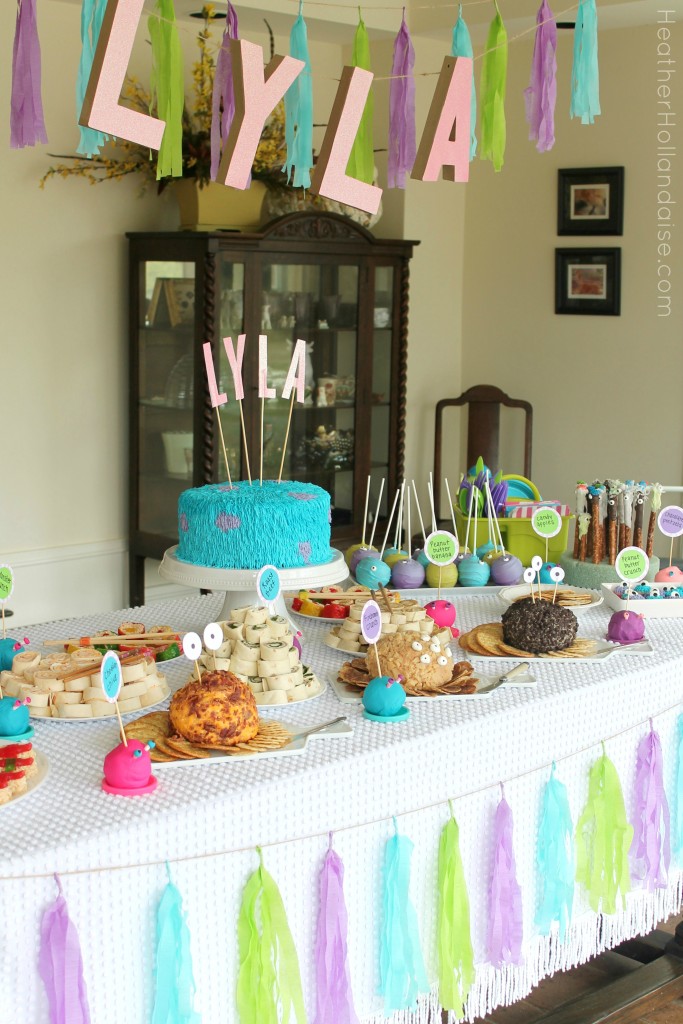 I bought some cardboard letters from Hobby Lobby and covered them with Pink Glittery Cardstock. I looped a ribbon onto the back of each letter and glued it on, then threaded them onto a length of twine to make her banner. I also made two crepe paper tassel garlands, and some tissue paper pom poms.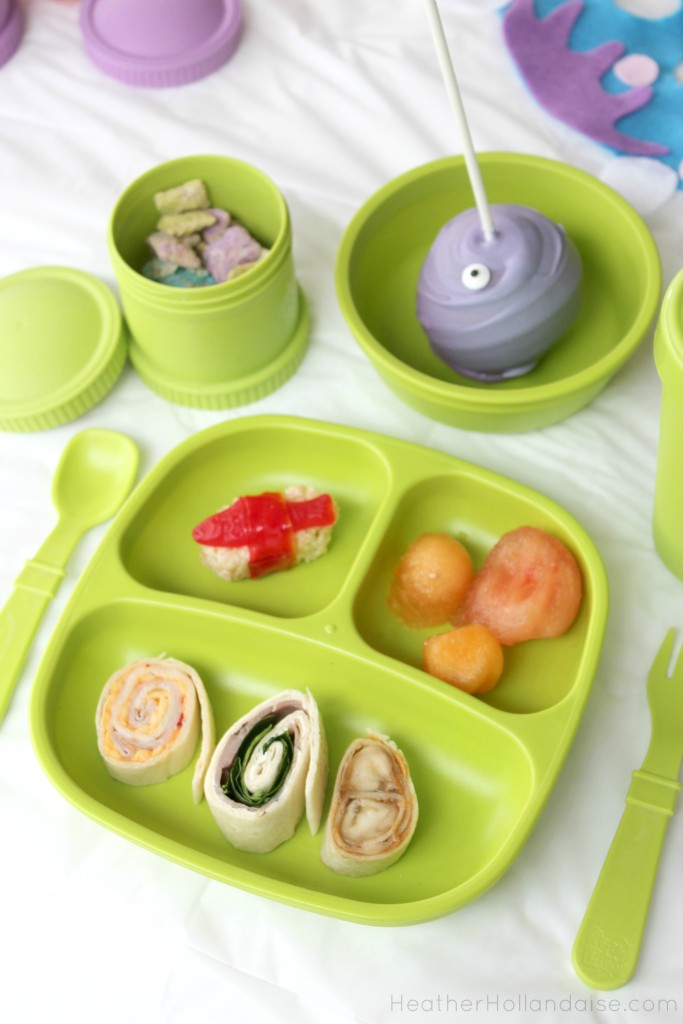 All of the food was fantastic. The main idea was Harry Housen's Sushi Bar. (The restaurant in Monster's Inc where Boo got out of Mike's bag and everyone broke out in chaos!)
Monster Mash Menu:
Roast Beef, chive cream cheese, and spinach "sushi"
Turkey and pimento cheese "sushi"
Peanut Butter and banana "sushi"
Rice Krispie Treat "sushi" with swedish fish and fruit roll up seaweed
Cheddar Chive Cheeseball Monster
Monster Munch
Chocolate Dipped Apple Monsters
Chocolate Dippes Pretzel Monsters
Watermelon Fruit Monster
"Sully babies" (mini cupcakes)
Sully Cake
Not pictured were BBQ meatballs for the adults, sweet and unsweet tea, and Raspberry Punch.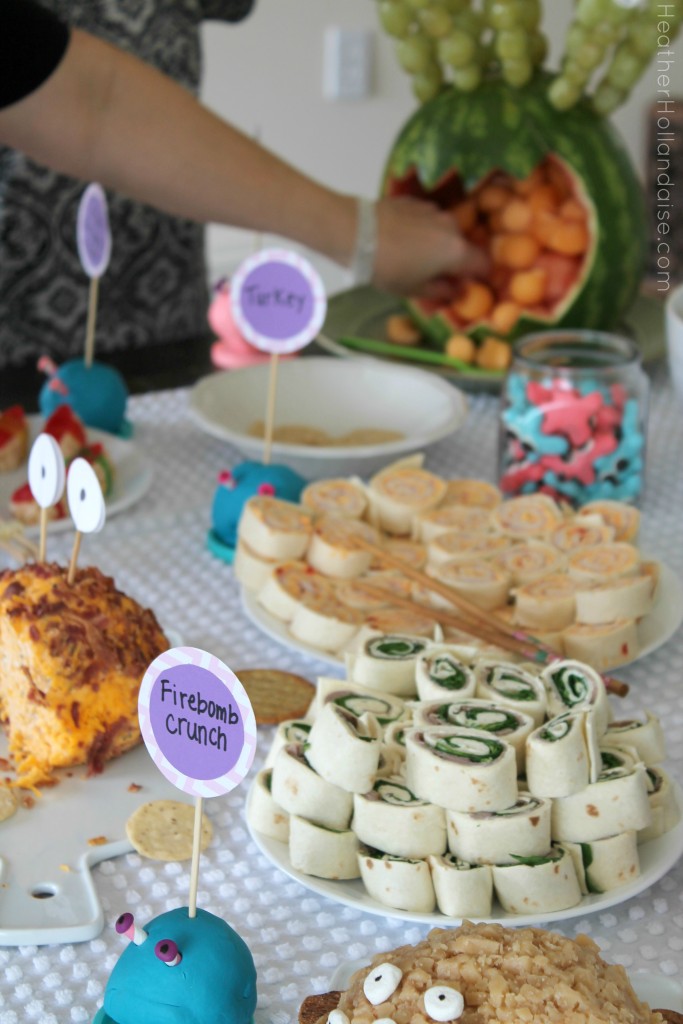 To make the "sushi" we spread tortillas (we used one whole tortilla per guest) with pimento cheese, chive cream cheese, or peanut butter. Then we topped them with smoked turkey, roast beef and spinach, and bananas, respectively. Roll them up and slice.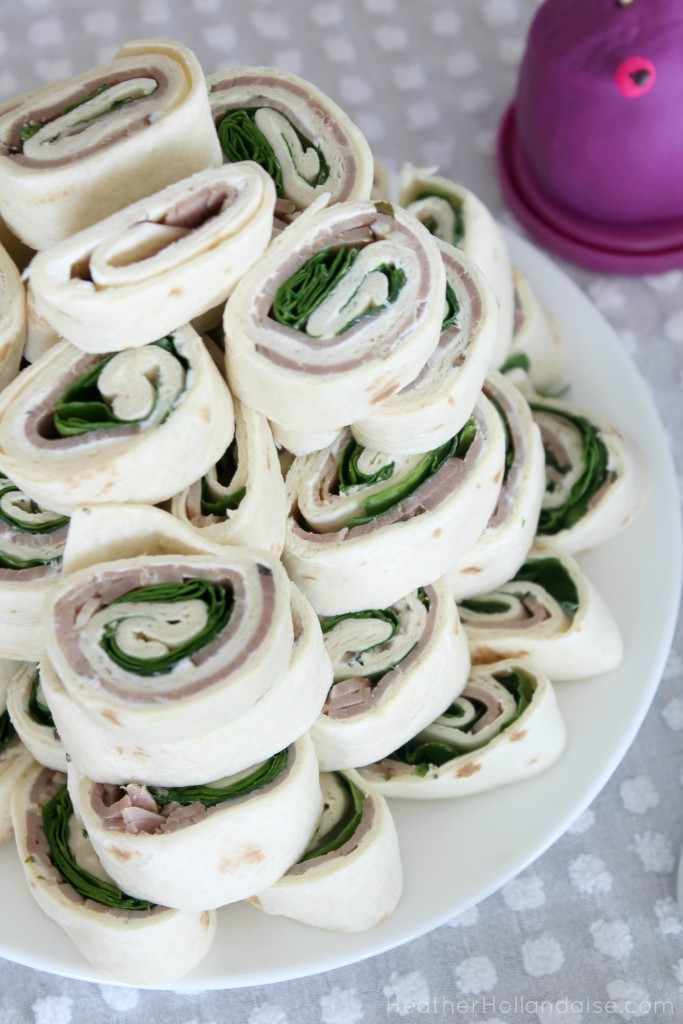 And of course, you have to serve them with chopsticks!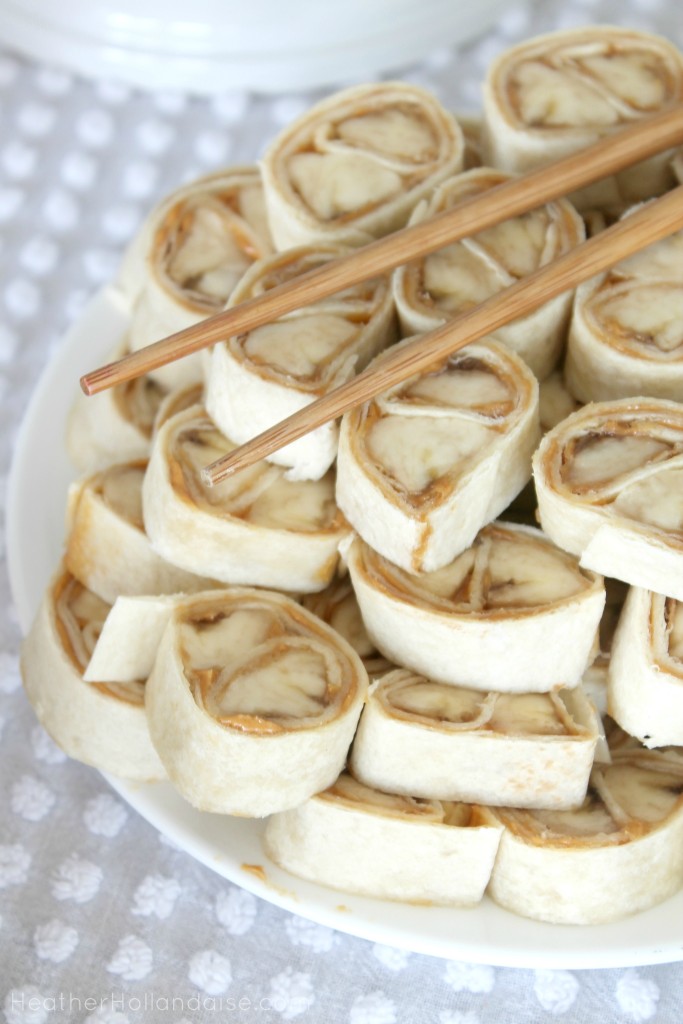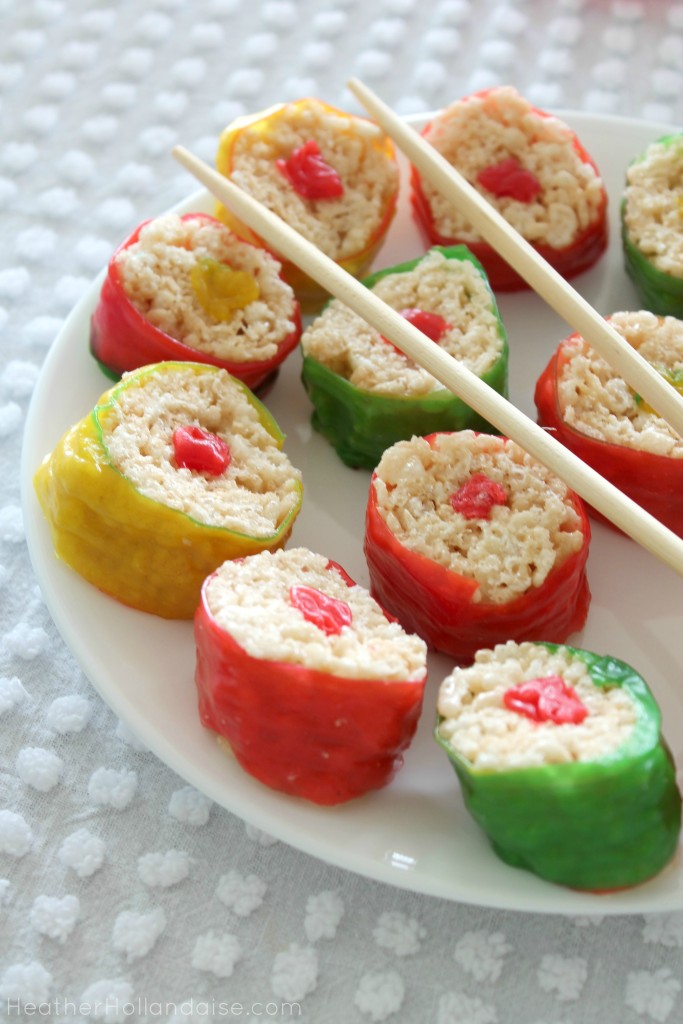 To make the Rice Krispie Treat "sushi" I made rice krispie treats following the usual directions. I spread half of the mixture onto a length of foil. Roll up a piece of fruit by the foot, the length of your foil and place it in the center of the rice crispies. Roll the rice krispies up around the fruit by the foot and wrap the foil around until cooled and firm. Slice and wrap with more fruit by the foot.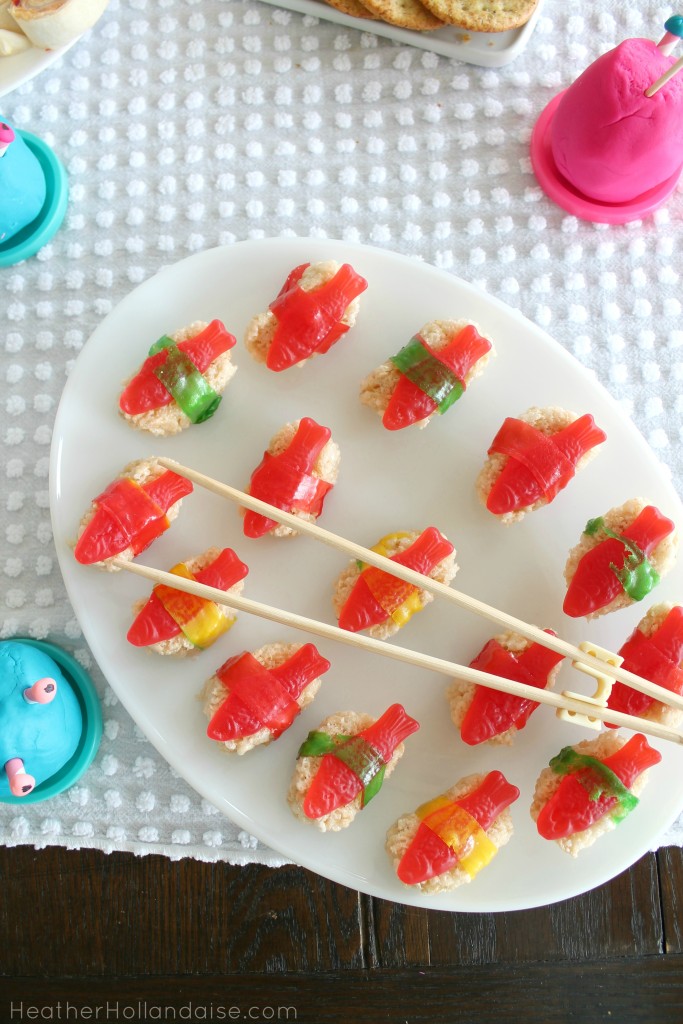 For the fish version, I left the fruit by the foot out of the center, and topped each roll with a swedish fish. Cut skinny strips of fruit roll up to wrap around the fish.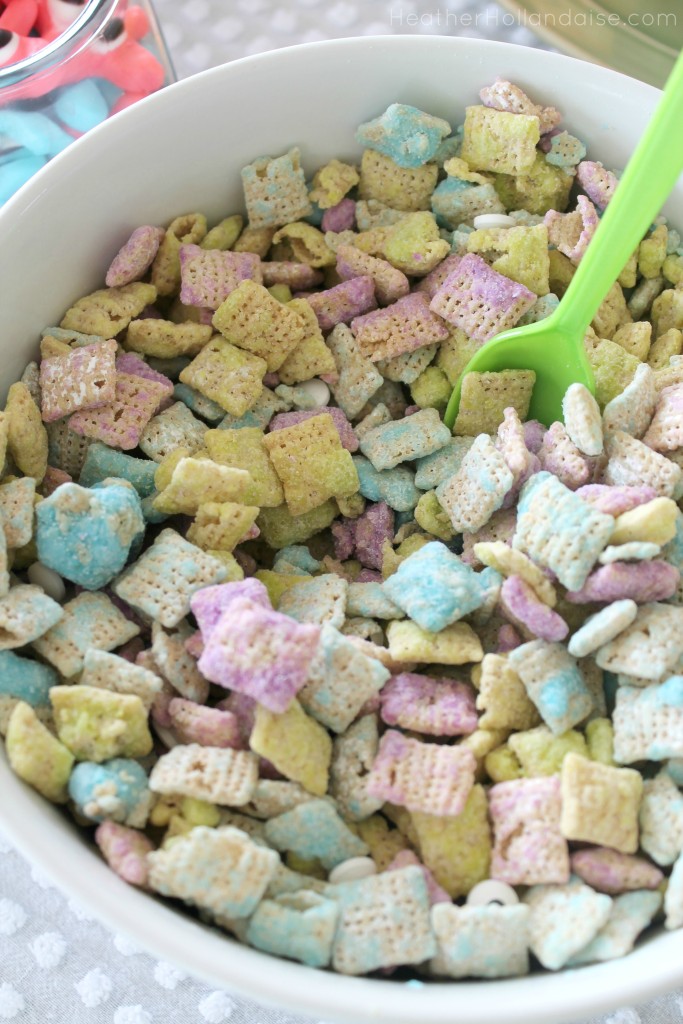 Monster Munch
Ingredients
9 C rice chex, divided
½ C green colored melting chocolate
½ C blue colored melting chocolate
½ C purple colored melting chocolate
1½ C powdered sugar, divided
Instructions
melt green colored chocolate in a microwave safe bowl for 30 seconds and stir.
Stir in 3 cups of chex.
Transfer to a ziplock bag and pour in ½ C powdered sugar. Seal and shake to coat.
Repeat with remaining colors.
Toss together in a large bowl.
Add some candy eyeballs, if desired.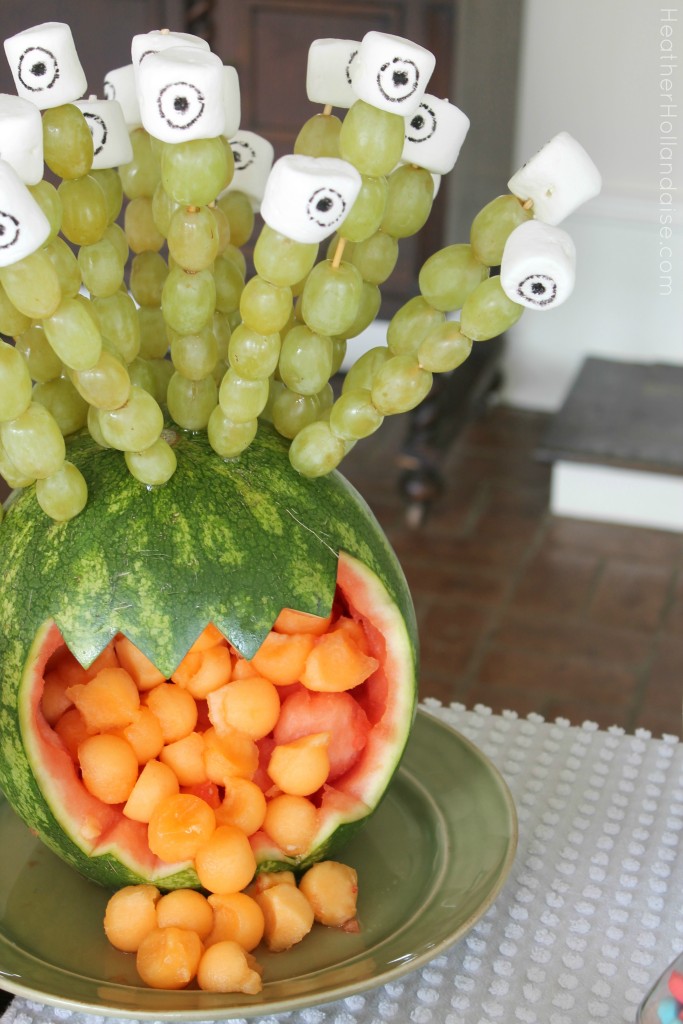 To make my googly eyed watermelon monster, I drew a mouth and cut it out with a sharp knife. I scooped the rest of the watermelon out (which unfortunately was too watery to make melon balls). I filled him with cantaloupe and topped him with eyes made from skewered grapes and marshmallows. The pupils are drawn with a food pen.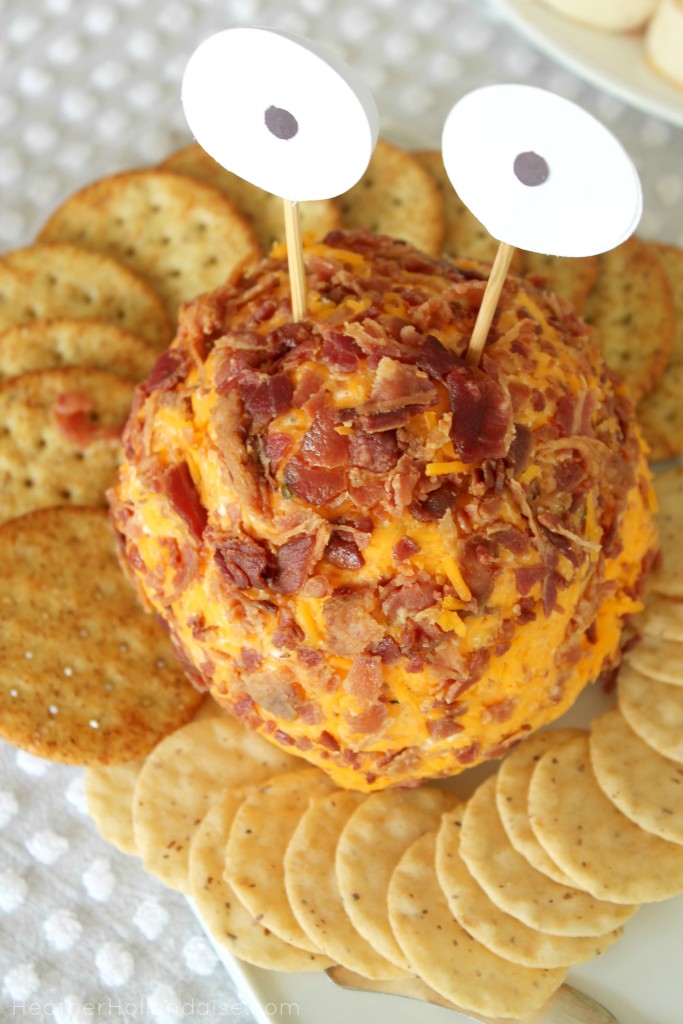 Cheddar Chive Cheeball
Ingredients
2 C cheddar cheese
8 oz chive cream cheese
6 slices bacon, cooked and crumbled
Instructions
Mix 1 C cheese and cream cheese in a mixing bowl.
Dump mixture into the center of a square of plastic wrap.
Pull corners up toward center and twist to form a ball.
Chill one hour until firm.
Unwrap and roll in crumbled bacon.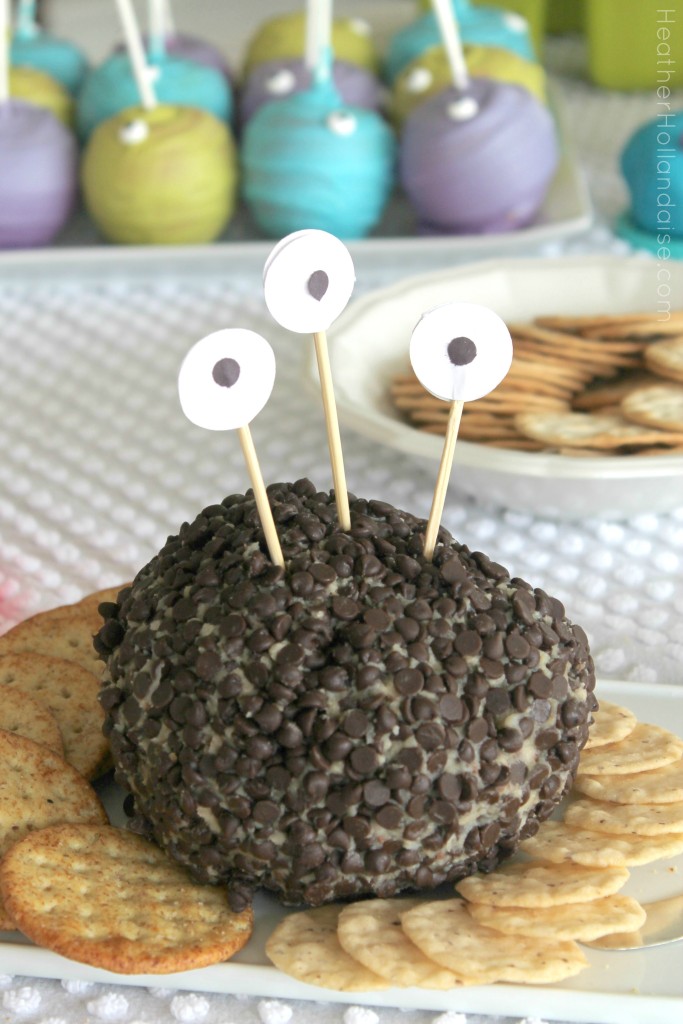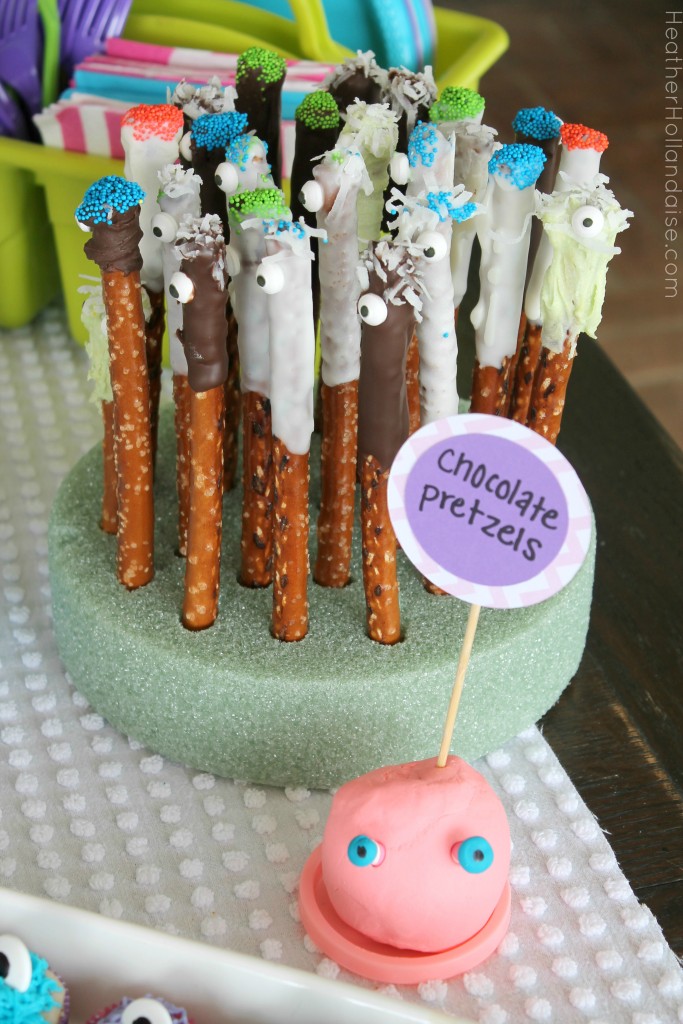 The food was labeled with little playdoh monsters, which doubled as a second party favor for the kids to take home.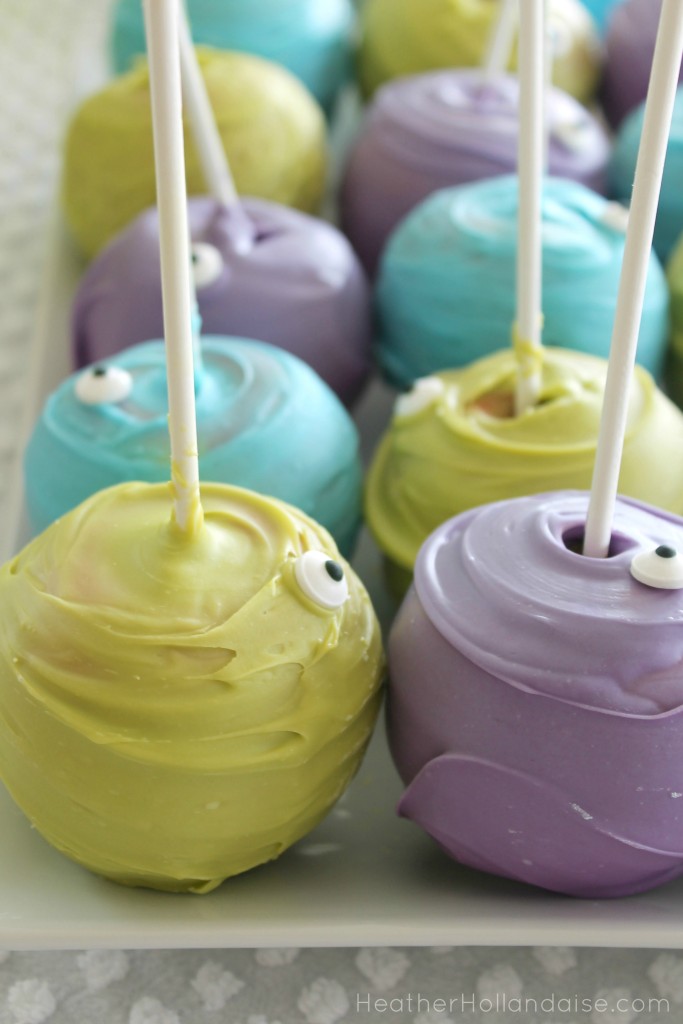 I found bags of mini apples at the grocery store, which I found to be the perfect size for the kids. I dipped them in colored melting chocolate and topped them with a candy eyeball.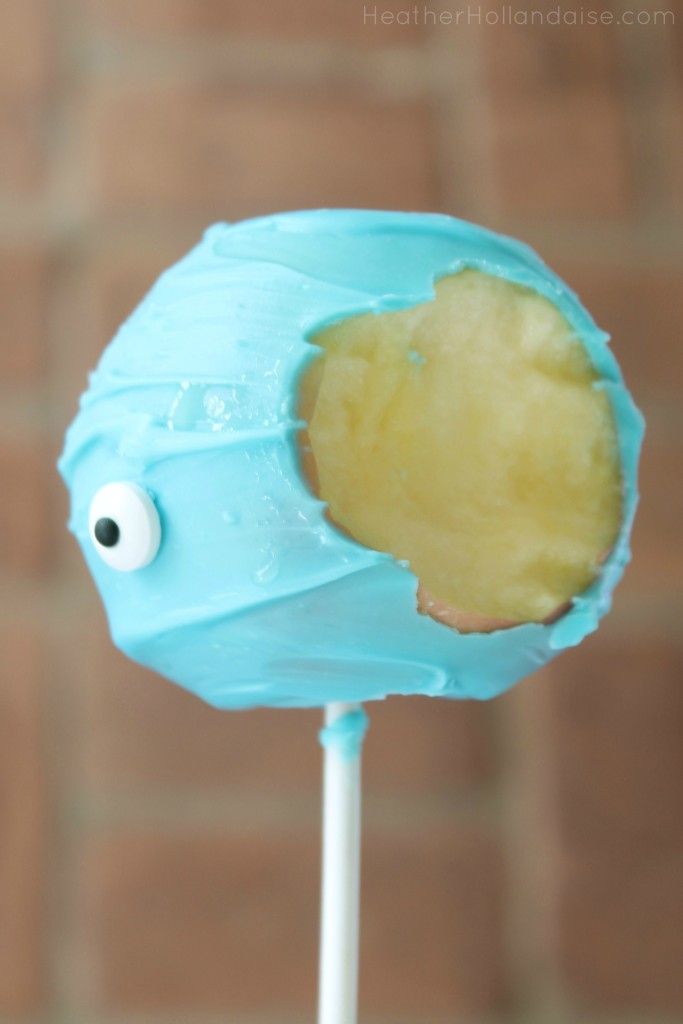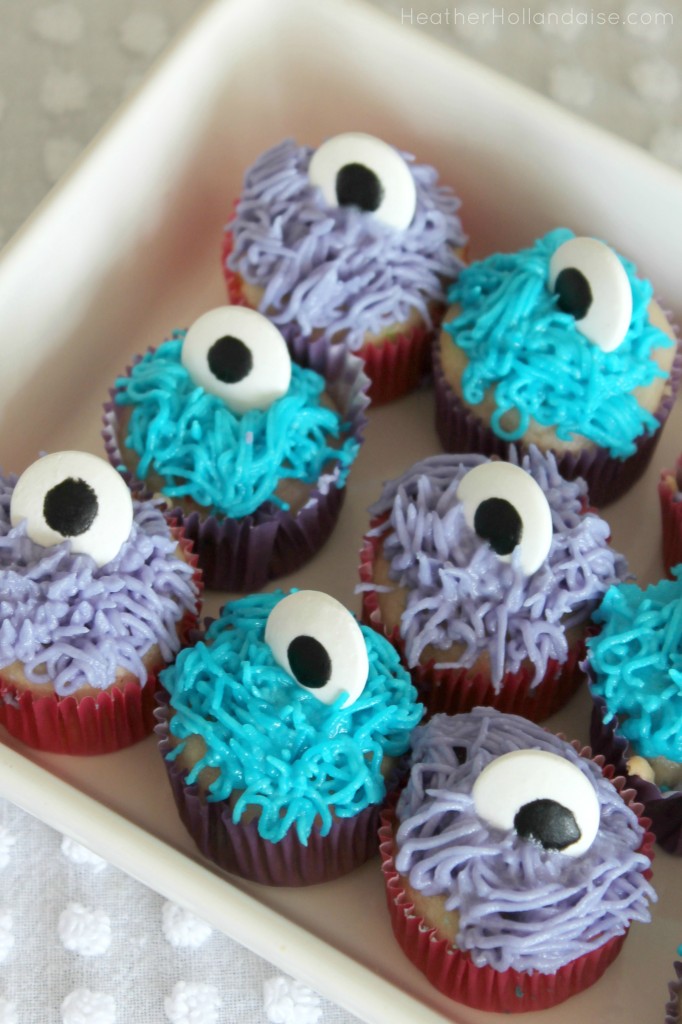 My sister made these cute little "sully babies" to go with the Sully cake.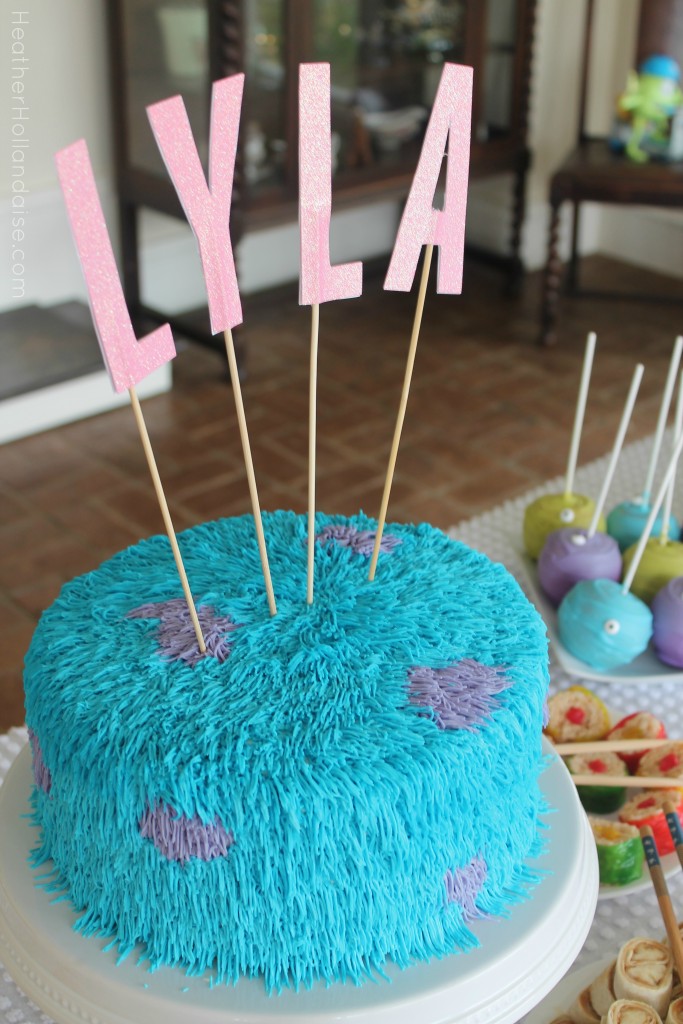 The Sully cake was absolutely gorgeous! My mom is the Ace of Cakes, ya'll. Every year I tell her what I want and she never ceases to amaze me.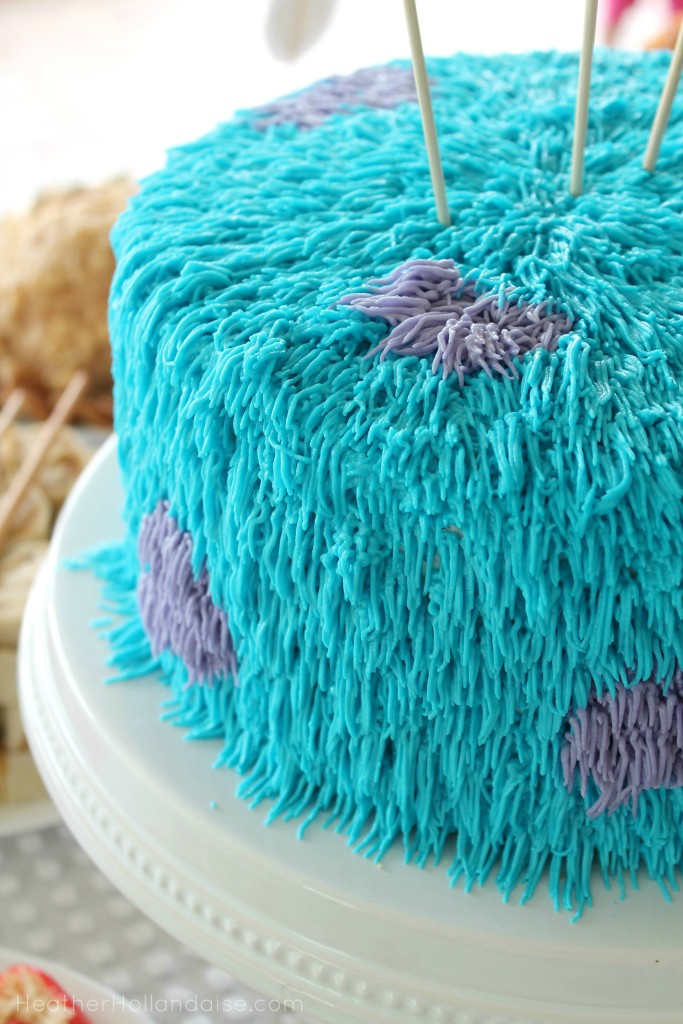 Just look at that detail!!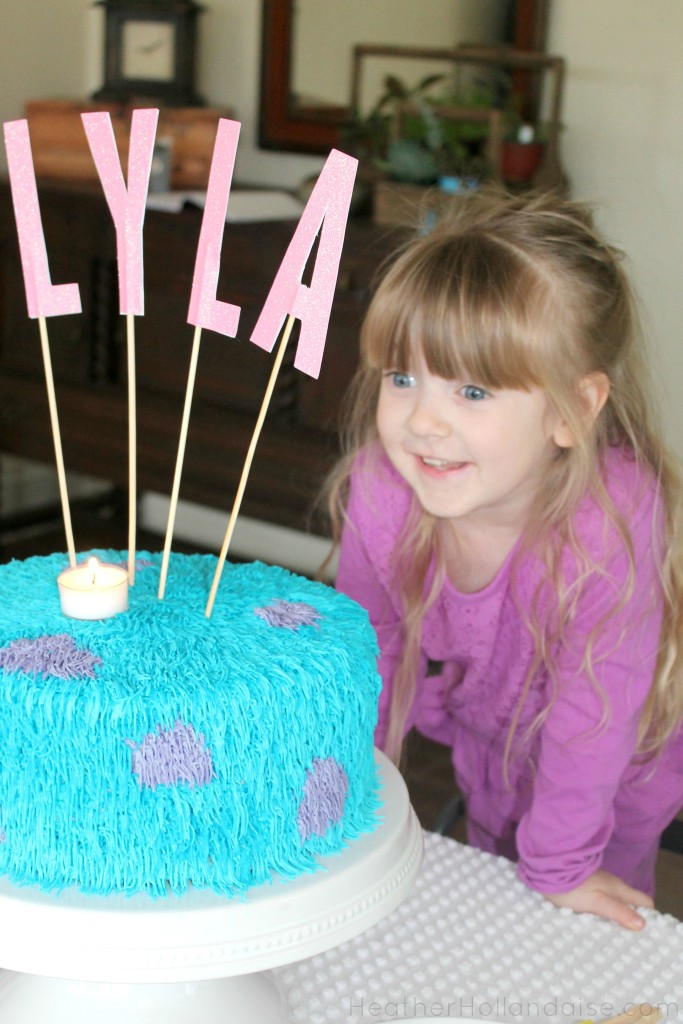 I think it goes without saying that Lyla was thrilled.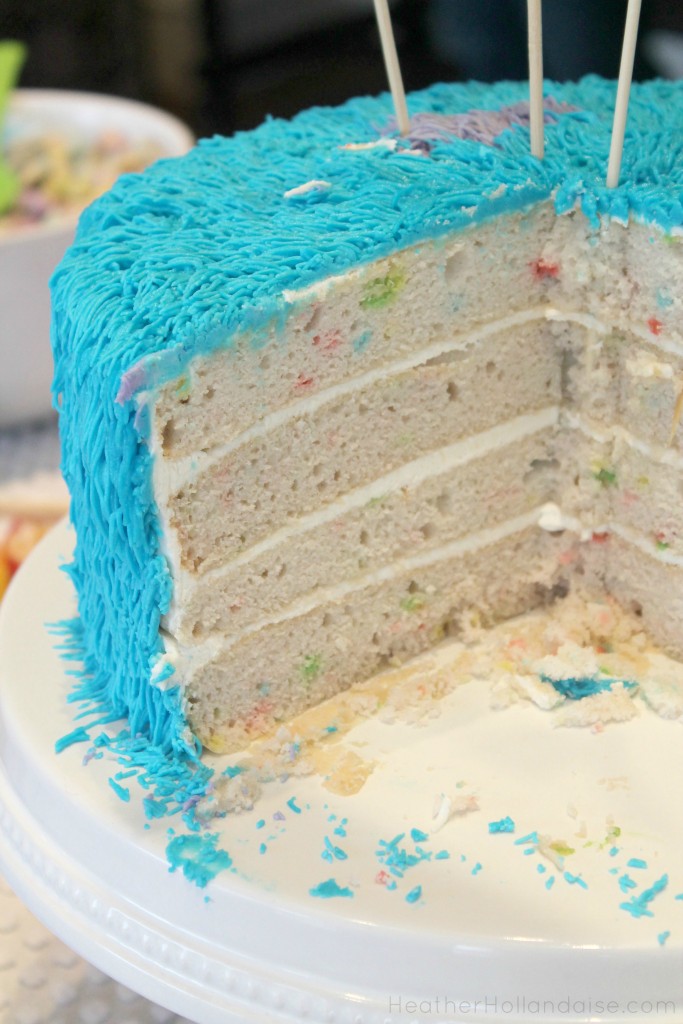 As was mommy. We used Gluten Free Funfetti, which means I enjoyed a hefty slice 😉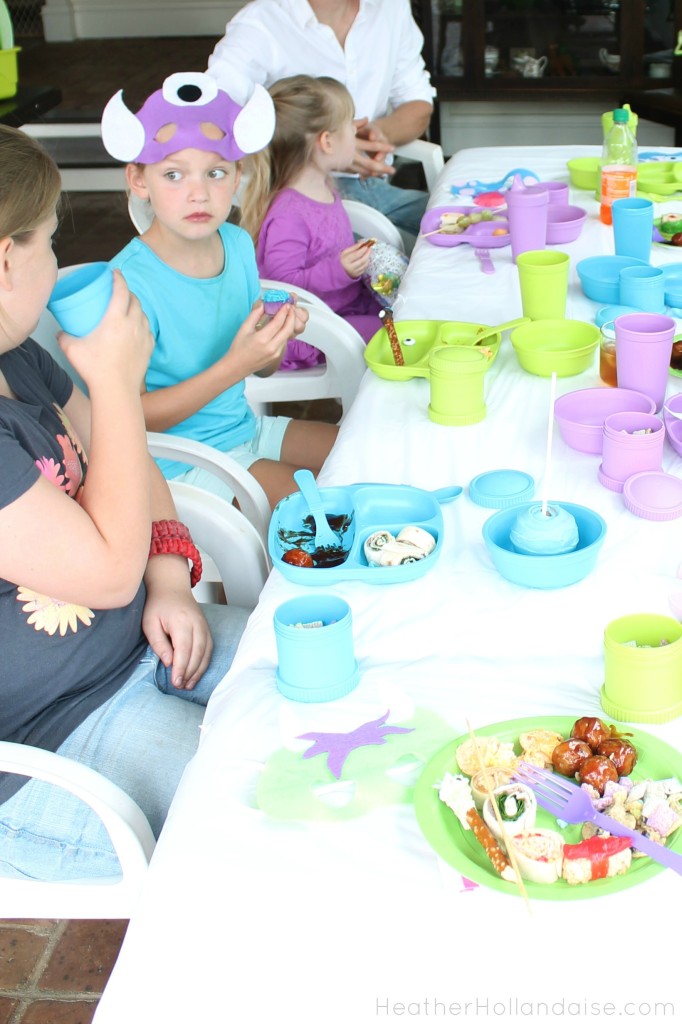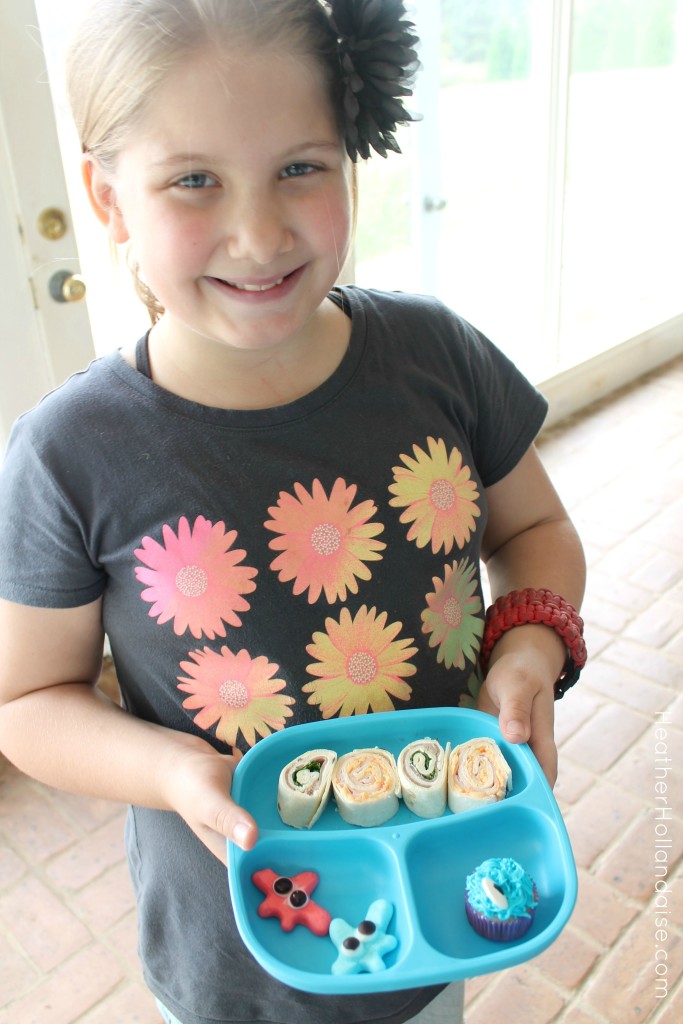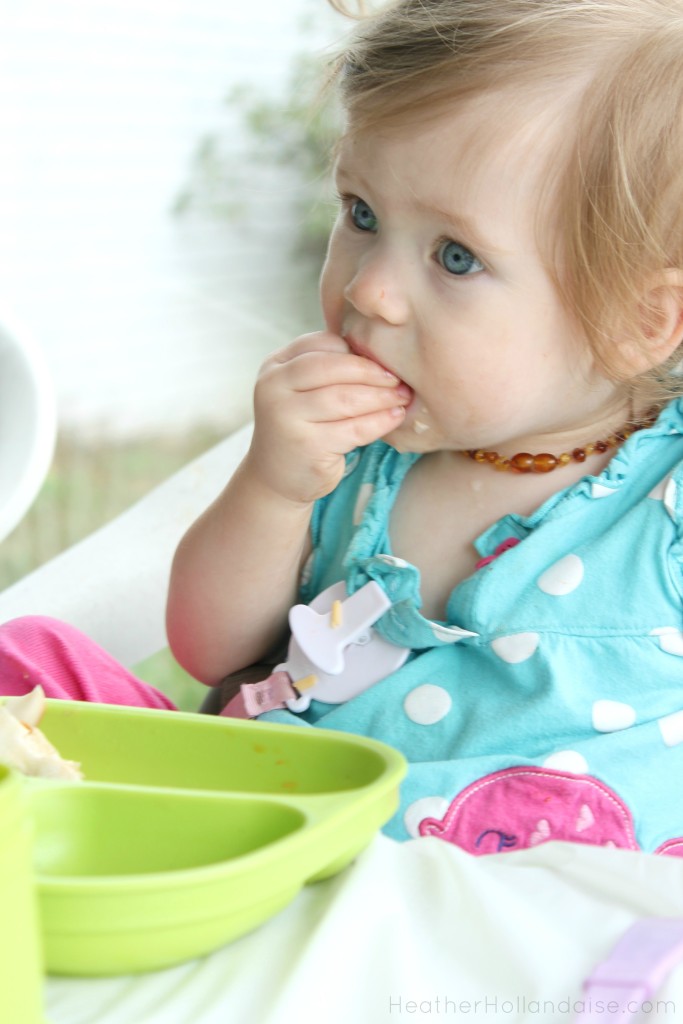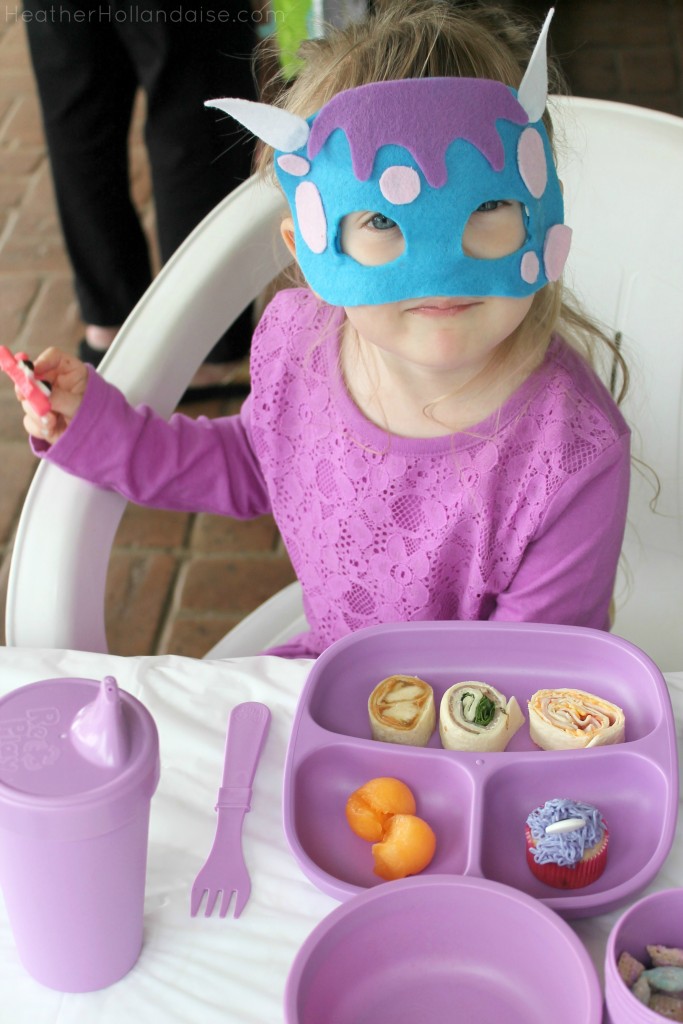 We had such a good time at Lyla's Monster Mash! I can't wait to see what theme she comes up with for me next year. Although I wish I could keep her little forever…. no more growing miss Lyla!!