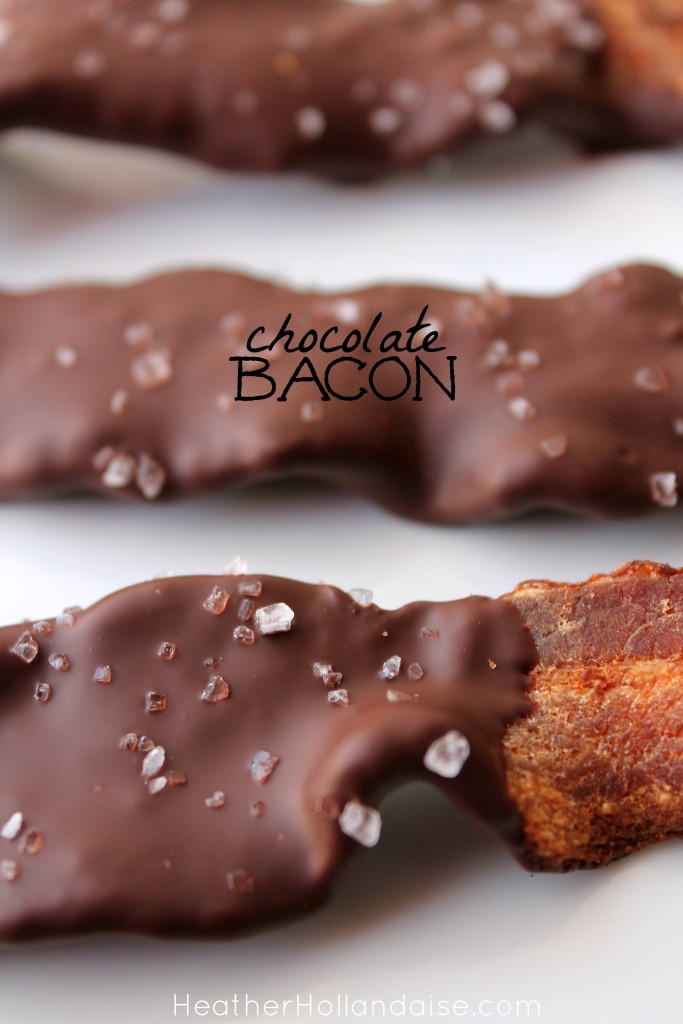 The two substances in this world that have the power to make everything better happen to be chocolate, and bacon. So what happens when you put those two things together? The most delicious bite of food you have ever eaten. BOOM! Dipping things in chocolate is basically the easiest way to a happy Valentine's day. Dipping bacon in chocolate is like dipping amazeballs into awesomesauce.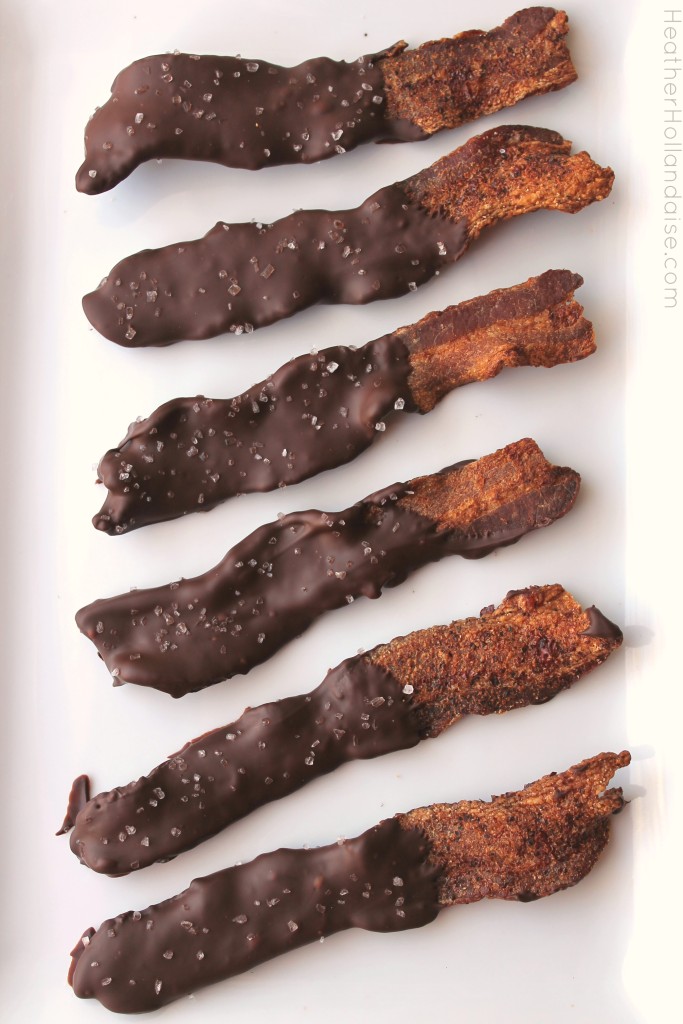 The quickest way to a man's heart is through his stomach. I never would have landed my man if it weren't for my Momma teaching me my way around the kitchen. Not all men feel that way, of course, but a woman who can cook was a top priority for my Cowboy. Every Valentine's day, since before I can remember, my mom makes a huge dish of chocolate covered strawberries for my dad.  When I was a little girl, my dad would let me pick one before he put the rest away for himself. Naturally, I picked out the biggest, juiciest looking strawberry. It became just as much of a tradition for me as it was for them. Once I got married, I knew I had to follow Mom's lead.
My husband and I started dating right around Valentine's day. It was a forbidden love, you could say. Joshua was a youth group counselor, and I was a student. We weren't exactly allowed to date. But the heart wants what it wants. He decided to get permission from my Daddy. I showed up to work on my Birthday, which is the 24th, and there was a huge bouquet of purple roses waiting for me. It was the first time i'd ever gotten flowers from anyone who wasn't my Dad. They were Valentines/Birthday roses. I still have them.
We made it official not even a month later. And it wasn't long before I fell in love with this stud. He was so incredibly romantic. In fact, the moment I knew I wanted to spend the rest of my life with him, he was singing Joe "I wanna know" to me in his car. He has taken me to so many beautiful places, candle lit picnics, brought me a giant teddy bear to school, and written a million love notes (all of which i still own). However, every time I tried to plan an awesome surprize for him, something always always went wrong.
Once I planned a picnic by the lake for our 2nd monthaversary. Yes, that's a thing when you are 18 and in love. I made him chicken salad in pita bread, and lots of fancy fixins which just turned out to be way too "frou frou" for my country man. Oh well. I knew he would love the heart shaped chocolate cake I made him. Apparently the ants loved it too… I've had plenty of food fails. I've even spilled an entire glass of sweet tea on his lap. twice. It wasn't the food itself that was bad, I just had to learn his particular taste. Manly food.
That's where the bacon comes in. As much as I wanted him to love the strawberries like my dad, they just weren't his thing. It took time, but over the years I have narrowed down his favorite desserts. Pecan Pie, Cheesecake, Brownies, and Ice Cream Cake. I like to have fun with them and make different versions, so it's not always the same thing and it's still a surprize. He is VERY difficult to surprise. I also like to make treats for him any old time, just because. We aren't big on celebrating valentine's day, but we take advantage of every opportunity to show each other "I love you".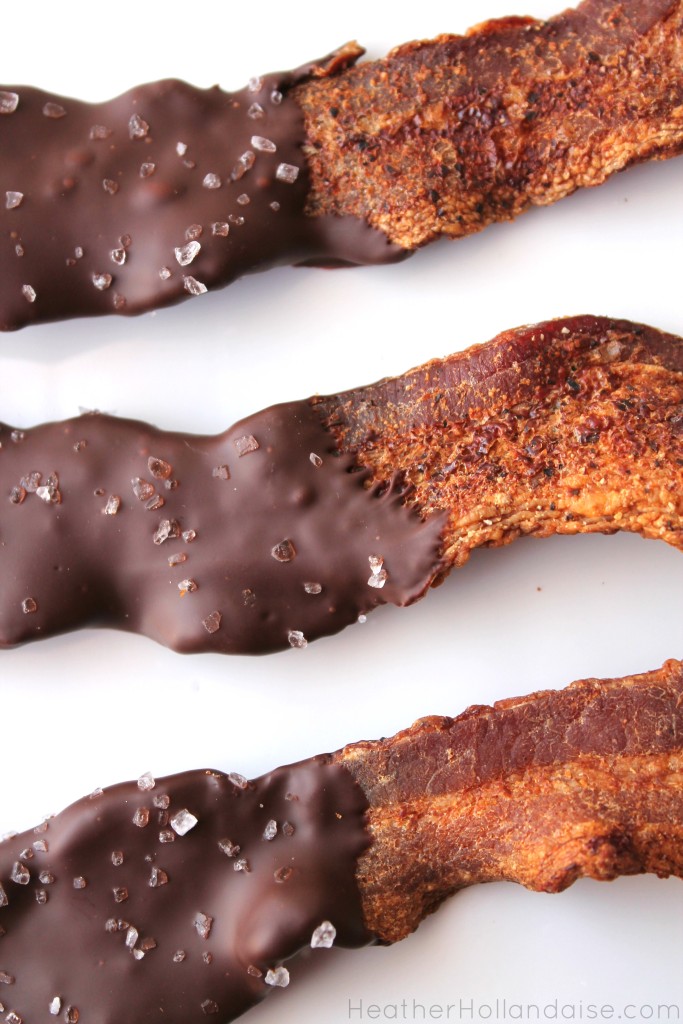 Fiddling around in the kitchen last week, with I came up with this Chocolate Dipped Bacon. I've actually wanted to try it for a long time now, but haven't gotten around to it. I'm so glad I finally did. These are going to go into some brownies for Josh this year. (Keep an eye out for that one.) You can also chop some up and top your ice cream. SO GOOD. I still made a nice plate full of chocolate strawberries….all for myself! But if you want a super easy manly dessert for your beau, a mason jar full of candied bacon should be right up your alley. The sweet, salty, smoky combo is perfect. My manly man loved them. Maybe yours will too!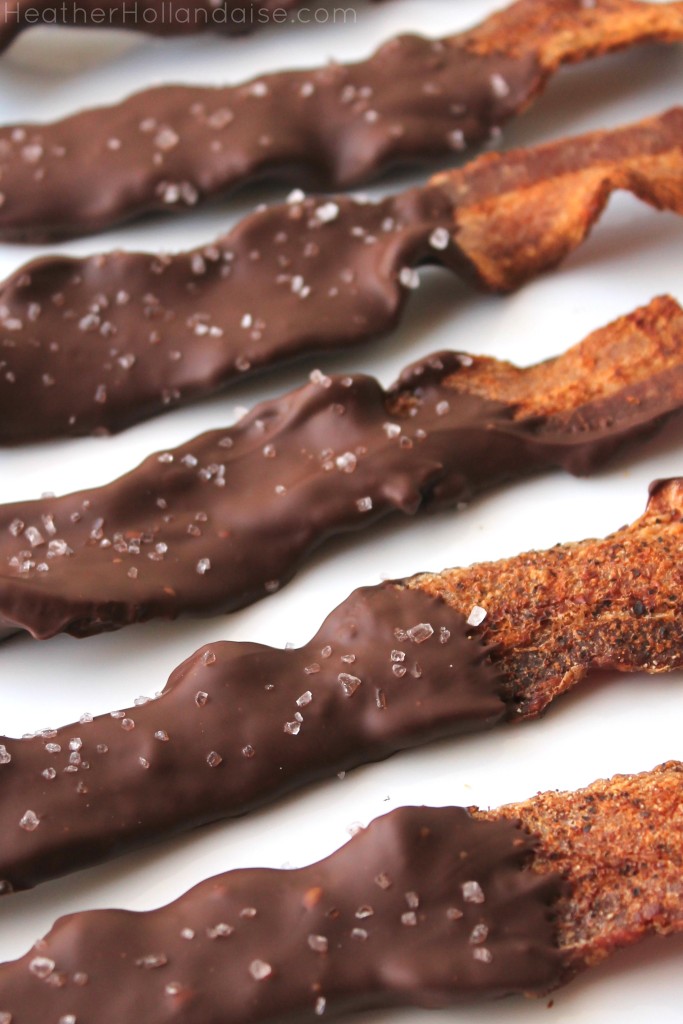 Chocolate Dipped Bacon
Ingredients
1 lb Simple Truth thick sliced bacon
Fresh cracked black pepper to taste
2 C Enjoy Life chocolate chips
Course Sea Salt
Instructions
Preheat oven to 425.
Line a baking sheet with foil and top with a baking rack.
Arrange bacon in a single layer on baking rack.
Sprinkle generously with black pepper.
Bake 20 minutes.
Flip bacon and return to oven for 5 minutes.
Remove from oven and transfer to paper towels to dry completely.
Melt chocolate chips in a tall thin glass. Microwave for about 1½ minutes, stirring every 30 seconds.
Line a baking sheet with parchment or wax paper.
Dip each slice of bacon into the chocolate, leaving about 1-2 inches at the top.
Lay on baking sheet and sprinkle with Sea Salt.
Cool in refrigerator until hardened, about 30 minutes.