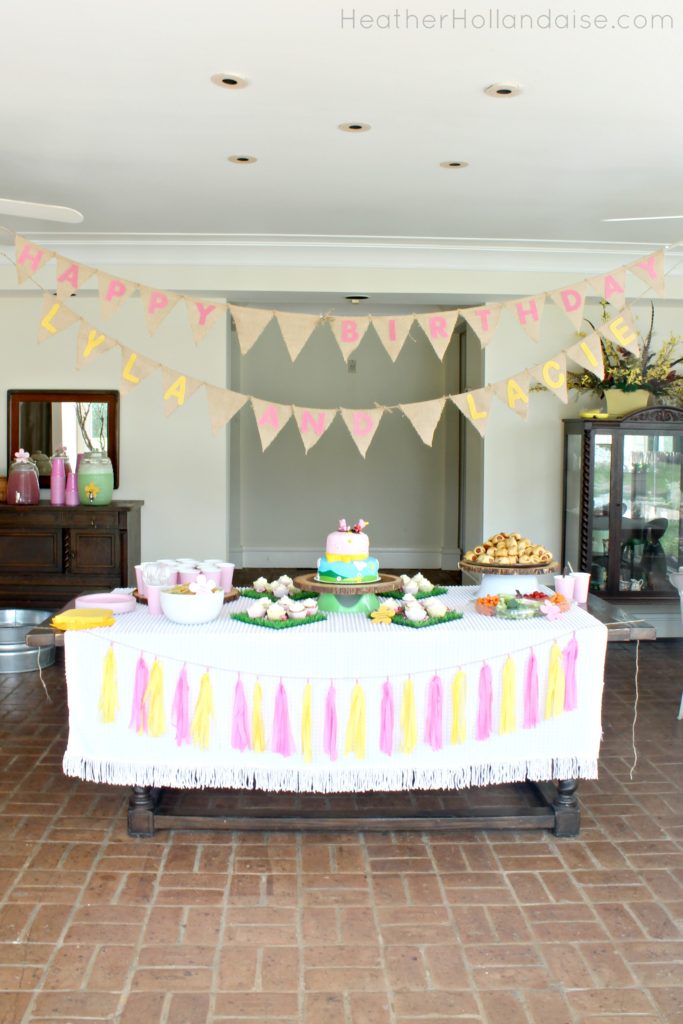 This weekend we celebrated the birth of my two favorite little piggies. Lacie turned two in July, and Lyla will be 5 in October. Luckily for me, most of my mom friends have little ones both of their ages, so I decided to meet in the middle and do a combined party this year. Seeing as the two of them absolutely adore Peppa Pig, I knew I had to deliver the cutest little Peppa Party ever. These girls were thrilled.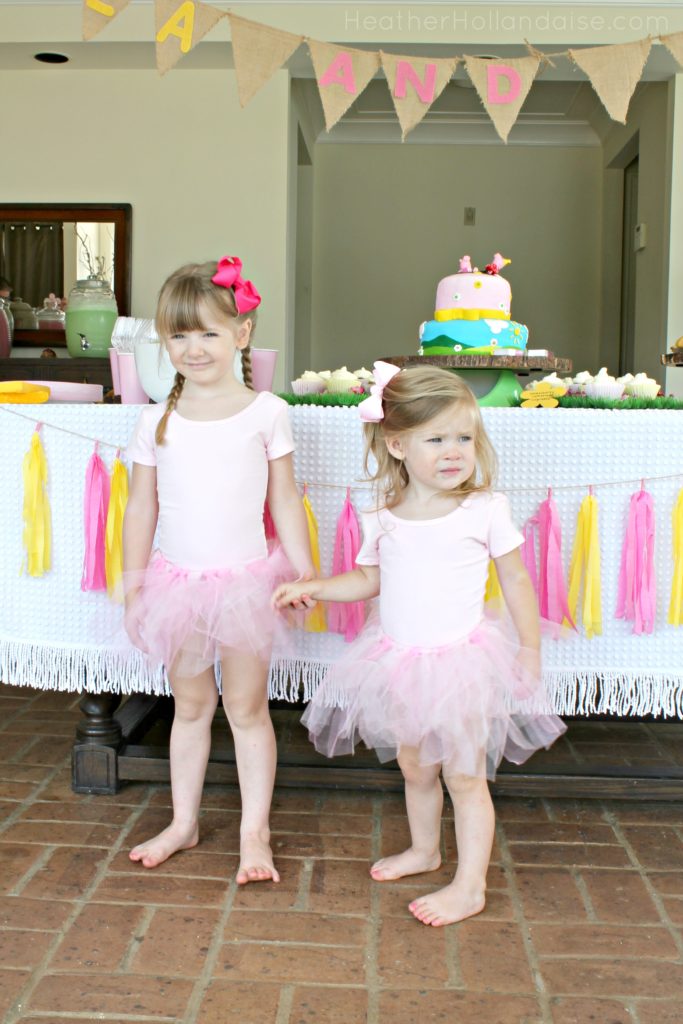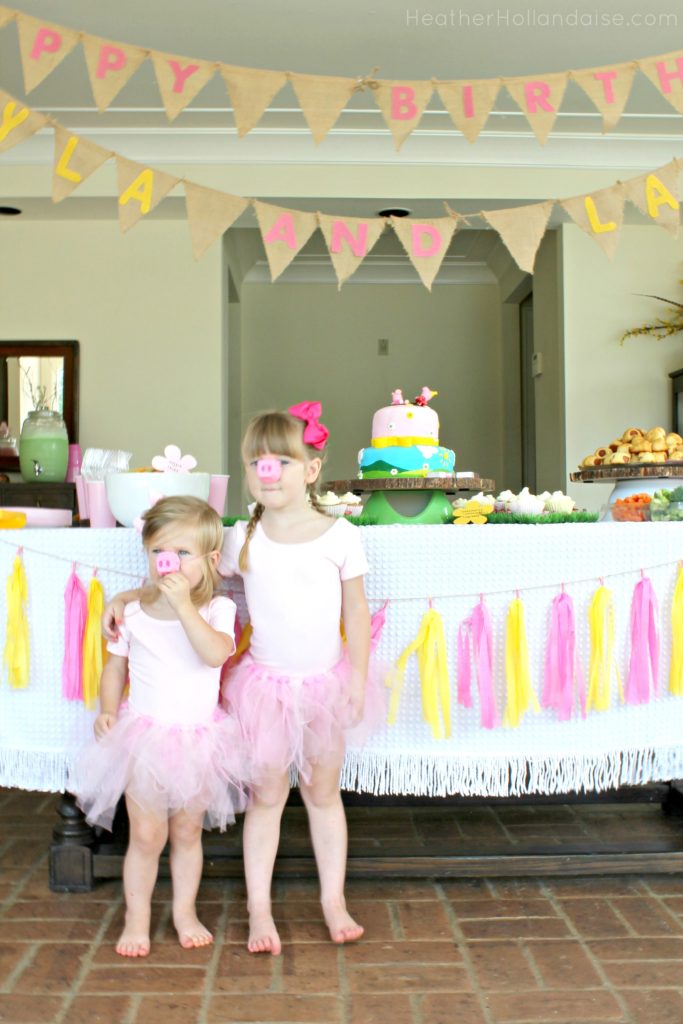 Beautiful simplicity is my mantra. I love simple color pallets and clean backdrops that really make the cute details stand out. I am also all about re-purposing . I put together some elegant little birthday outfits that happened to double as piggy costumes. I paired baby pink leotards with tutus I made tying two shades of pink tulle onto an elastic band.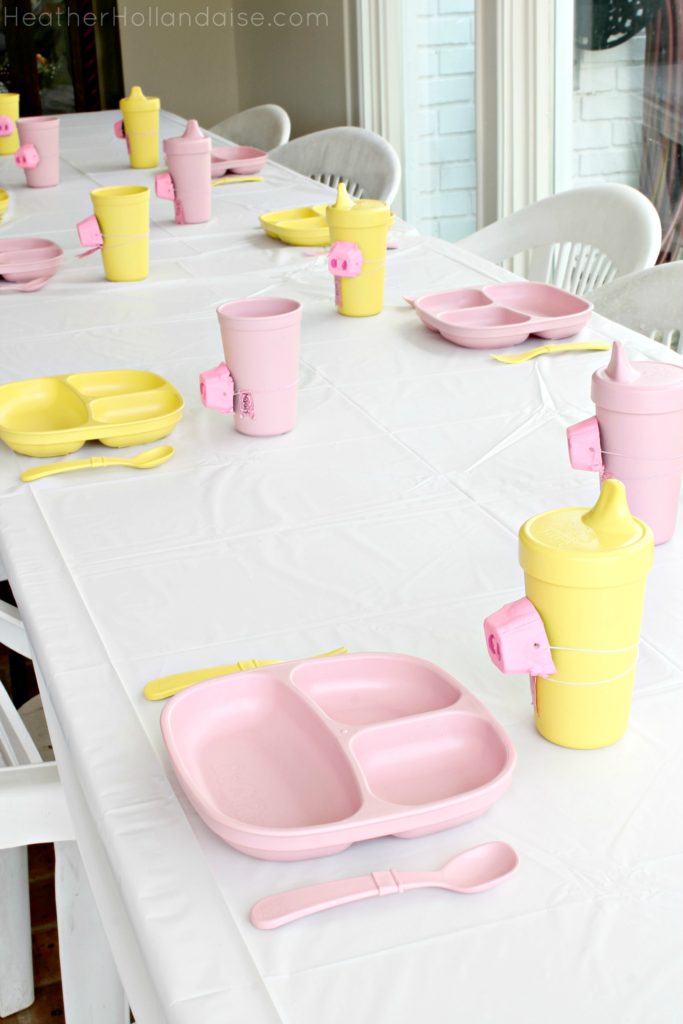 Speaking of re-purposing, It would not be a Holland birthday party without our pretty Re-Play table sets! Re-Play makes the most adorable tableware for children using recycled milk cartons. They come in every color of the rainbow, making them perfect for party planners like myself who love to color coordinate. The baby pink and yellow matched my Peppa Pig theme spot on. Each guest took home a set as their party favor.
These sets are the only ones I use for my kids at home. Obviously they are adorable, but they are also amazing quality. The No-spills are my favorite. They really live up to their name. My kids are wild…and those cups get dropped, tossed, kicked, shaken, you name it. Not a drop.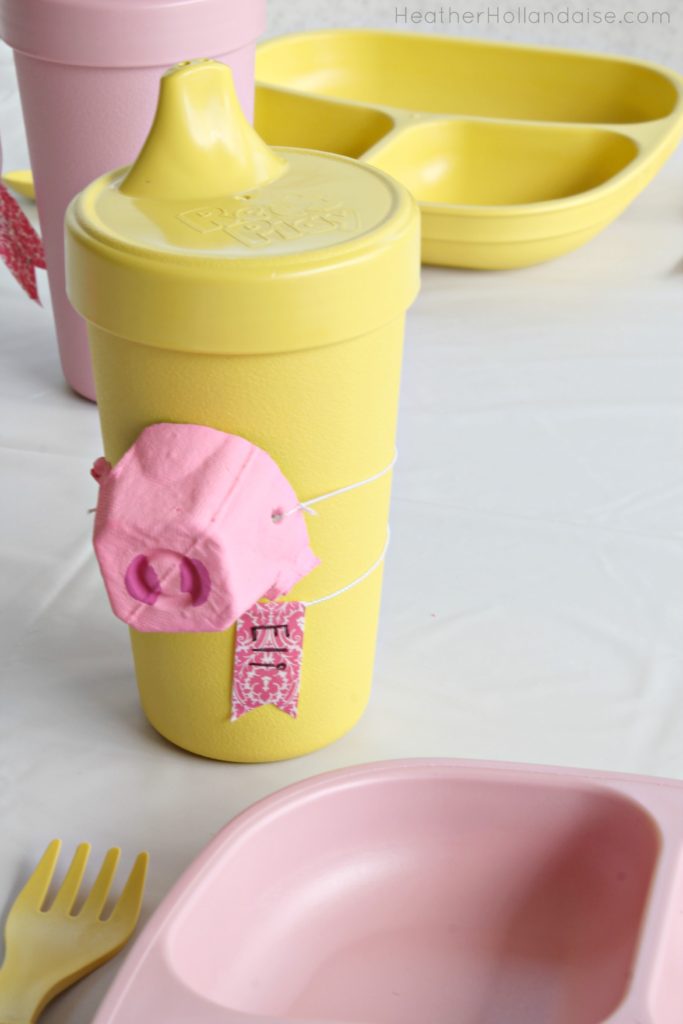 Along with the table sets, each guest got a hand made piggy nose. I cut out the cups of an egg carton, and the girls painted them pink. I added the darker pink nostrils, poked a hole in each side with a skewer, and tied an elastic band through each hole. I labeled each one with a washi tape ribbon on the other end of the elastic, and wrapped them around the cups to mark each seat.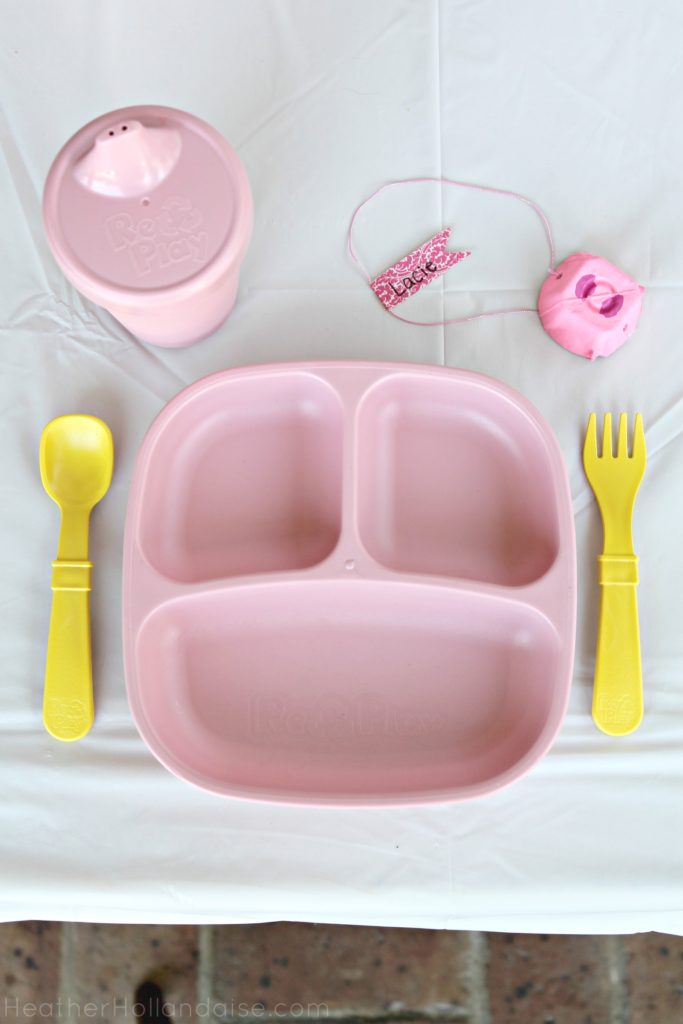 We used a burlap bunting from Target and added letters cut from cardstock for the birthday banner. I tied 5 pink balloons together to make a flower, then I tied two yellow balloons together and stuck it through the middle, and hung those on either side of the banner. I used twine and crepe paper (otherwise known as streamers) to make a tassel garland.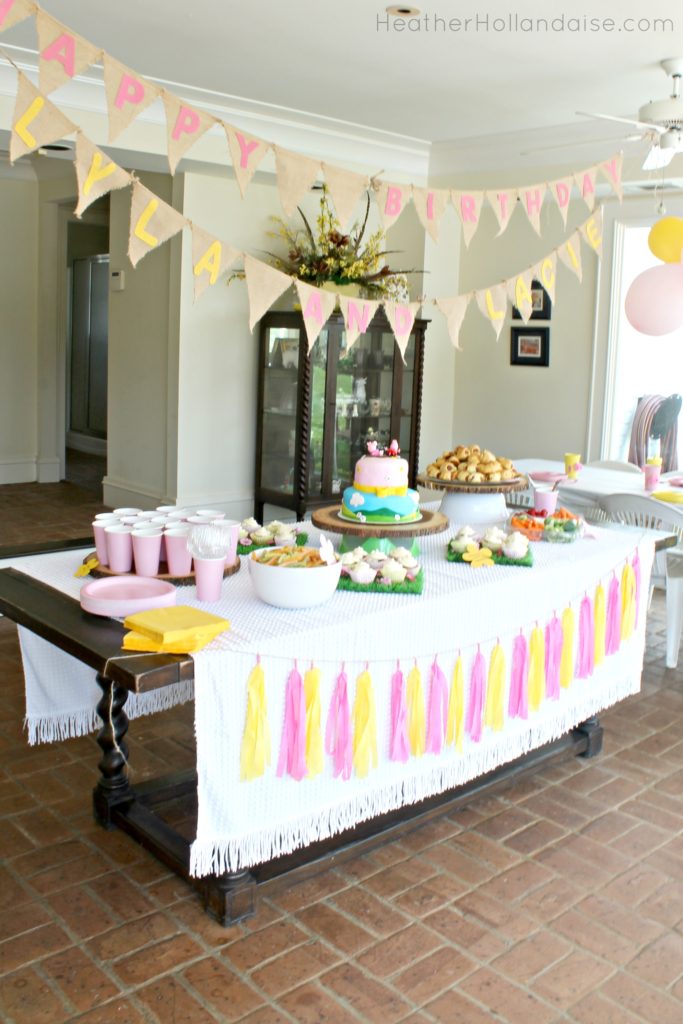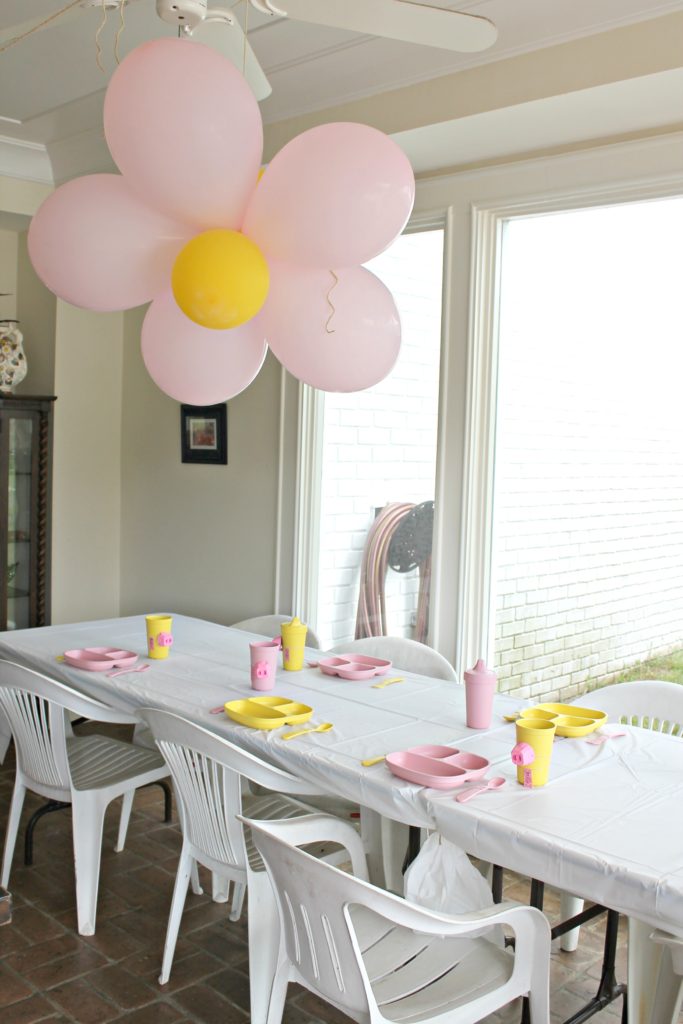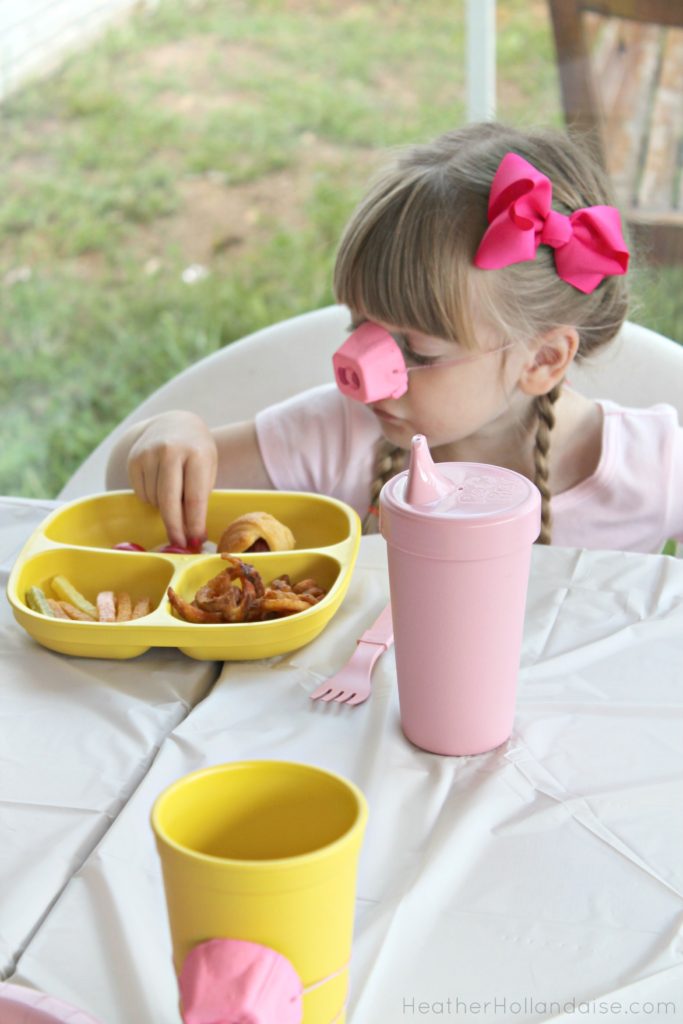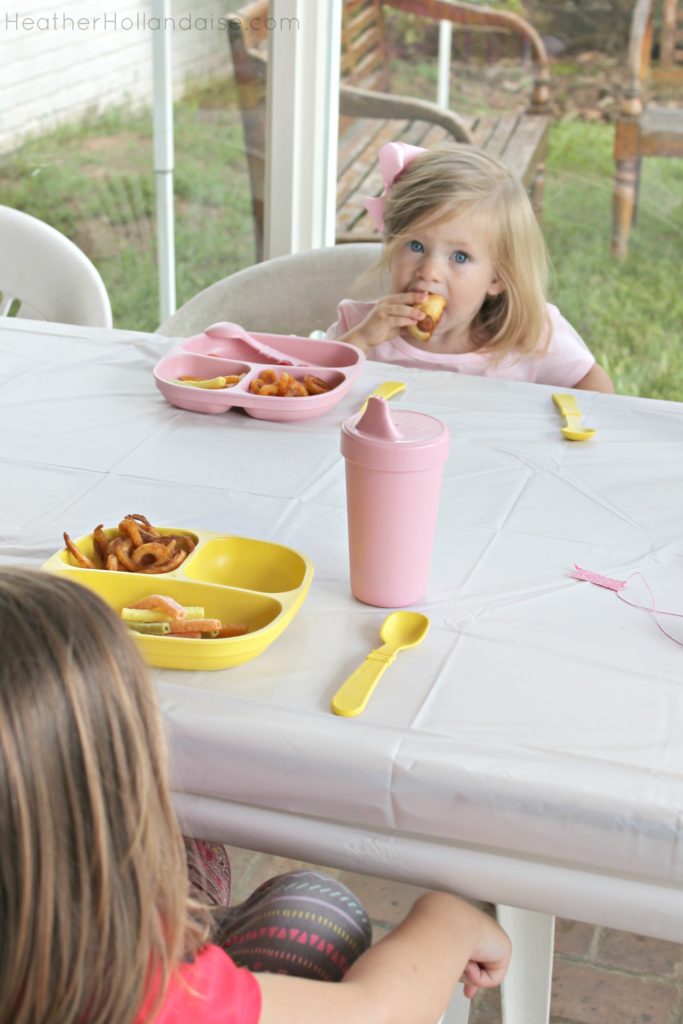 Peppa Pig Party Menu
Pigs in blankets – Applegate hot dogs and crescent rolls
Veggies and ranch
Piggy tails – curly fries
Veggie straws
Fruit platter – watermelon, strawberries, and grapes
Mud Puddles – chocolate fountain
Pig noses – pink marshmallows
Strawberry Lemonade
Dinosaur Juice – lemonade, sprite, and lime sherbet
Paleo Strawberry Lemonade Cupcakes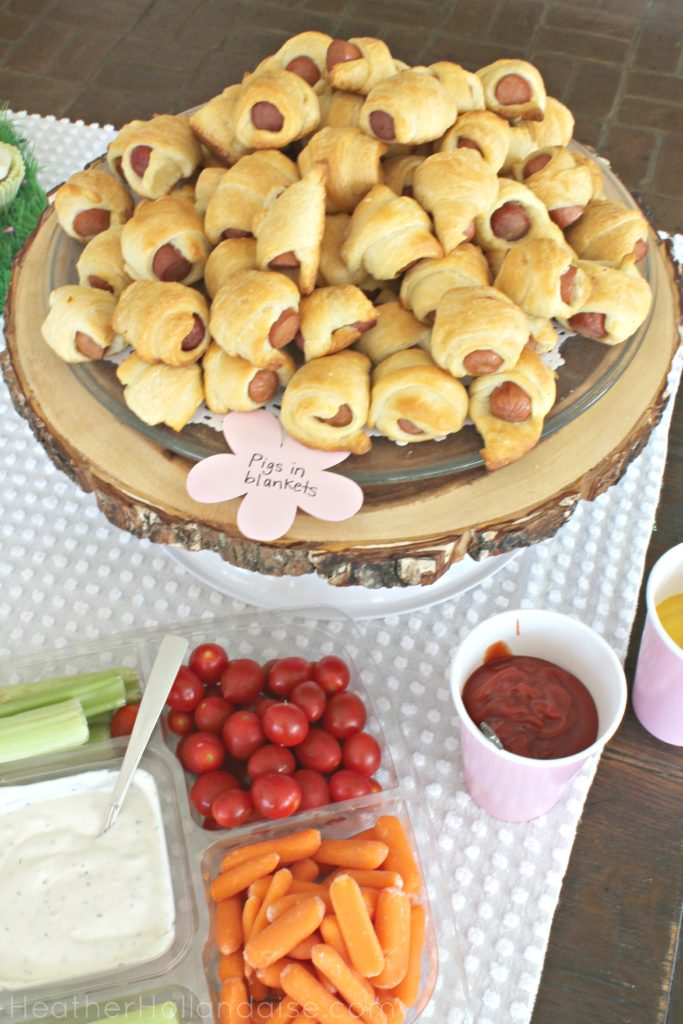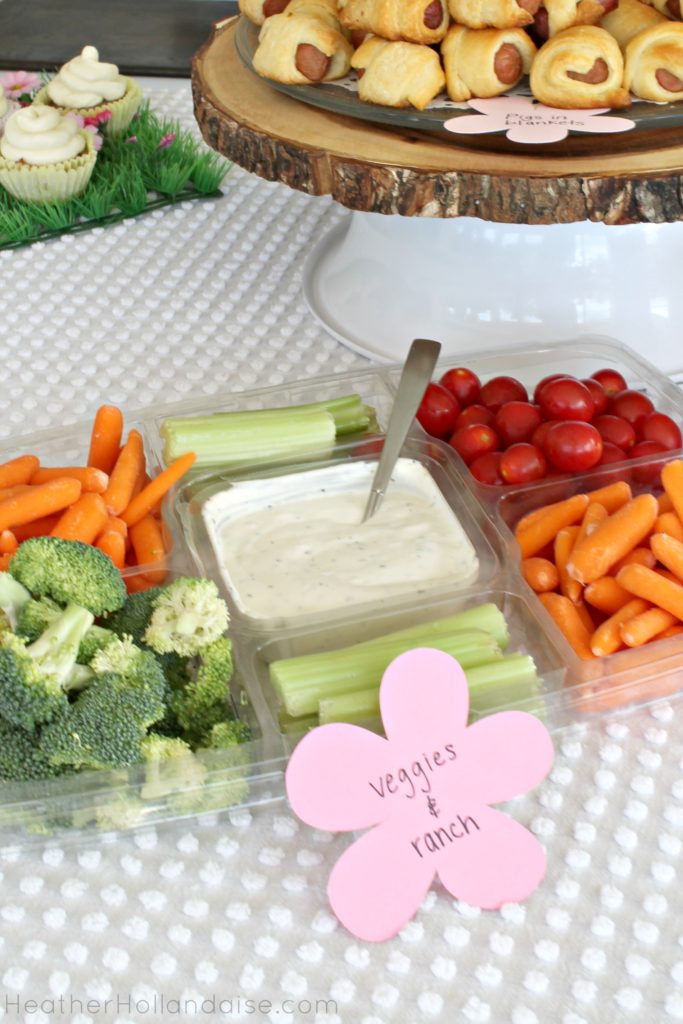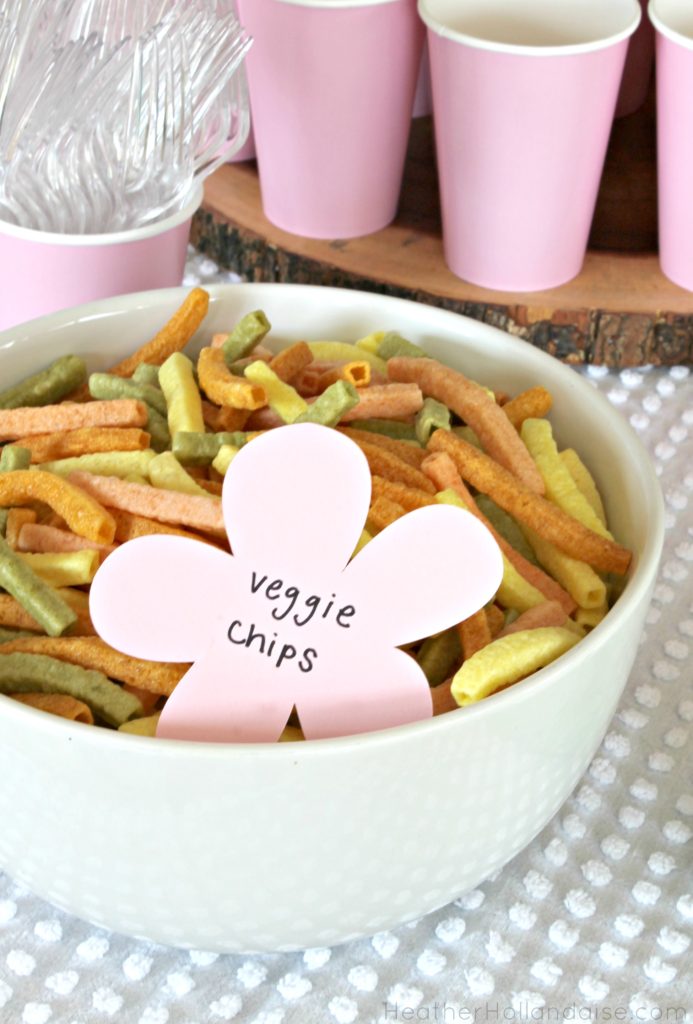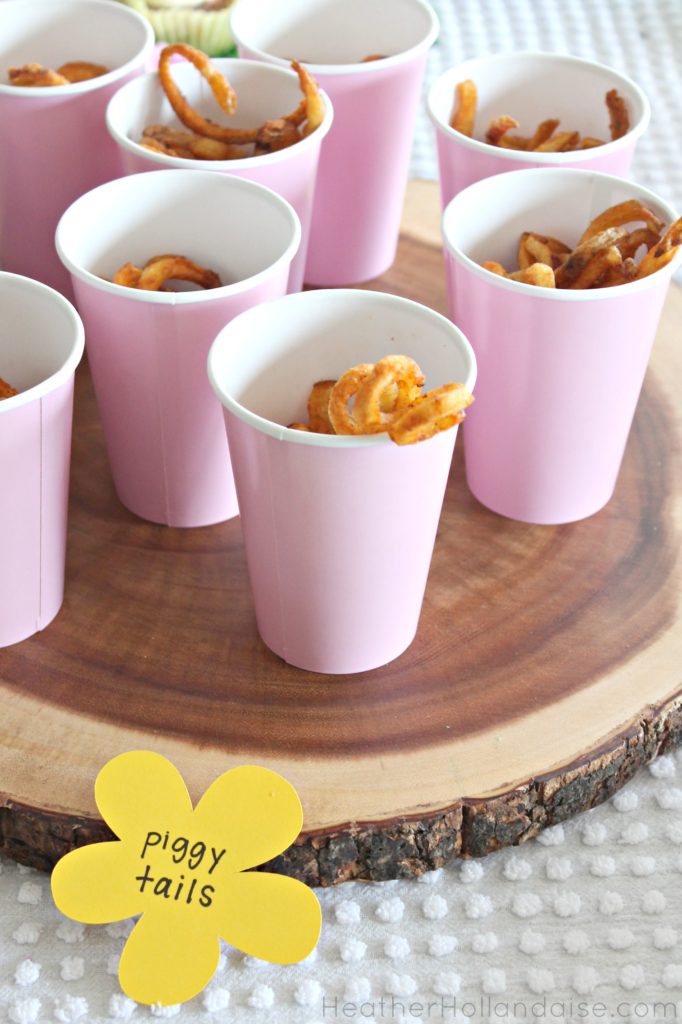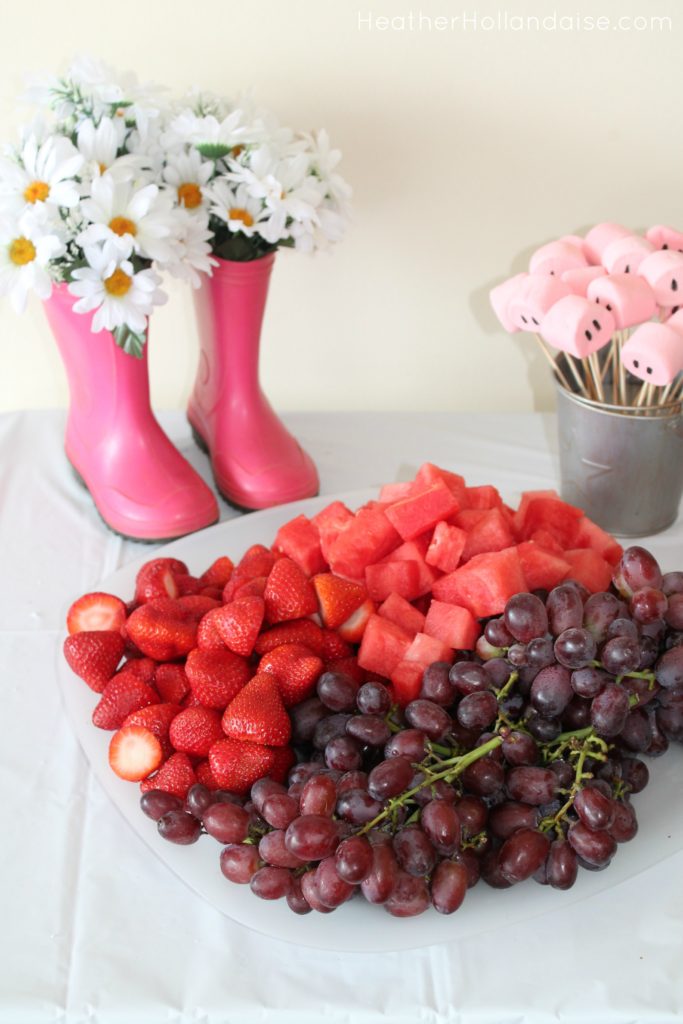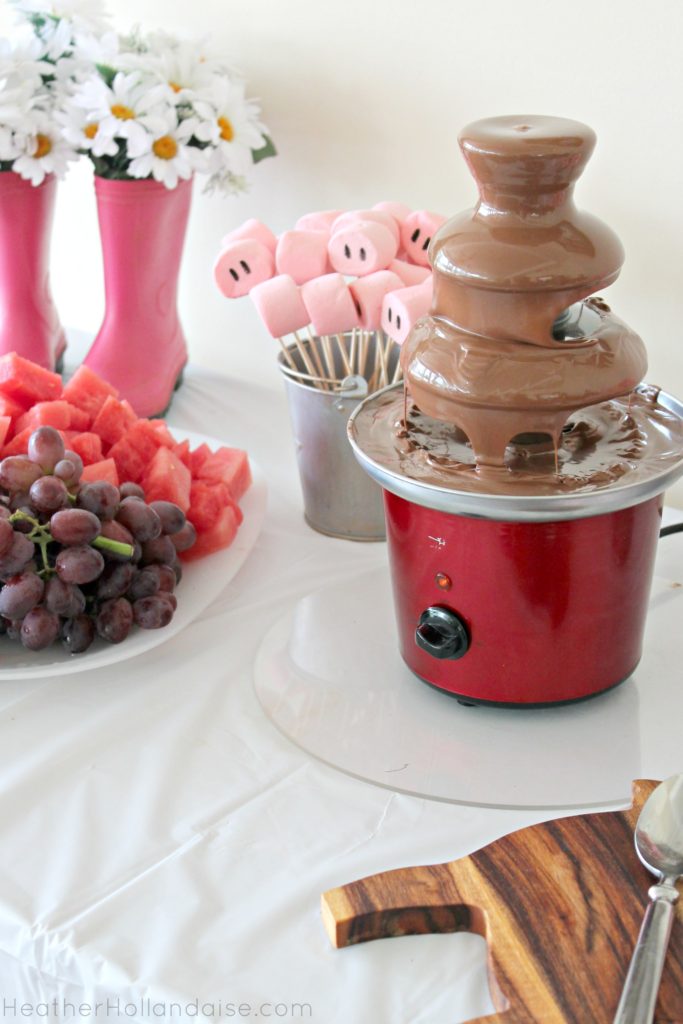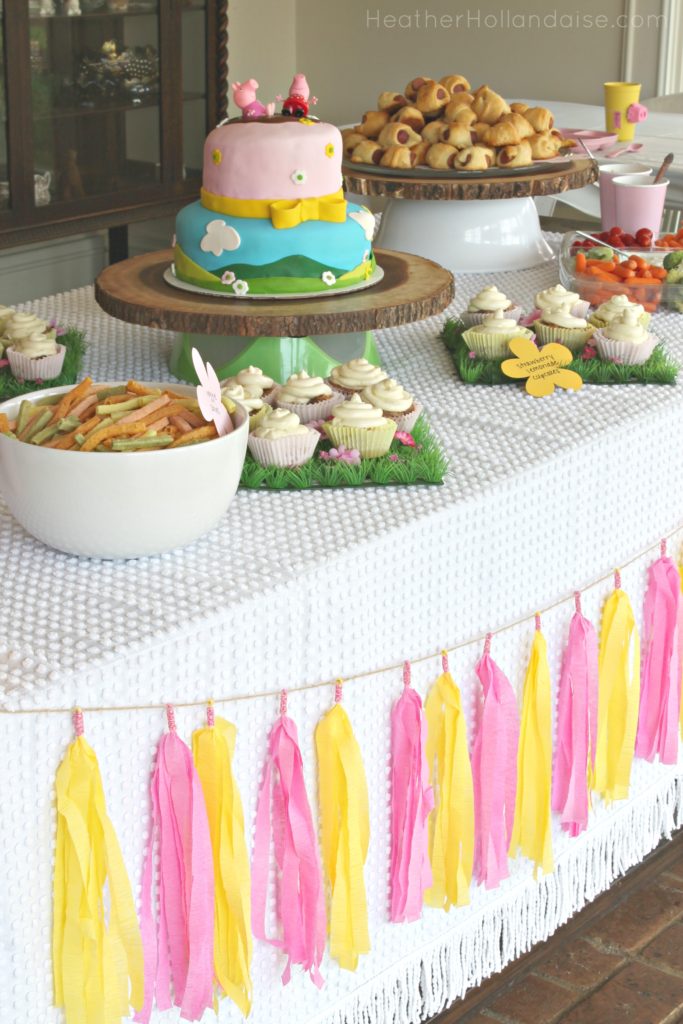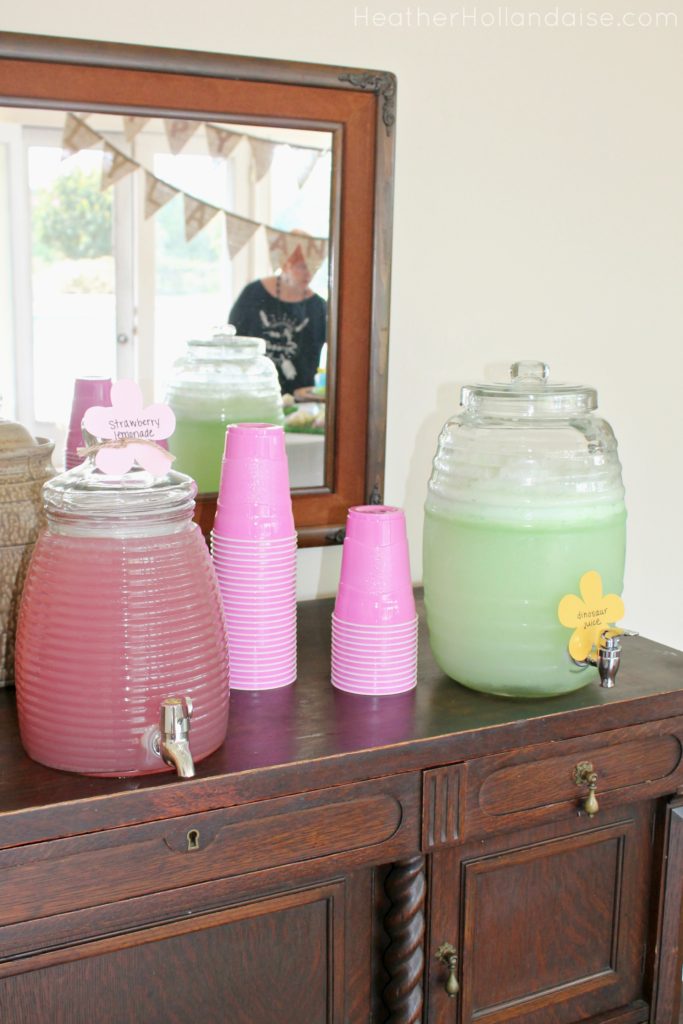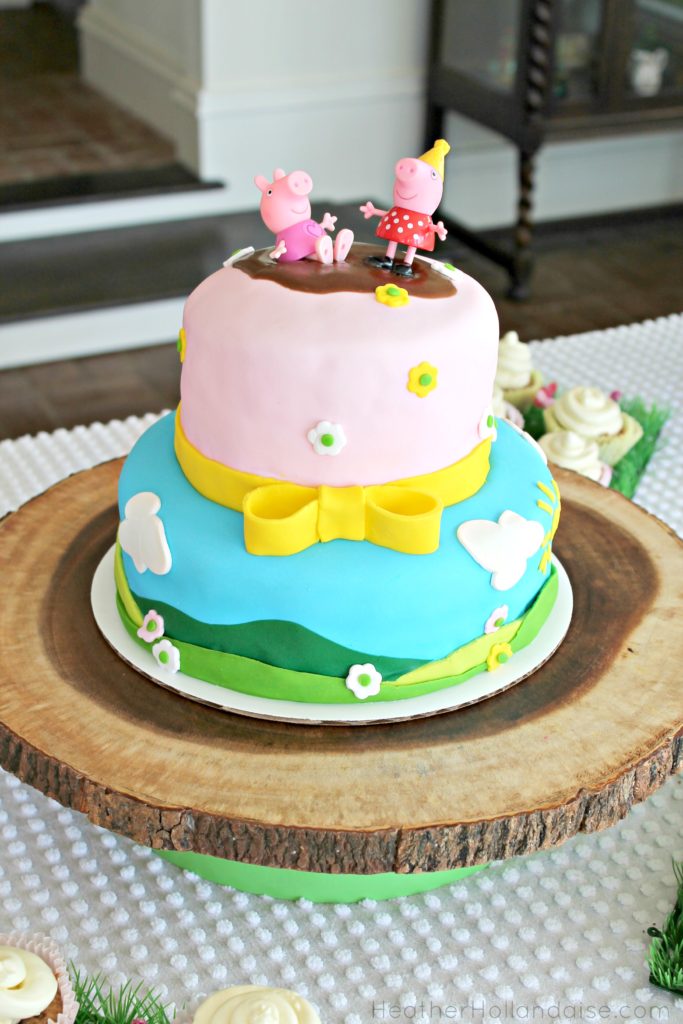 My mom made the cutest little Peppa Pig cake you ever did see! She used a traditional white cake with buttercream and fondant. The muddy puddle was made from a tootsie roll! I borrowed a couple of toys from the girls to use as a cake topper. They were perfect! I also made my Paleo Strawberry Lemonade Cupcakes for myself and my paleo friends and family to enjoy.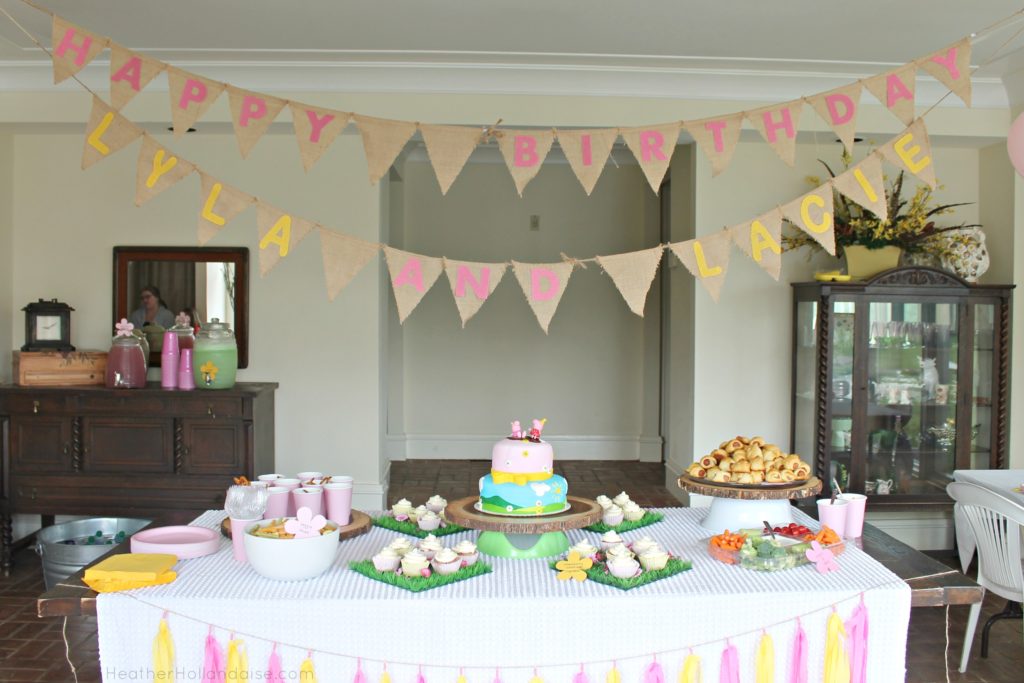 The Piggy Tails, Cake, and Pigs in blankets were served on a log slice platter from Target. The grass squares were ordered on amazon. The food labels were cardstock flowers cut with a Cricut. The paper plates, cups, and napkins came from Walmart. I even made pig noses on the "big kid" cups. Because adults like to have fun too.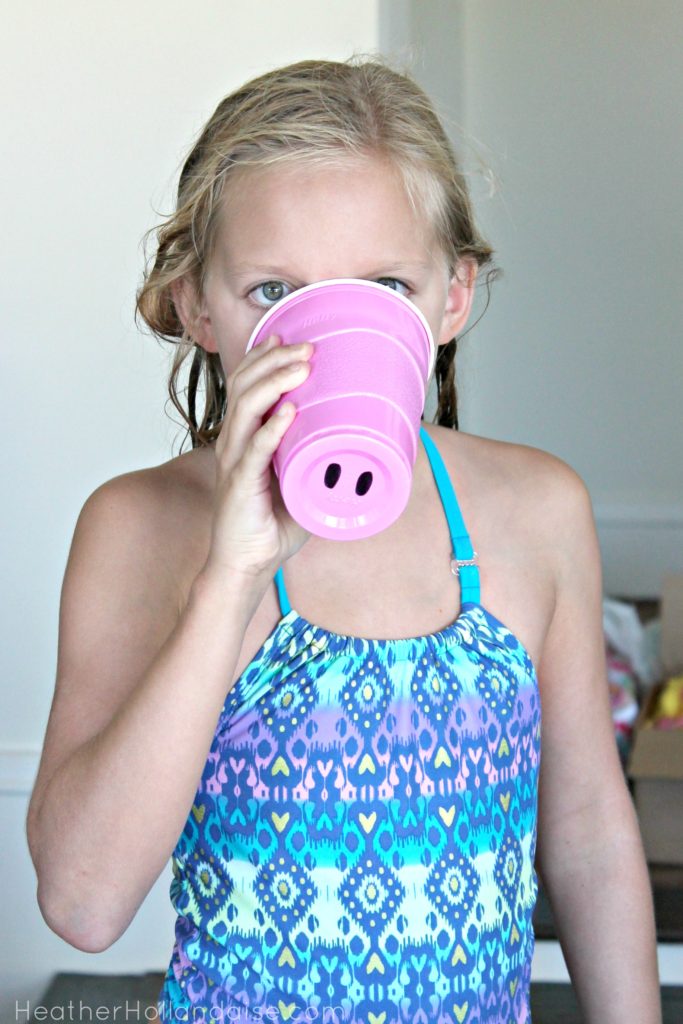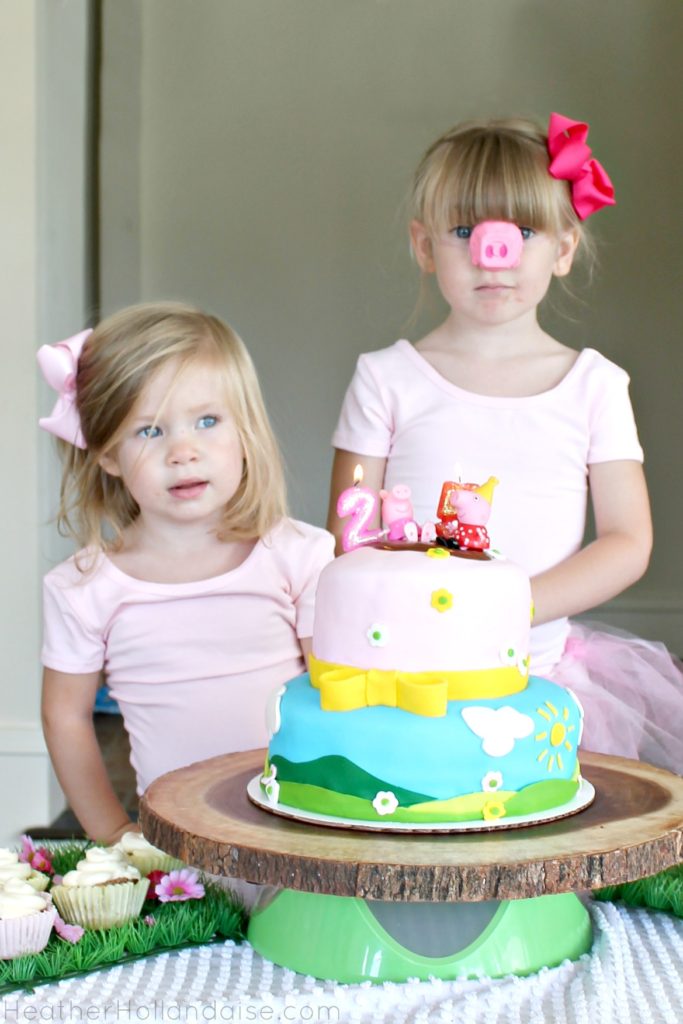 This was my first year combining birthdays, and I think there may have been a little bit of confusion from the girls. Lyla couldn't wrap her head around the fact that she still isn't 5. Once I explained that we are celebrating with their friends now, and that they get to celebrate again with Mommy and Daddy on their real birthdays, she didn't mind waiting at all to turn 5.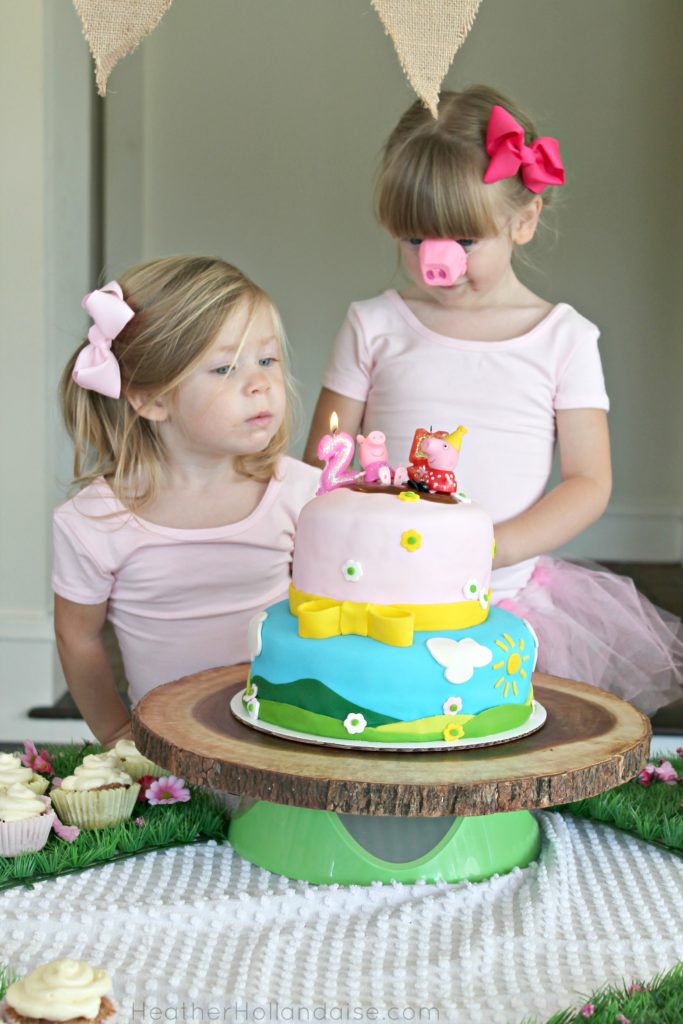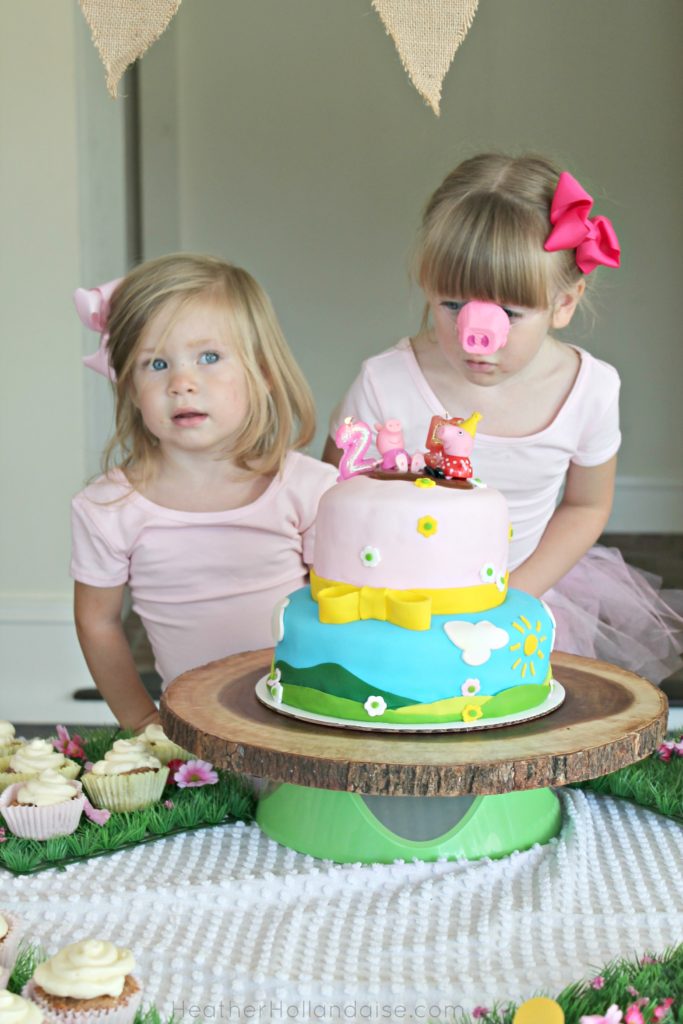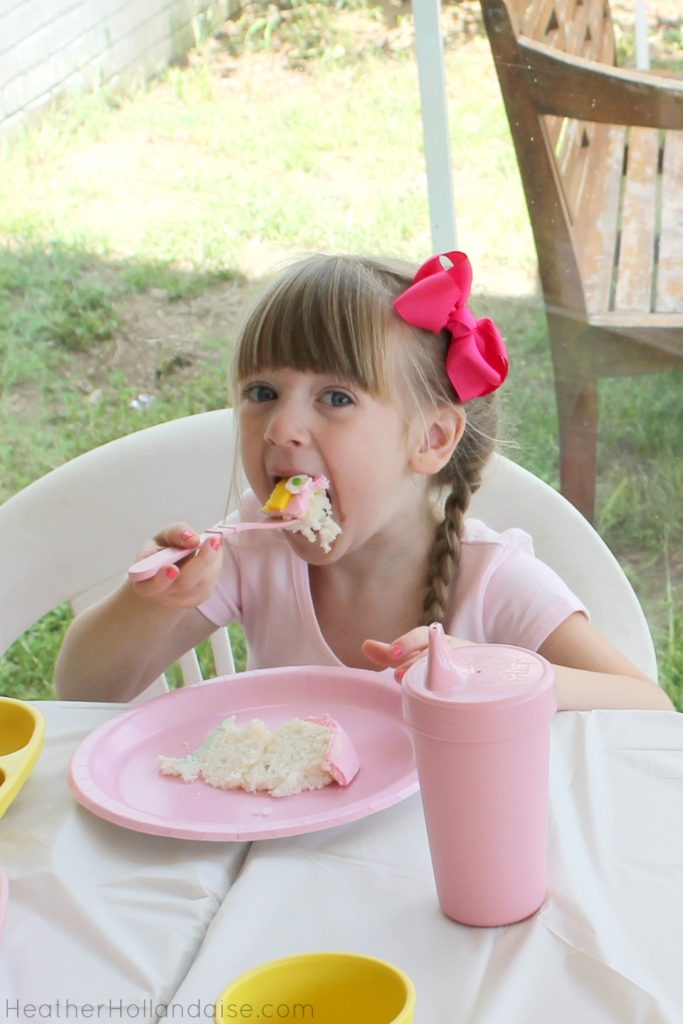 After we ate and socialized, and stuffed our faces with cake (for some of us quite literally) we spent the rest of the evening out in the pool, slip n slide, and sprinklers. Mostly the big kids took to the pool while the little ones ran around in the water. Everyone seemed to have a great time.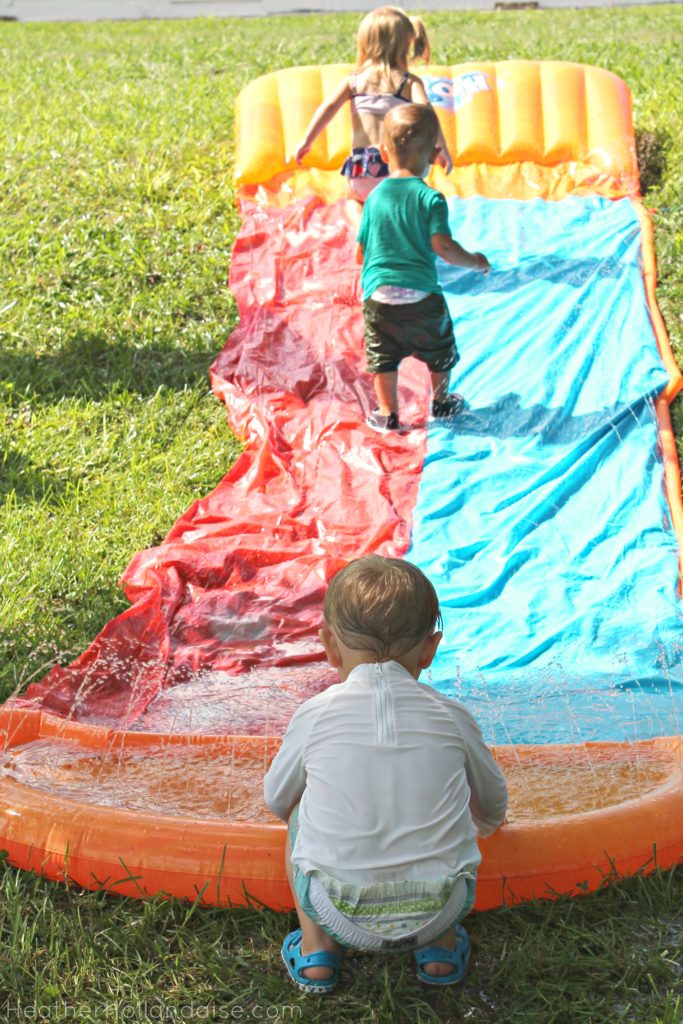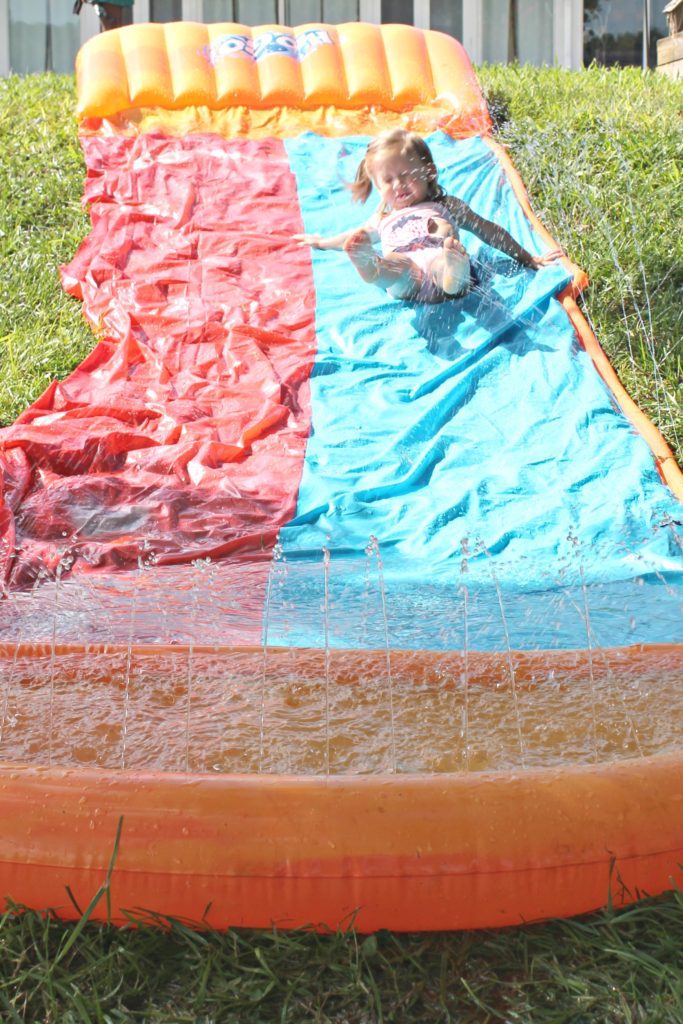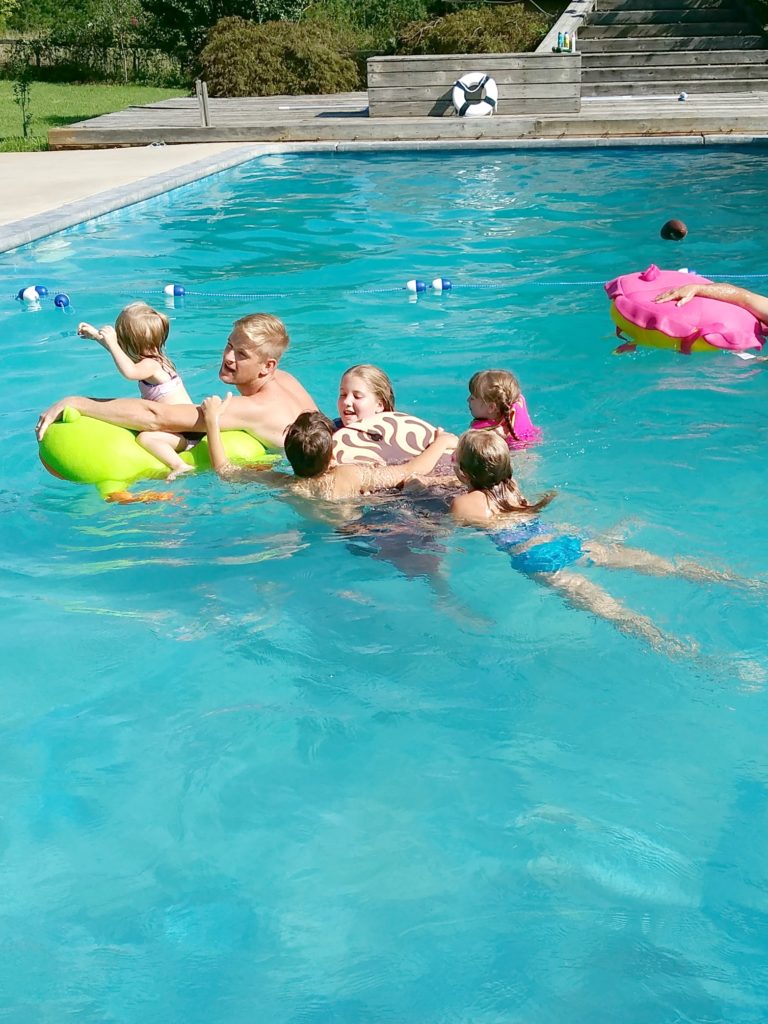 Here's a photo of literally every child in the pool using my husband as a flotation device. Bless his heart.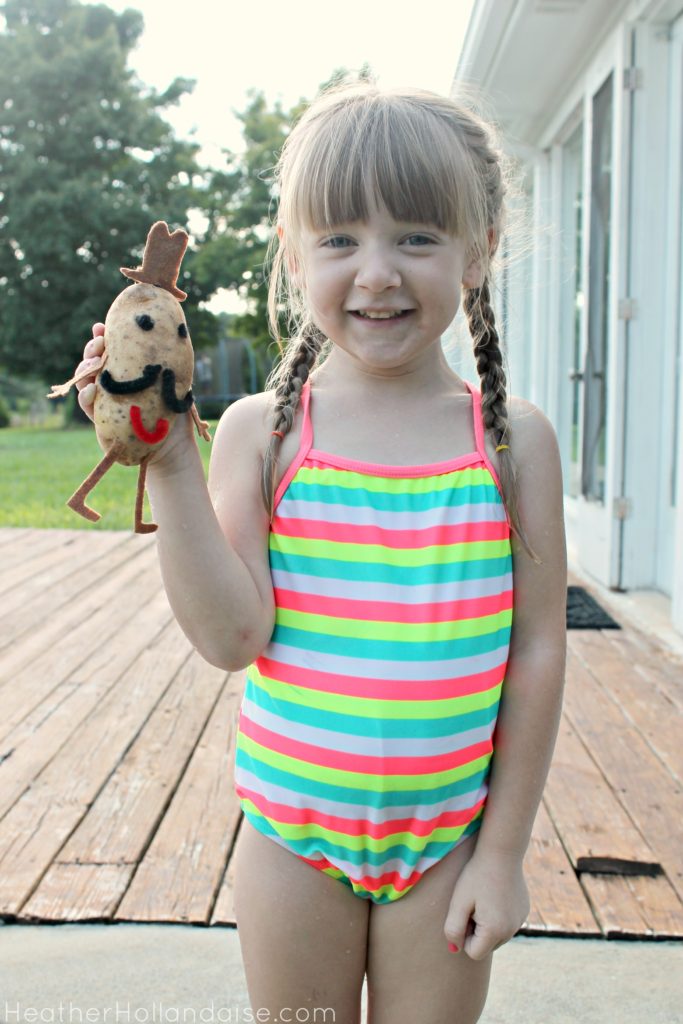 I made a Mr. Potato to play hot potato, but everyone was just too busy having fun in the water to stop for a game. Lyla loved him though. And we were the only die hard Peppa fans who knew who Mr. Potato was. As the evening came to a close, some of us cuddled up on the cough to watch Peppa Pig on Youtube…which of course had to be the Mr. Potato episode, for educational purposes. We had so much fun we didn't want to leave, and it got so late it turned into a sleepover. Lyla said it was the best birthday ever! I wasn't quite sure about having another combined party, but I think that just about made up my mind.