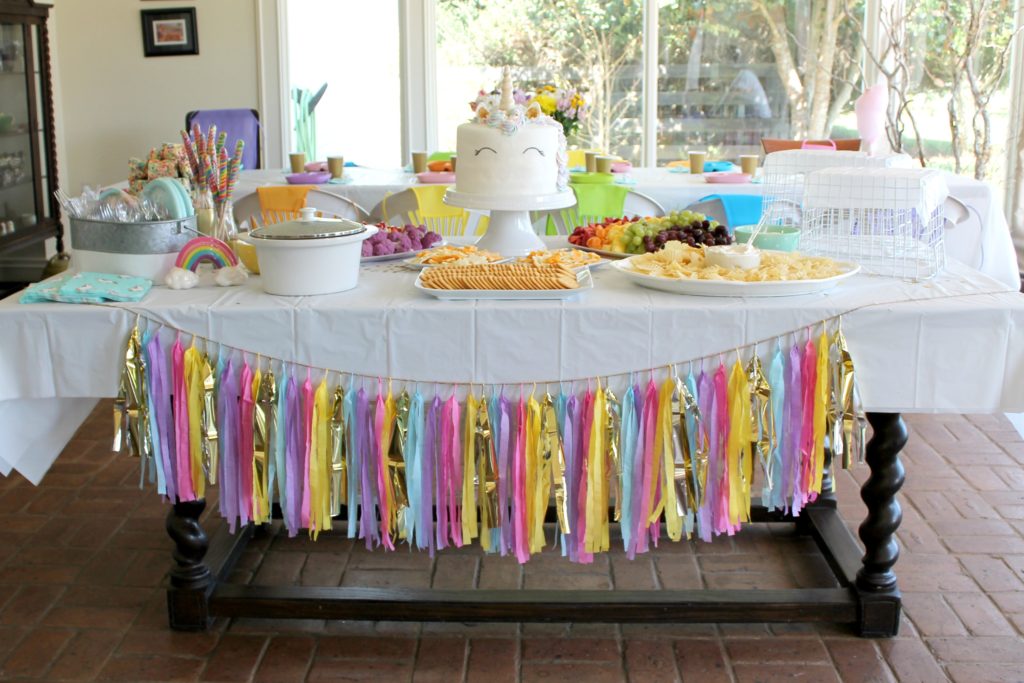 It's that time again. Time to celebrate the birth of my baby girls. I can not believe another year has come and gone. This time of year is always bittersweet for Momma. I wish I could bottle them up and keep them little forever. At the same time, I really look forward to these parties. Giving my princesses a special day just for them brings me so much joy!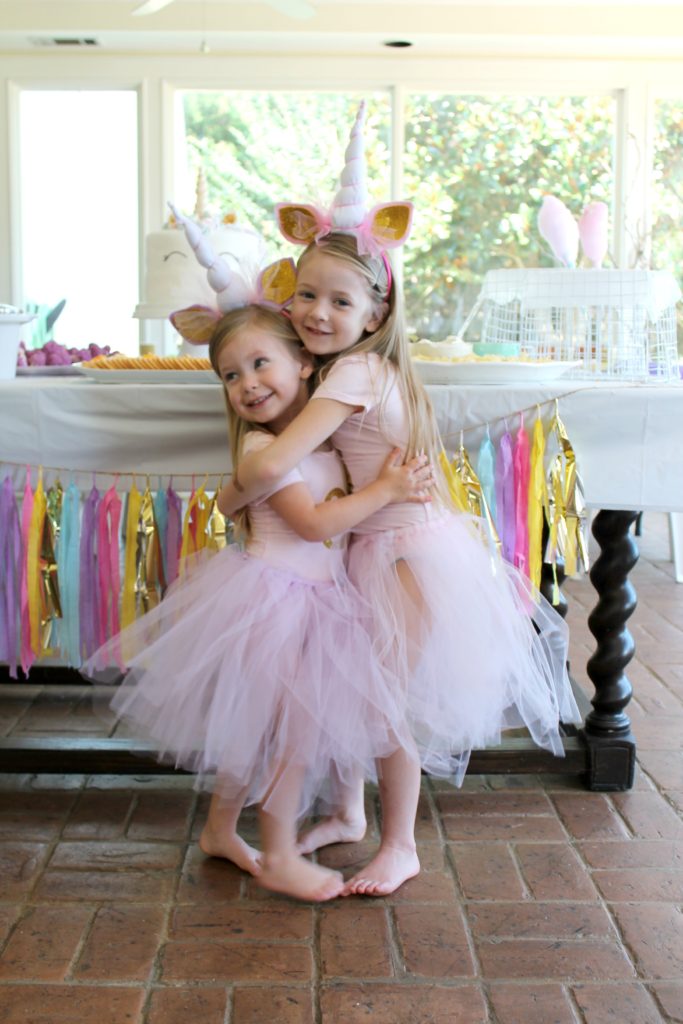 This year's request was a rainbow unicorn art party. A very specific request that I happened to LOVE. Rainbows, unicorns, and art….so much fun! I really had a ball with this one.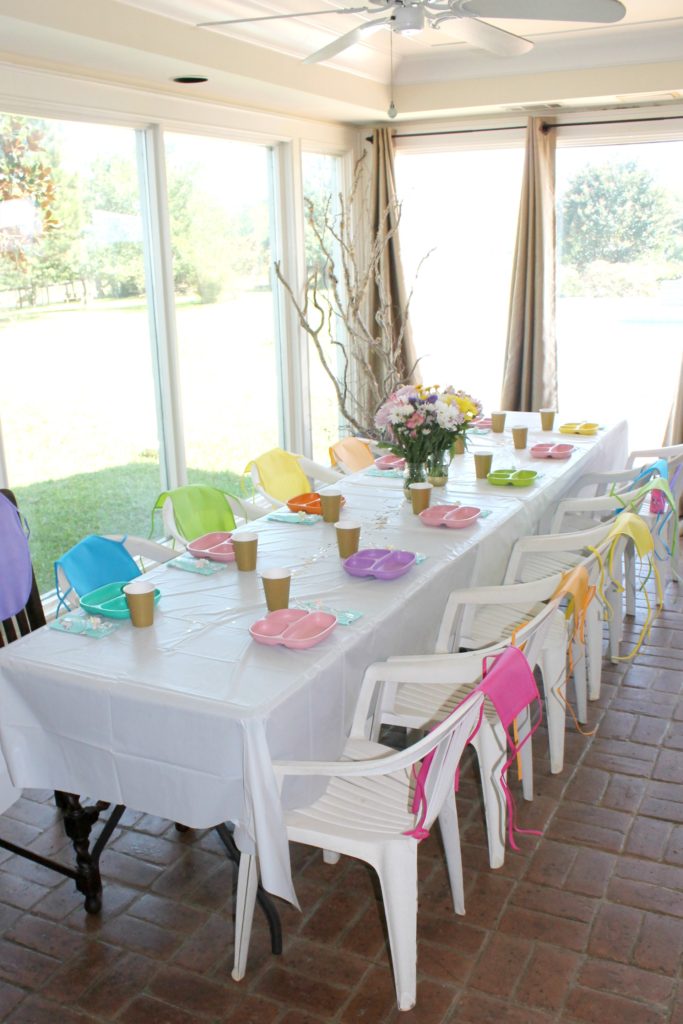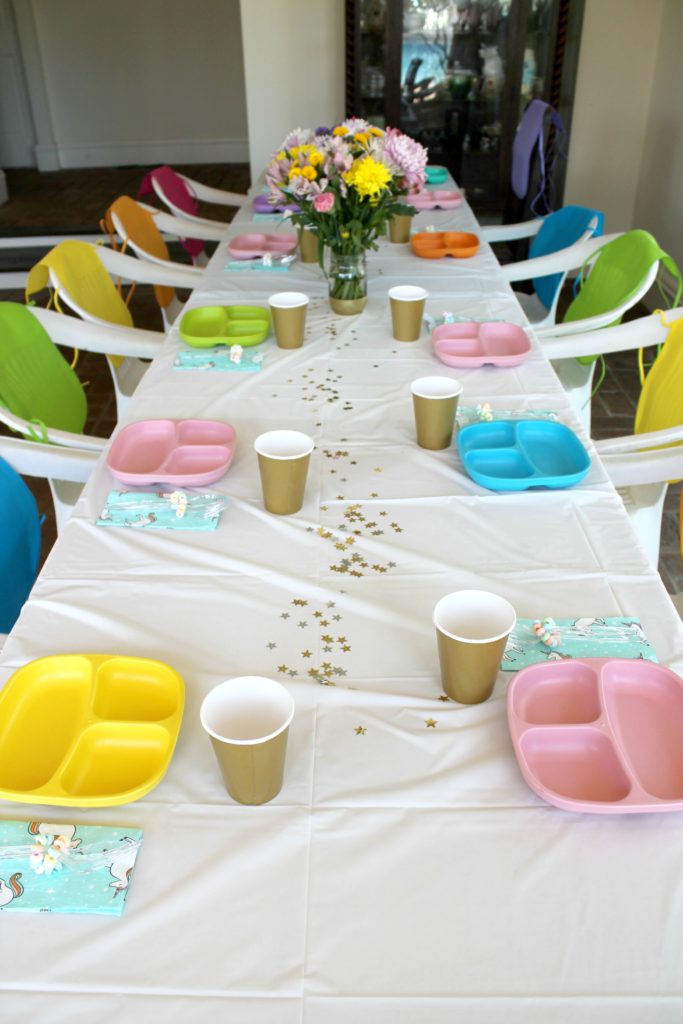 Of course I had to go with my favorite Re-play dishes again. It has basically become tradition. The colors are so vibrant, and really completed the look I was going for. The unicorn napkins and plates came from Target. I used some simple clear plastic utensils tied together with a candy bracelet for each child. The gold paper cups came from Party City, and the gold star sequins from Hobby Lobby.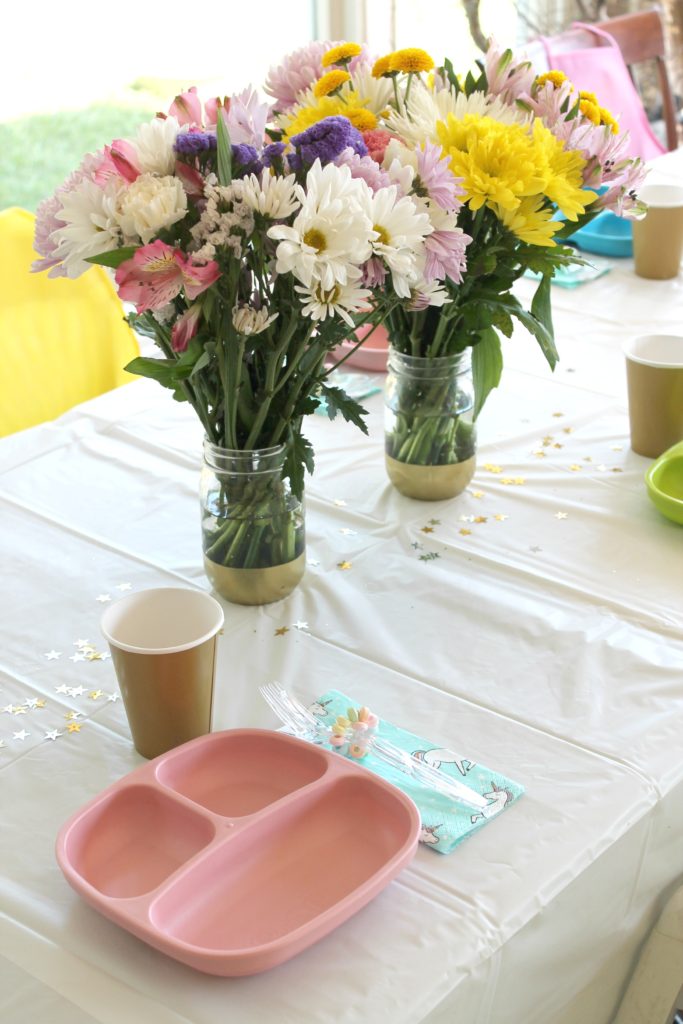 For the centerpiece I taped off the bottoms of two mason jars and spray-painted them gold. I filled them with some cute arrangements I found at Kroger marked down from $15 to $3.50. Score! Each child received their own apron, which they got to take home with them. We found those on Amazon.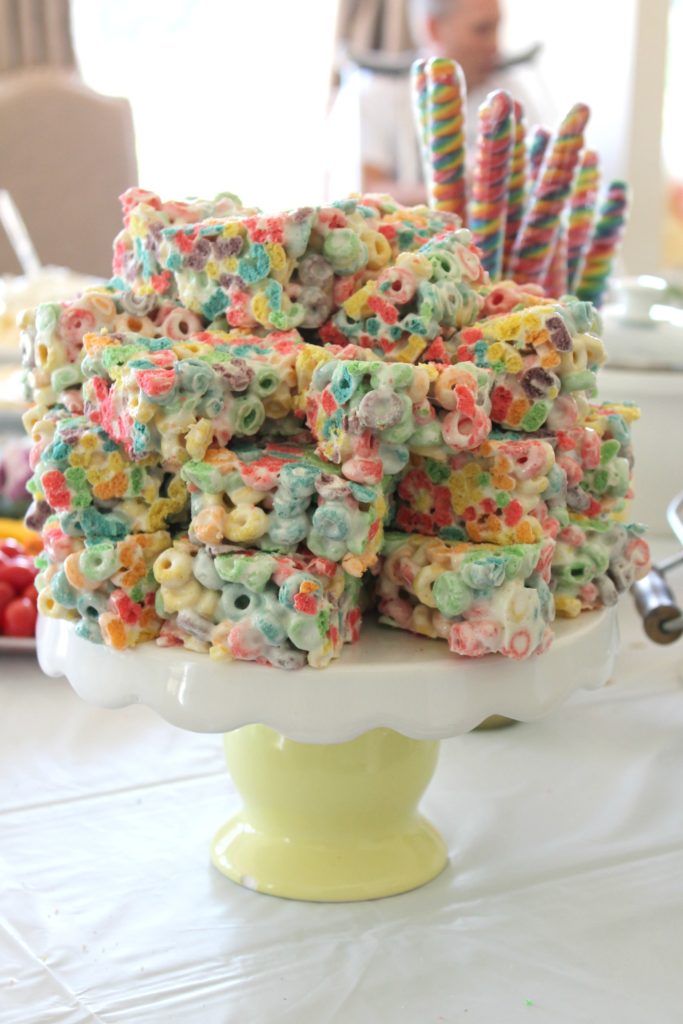 I had to have a nice balance of healthy food and indulgent party food. I am a firm believer that YOLO, and birthdays come but once a year. These fruit loop bars took me back to childhood. They were made just like rice krispie treats, swapping the rice cereal for fruit loops. The cake stand is from Target.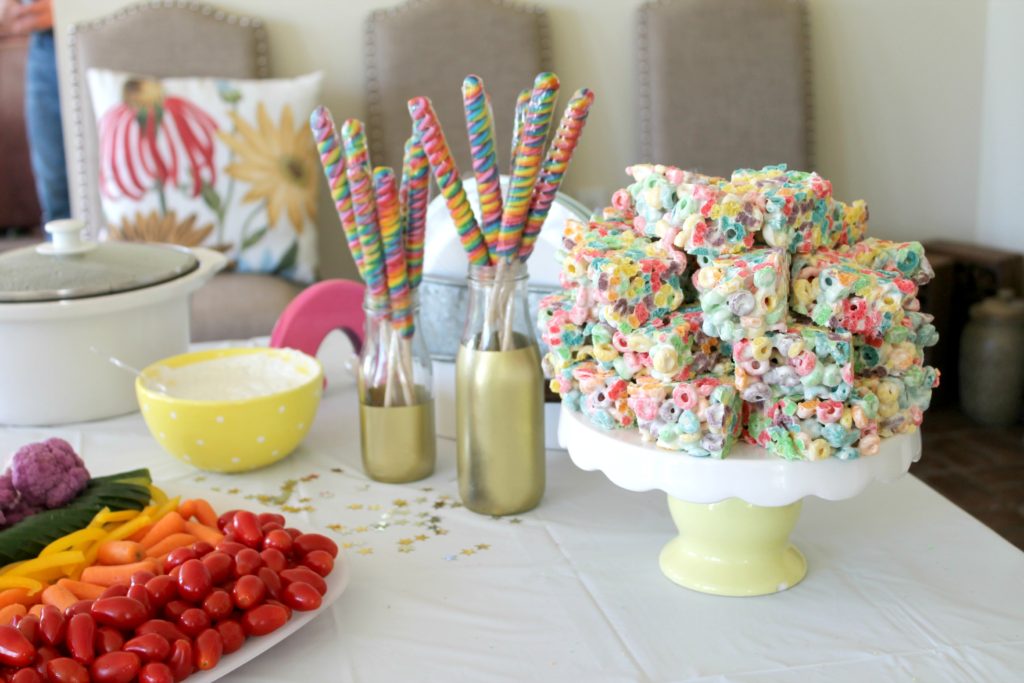 The gold jars here were done just like my flower jars, reusing some empty Starbucks bottles. The rainbow lollipops were a Ross find. We had a beautiful rainbow of fruits and veggies. Tomatoes, carrots, yellow peppers, cucumbers, and purple cauliflower were served with ranch for dipping. The polka-dot bowls came from Target.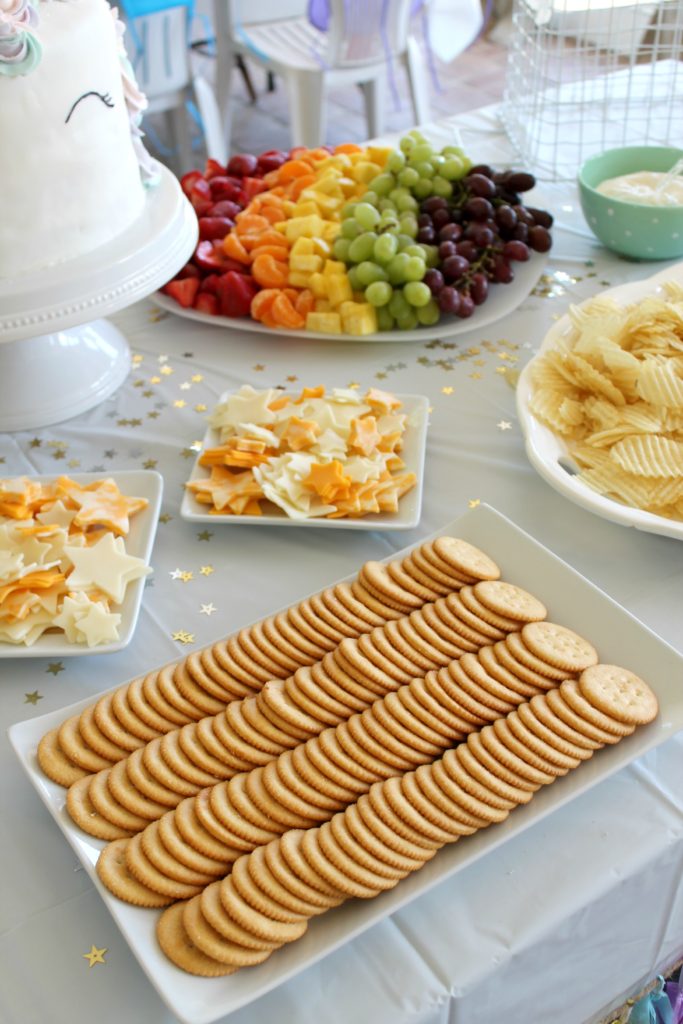 Ritz crackers were served with an assortment of star-shaped cheeses. Strawberries, mandarins, pineapple, green and purple grapes were served with cloud dip. If you have never had cloud dip, you have to try it. Just mix 8oz of cream cheese with 8oz of marshmallow fluff and 1/4 c of powdered sugar. Divine!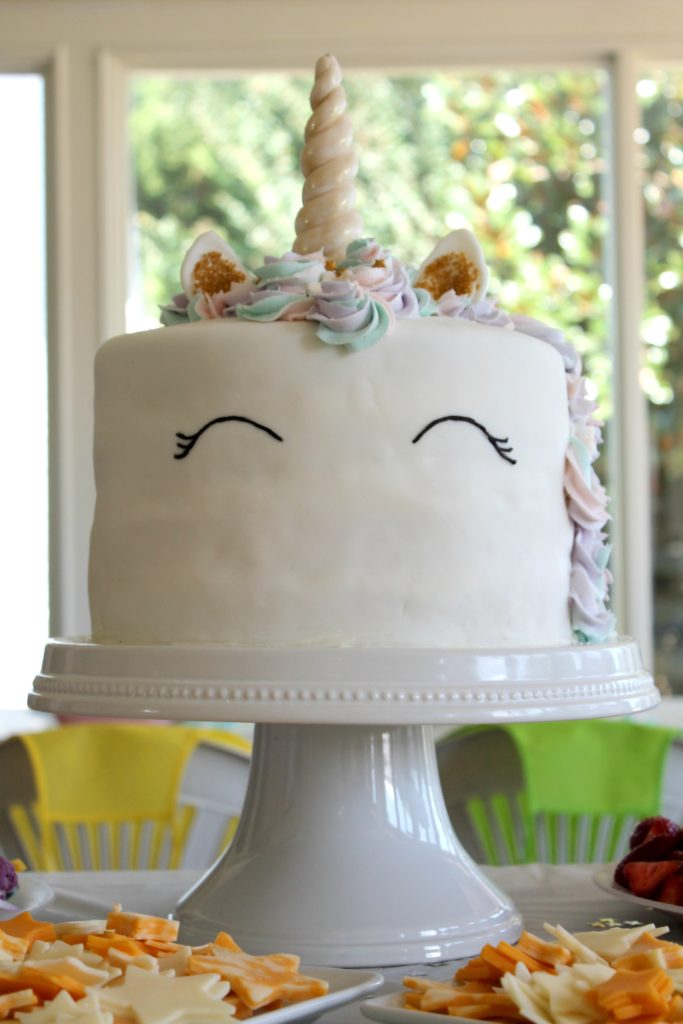 My mother made the most BEAUTIFUL Unicorn cake. The colors were perfect. Gorgeous pastel pink, purple, gold, and blue swirled together to create the unicorn's mane. The horn was made of fondant and covered in a shimmery gold edible glitter. There were also gold sprinkles and gold stars glittering through the mane.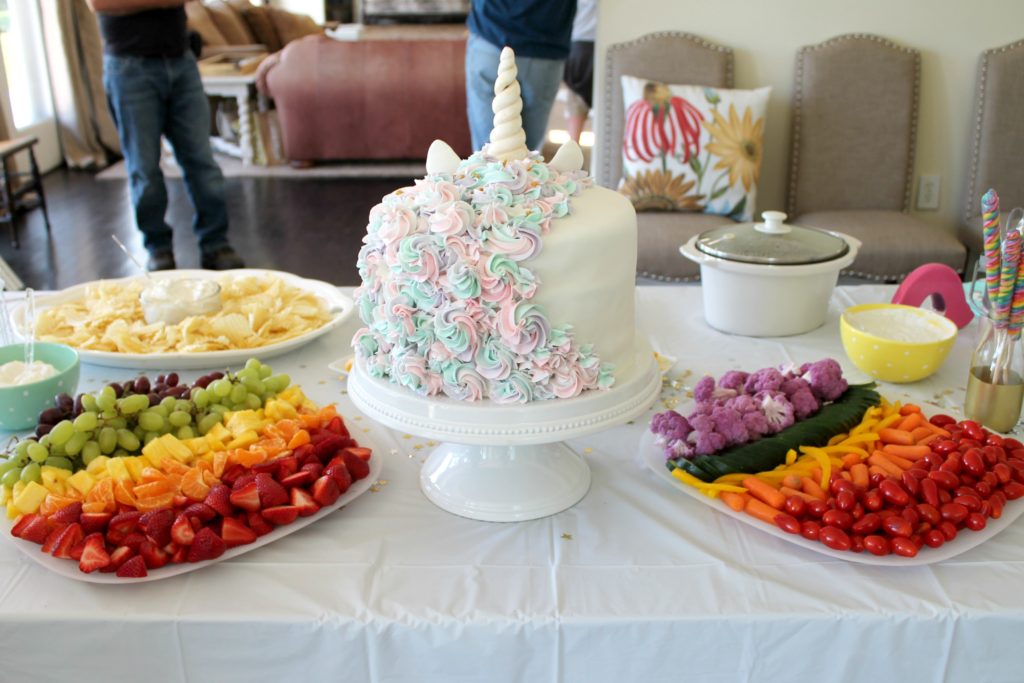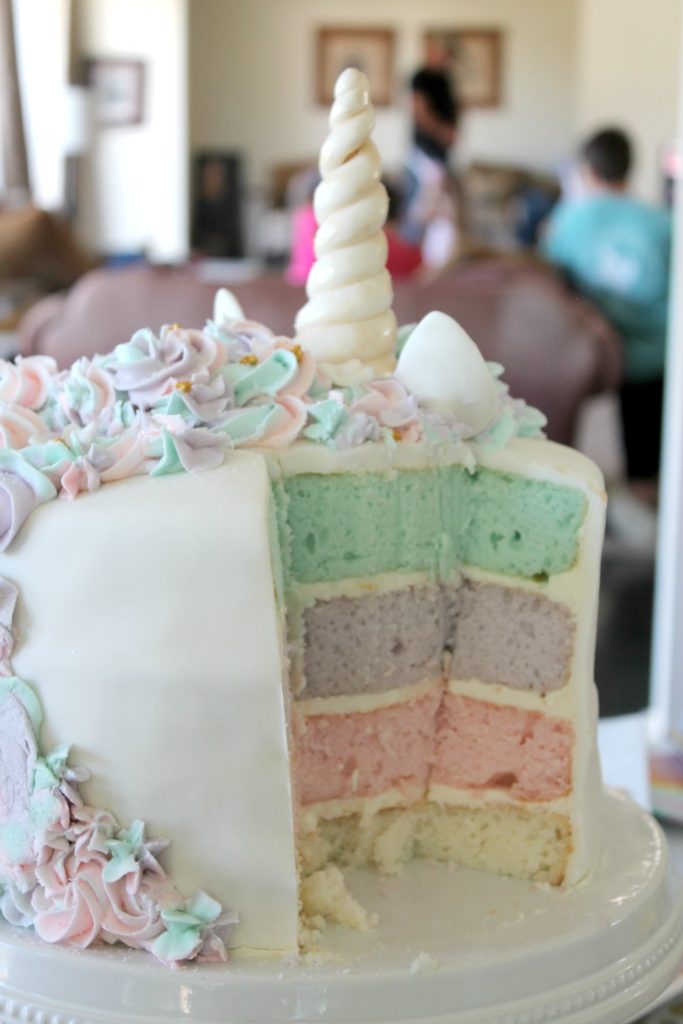 We also had some chips with french onion dip, barbecue mini hot dogs, and cotton candy made on sight by my little sister. There was plenty to munch on, and a good variety to please the picky eaters.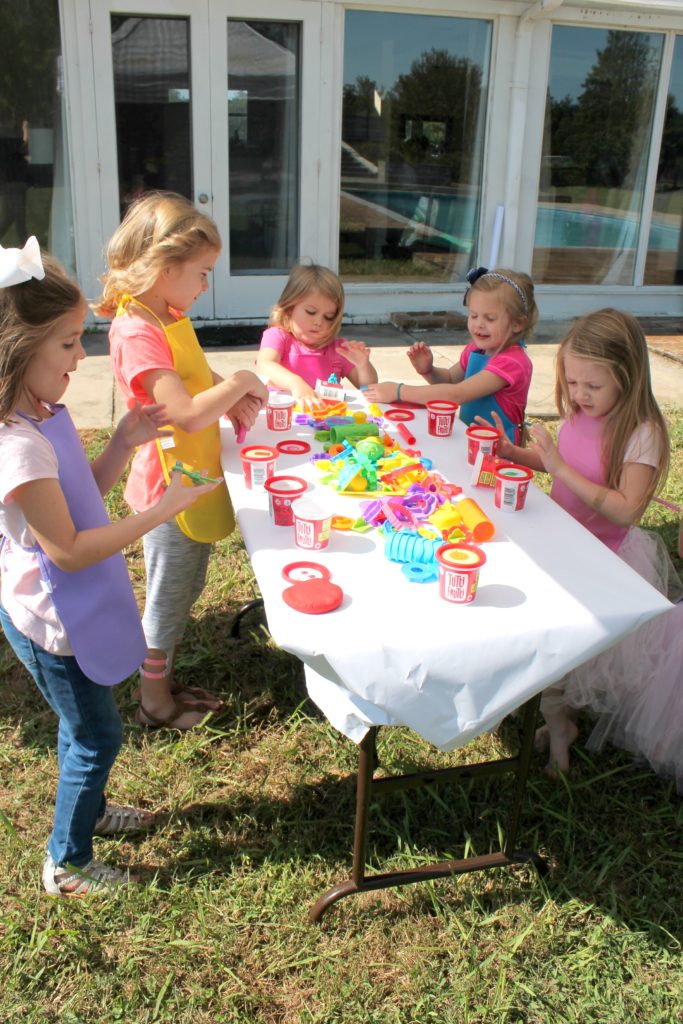 After we all had a chance to enjoy our unicorn snacks, we headed outside for some fun art projects! The first table was set with the most awesome scented playdough I found at target. Tutti Frutti. It was all kinds of fruity scents that the kids loved. I offered cookie cutters and other playdough toys for them to get creative. We had lots of pie making going on.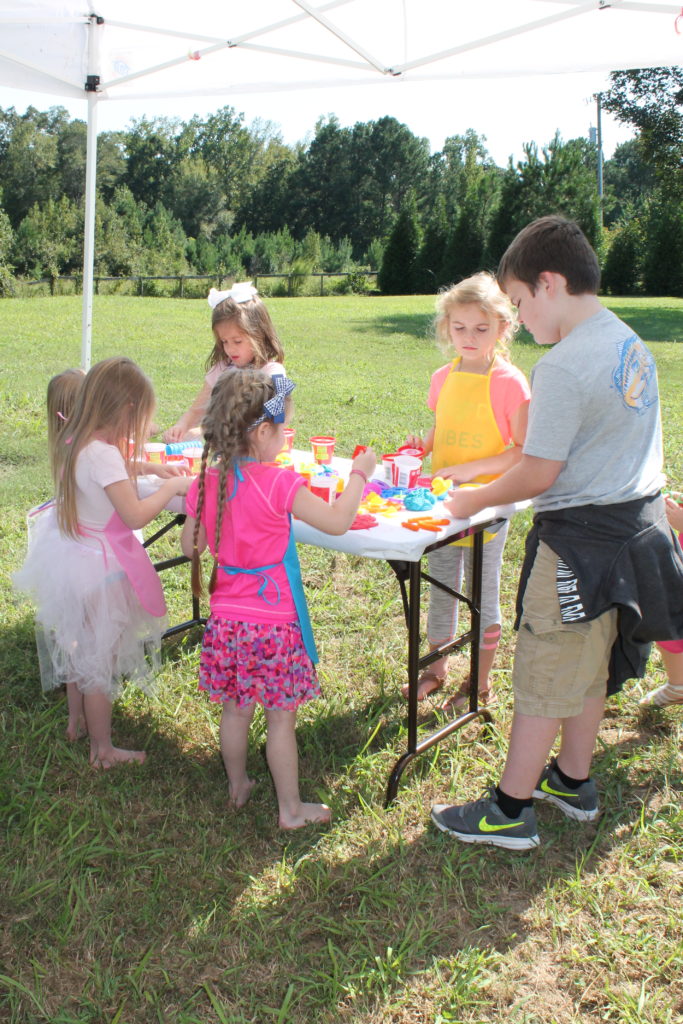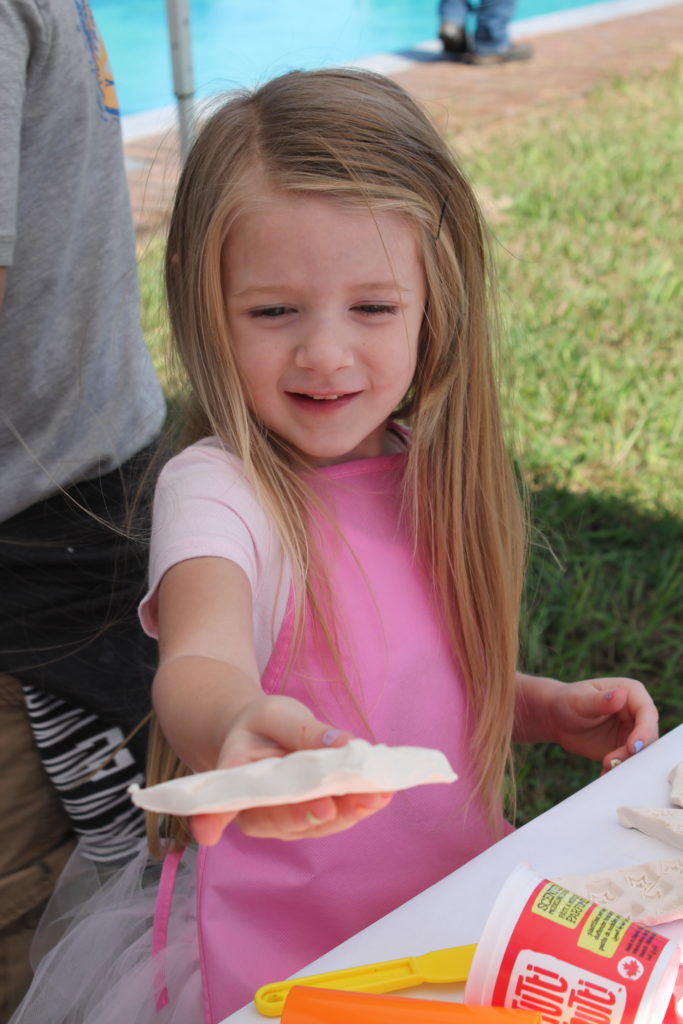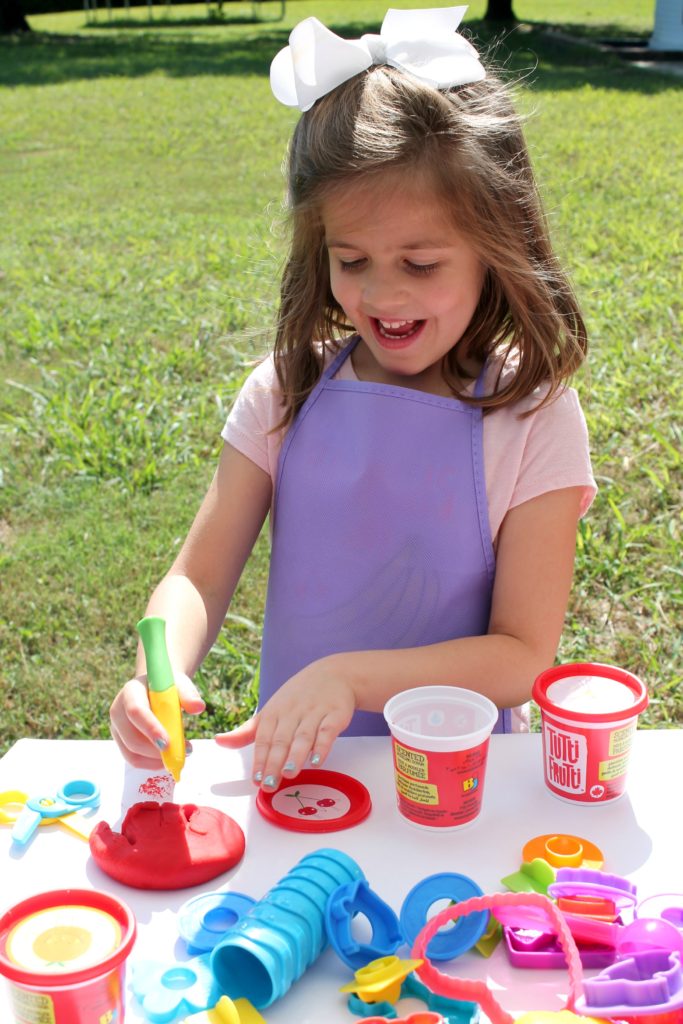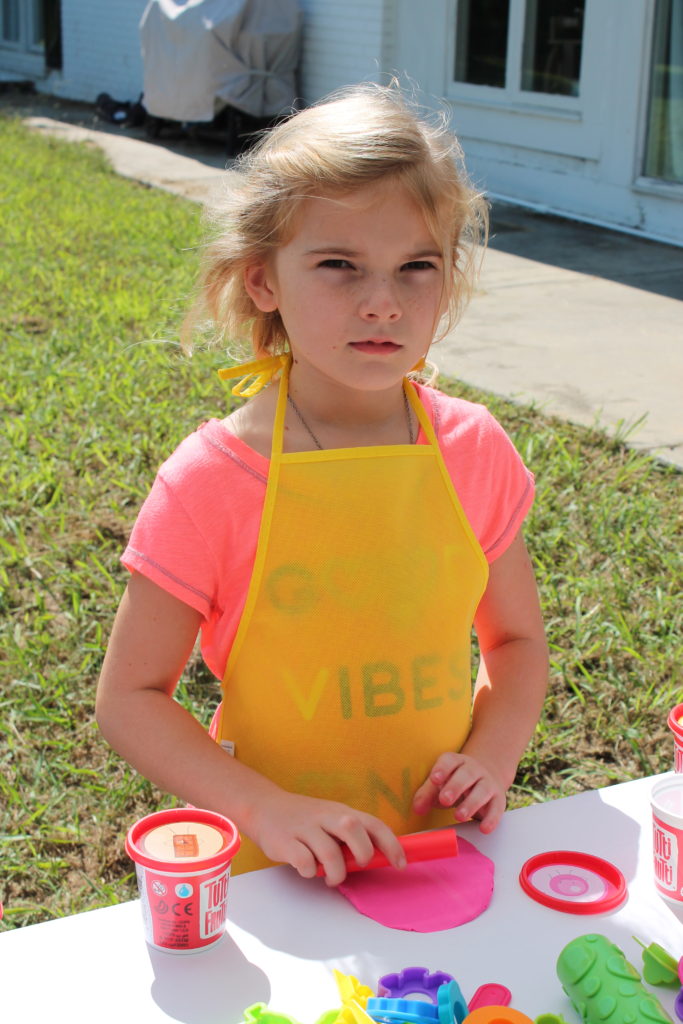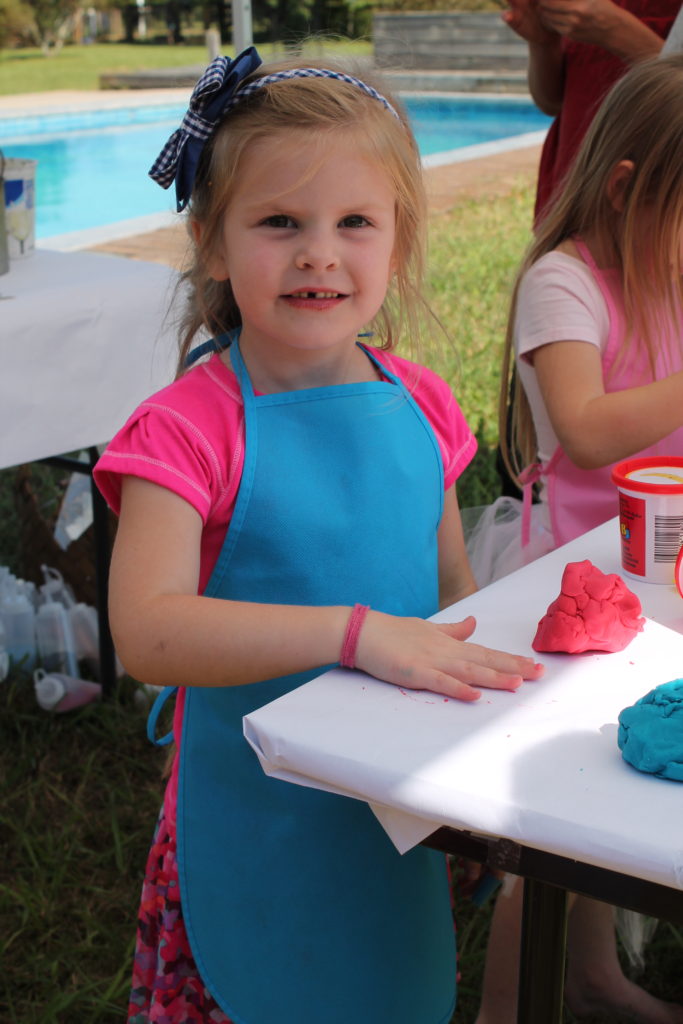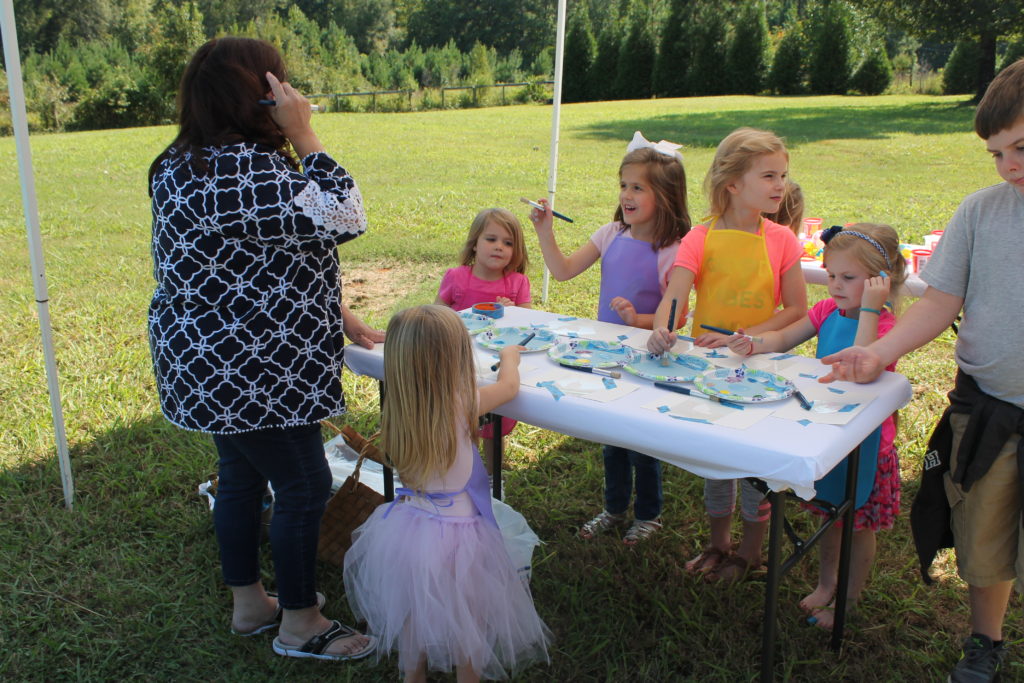 After playdough, my Mom taught a stenciling lesson. The girls all stenciled a butterfly, and the boys got to stencil a frog. Some even did both. The paintings turned out great, and everyone was so proud of their work!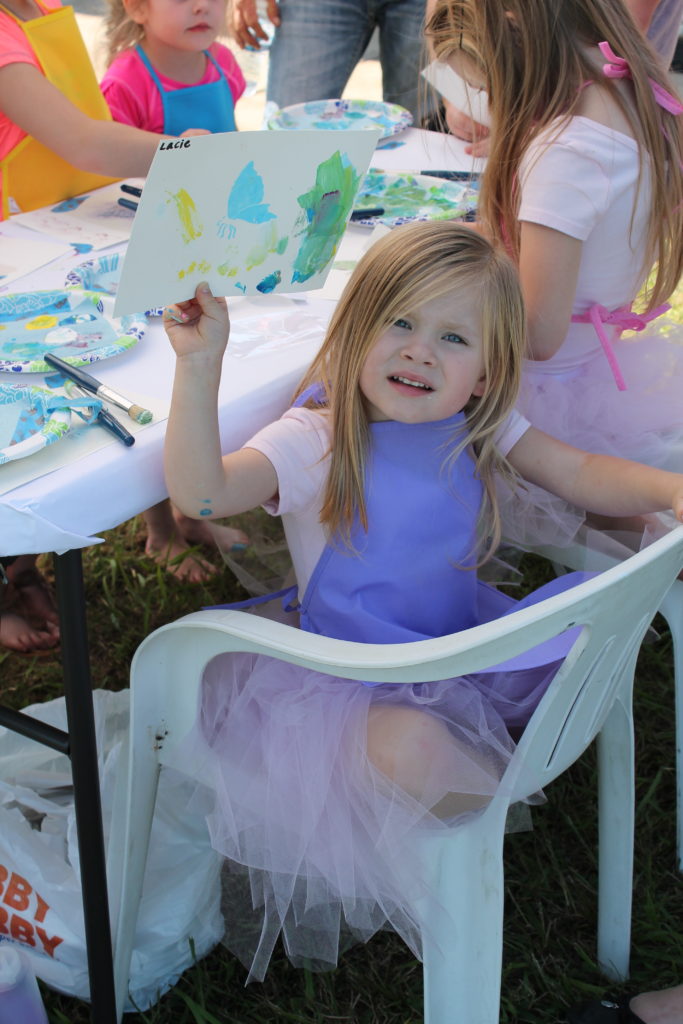 Our third and final project was sand art! I think it is safe to say this was everyone's favorite. The kids really got creative with their patterns. Lacie was especially fond of the gold. They all kept going until they filled their jars to the tippy top.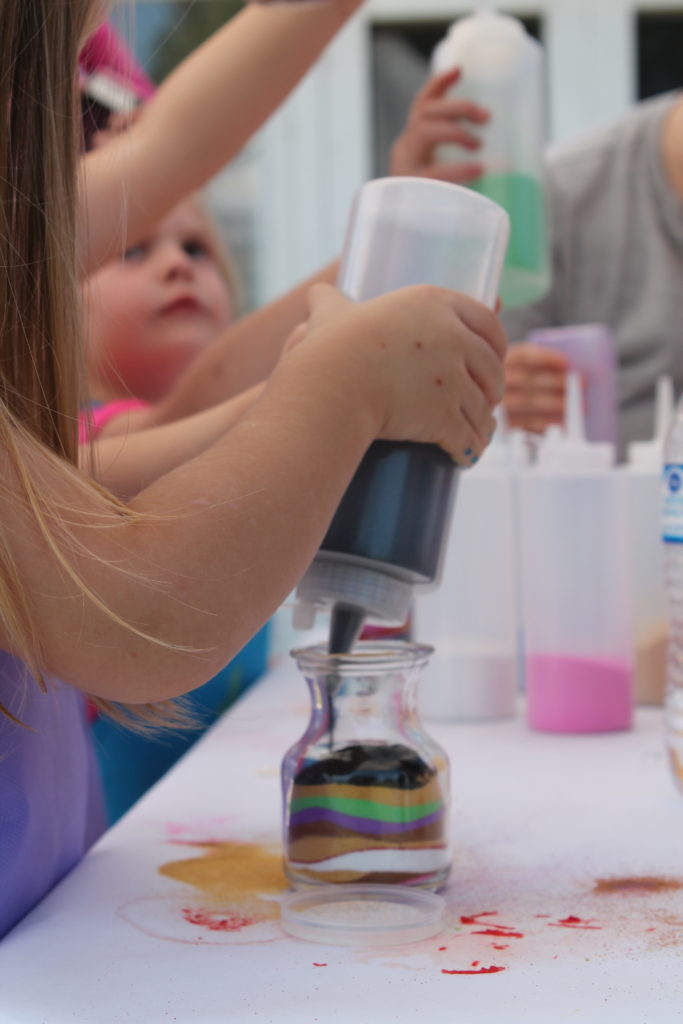 The jars were 50% off at Hobby Lobby. The sand was $10 for 12 colors. The jars came with plastic lids that snapped on securely, so we didnt have to worry about spilling. The plastic squeeze bottles were under $1 at walmart.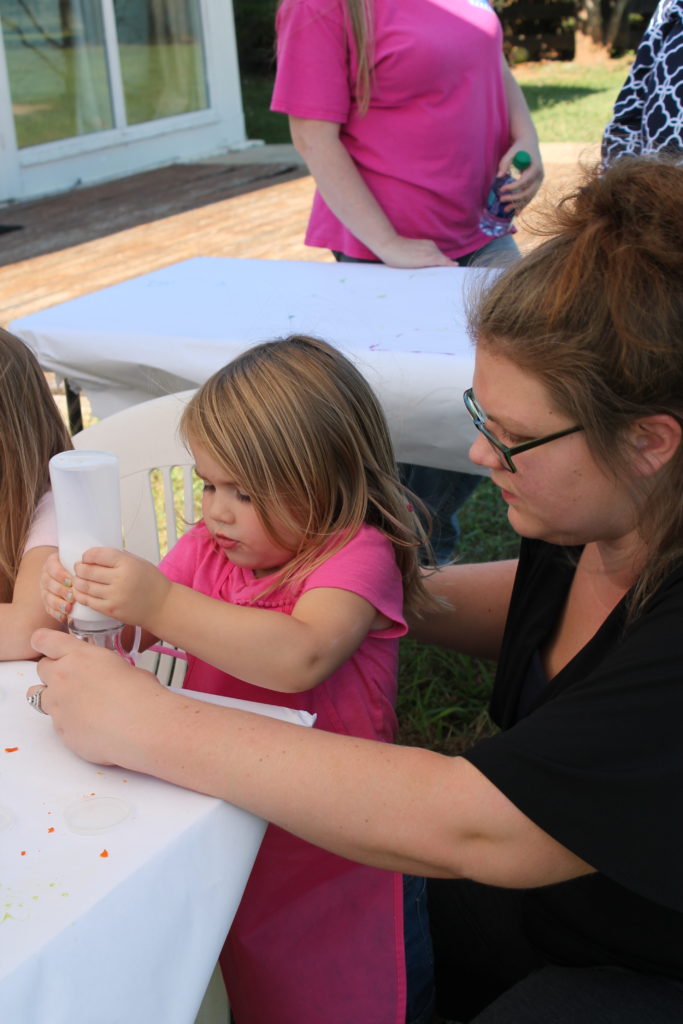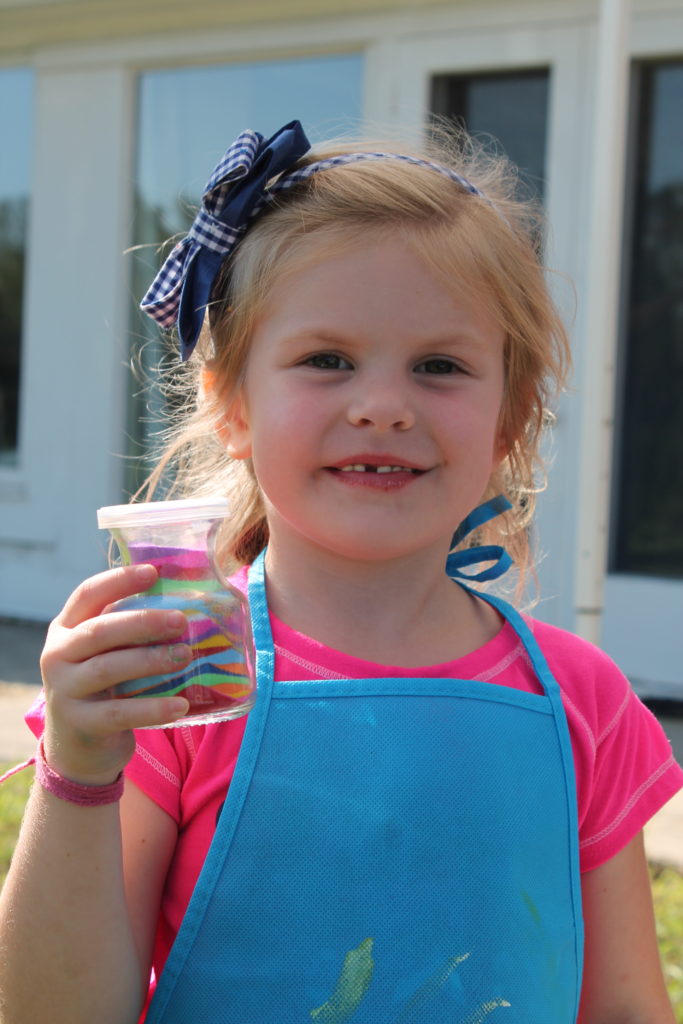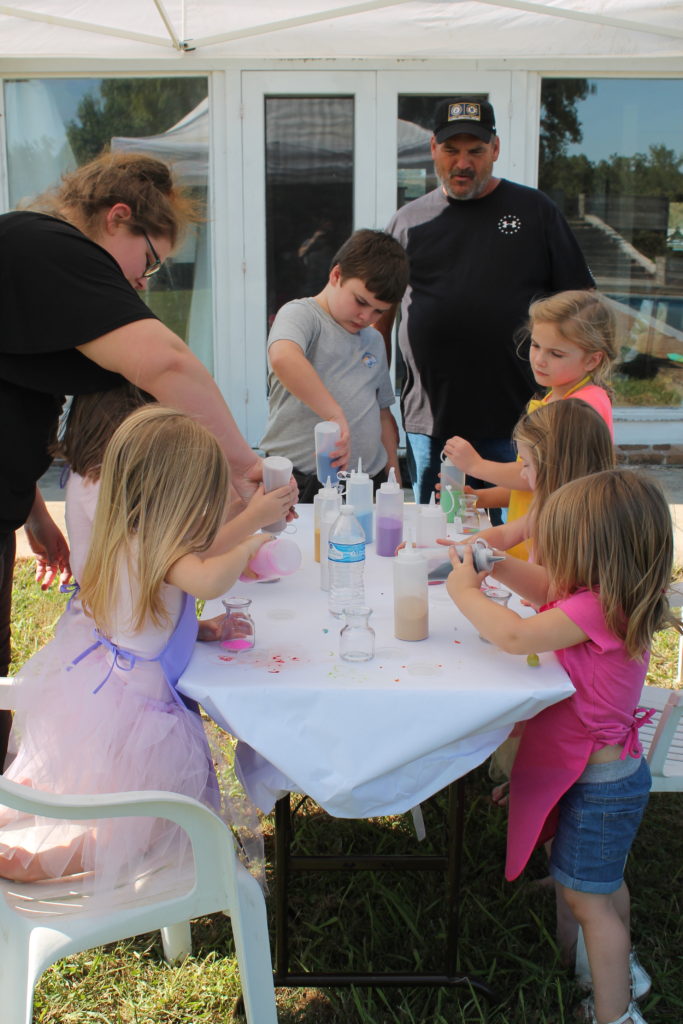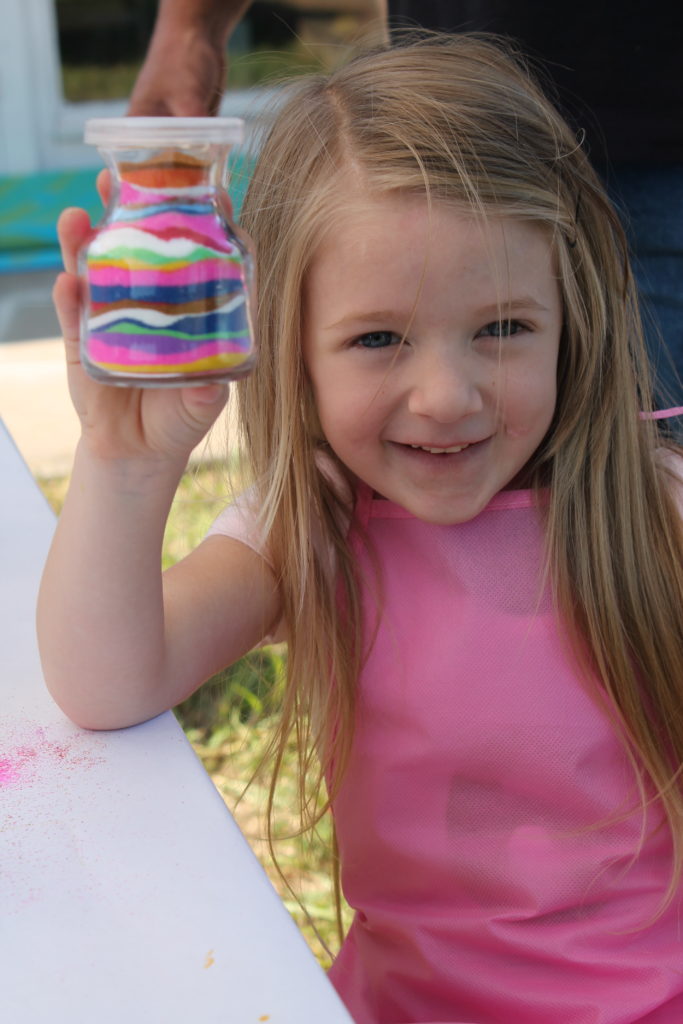 When we finished up our art projects we had a surprise visit from the alpacas. The kids were all giggles as they offered up handfuls of feed. The adults joined in on the fun as well.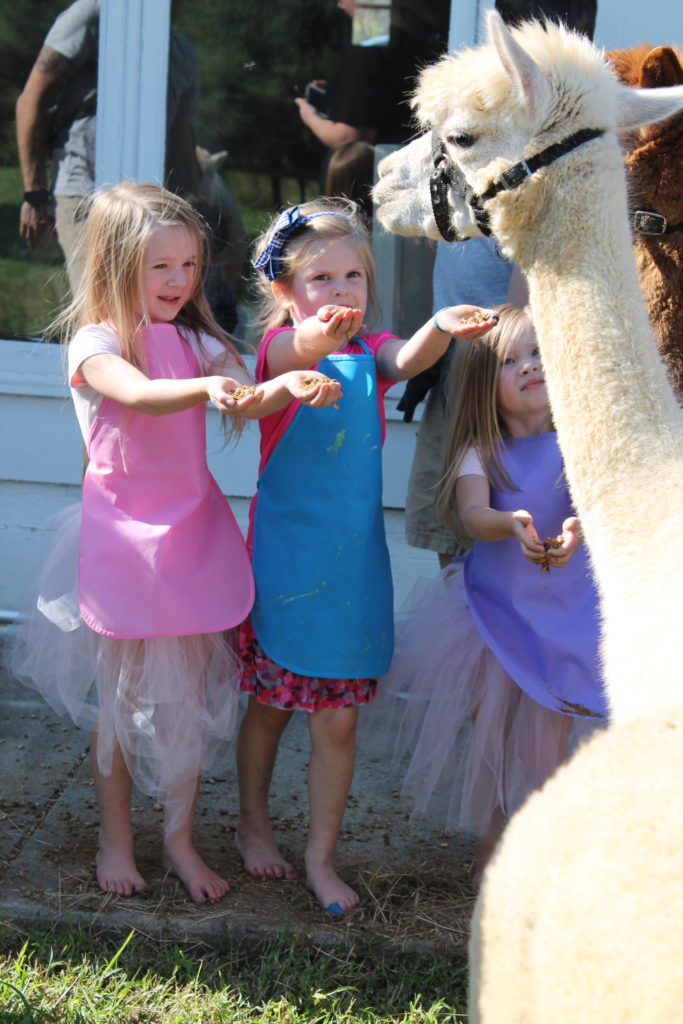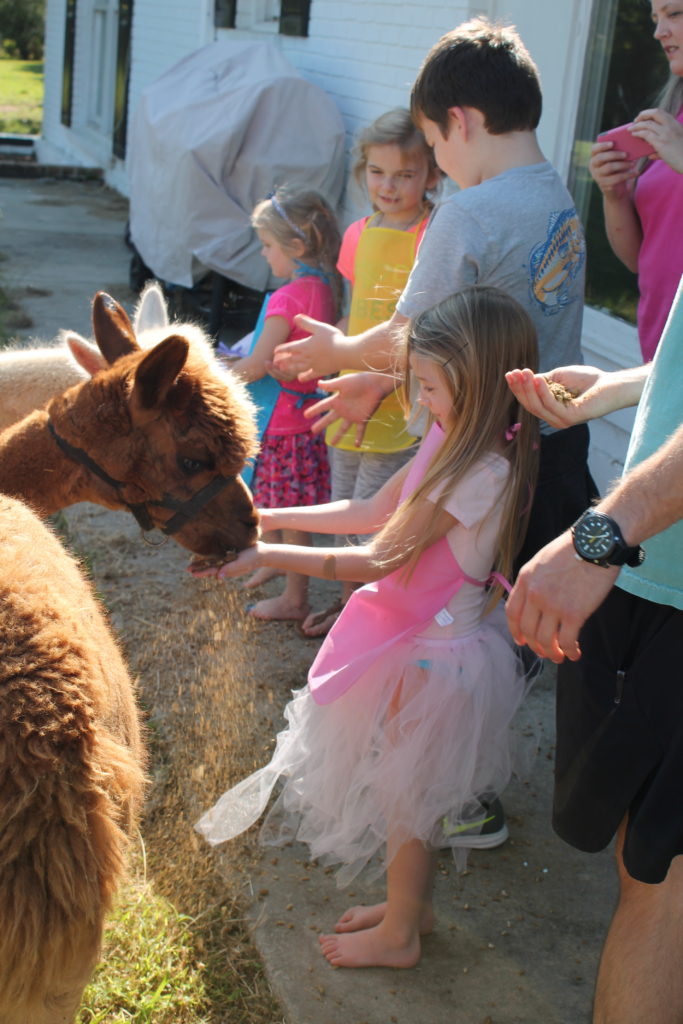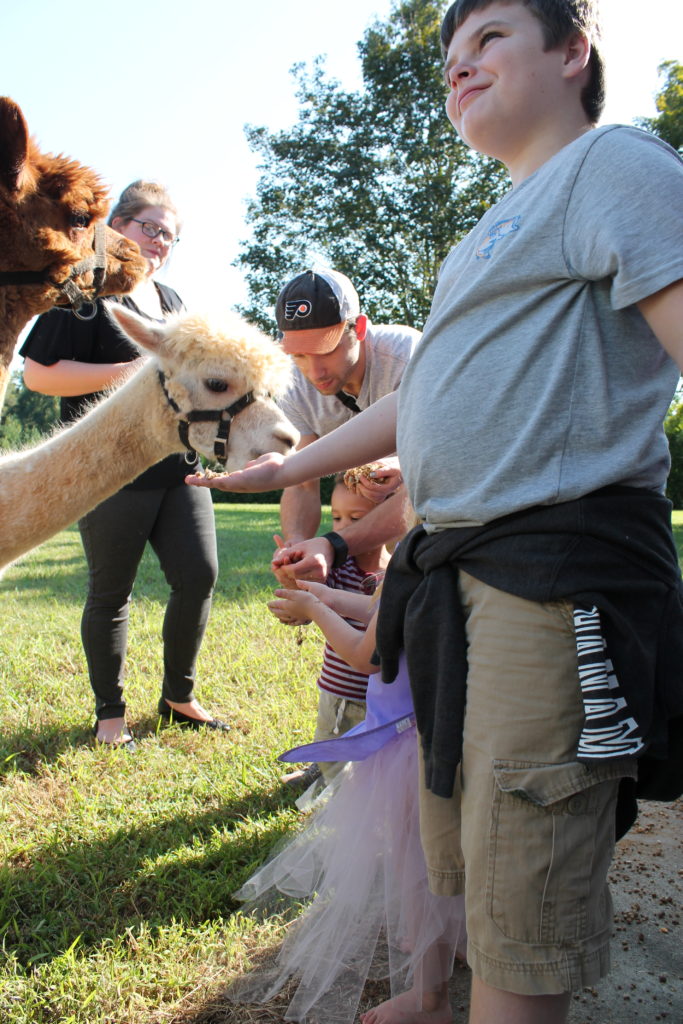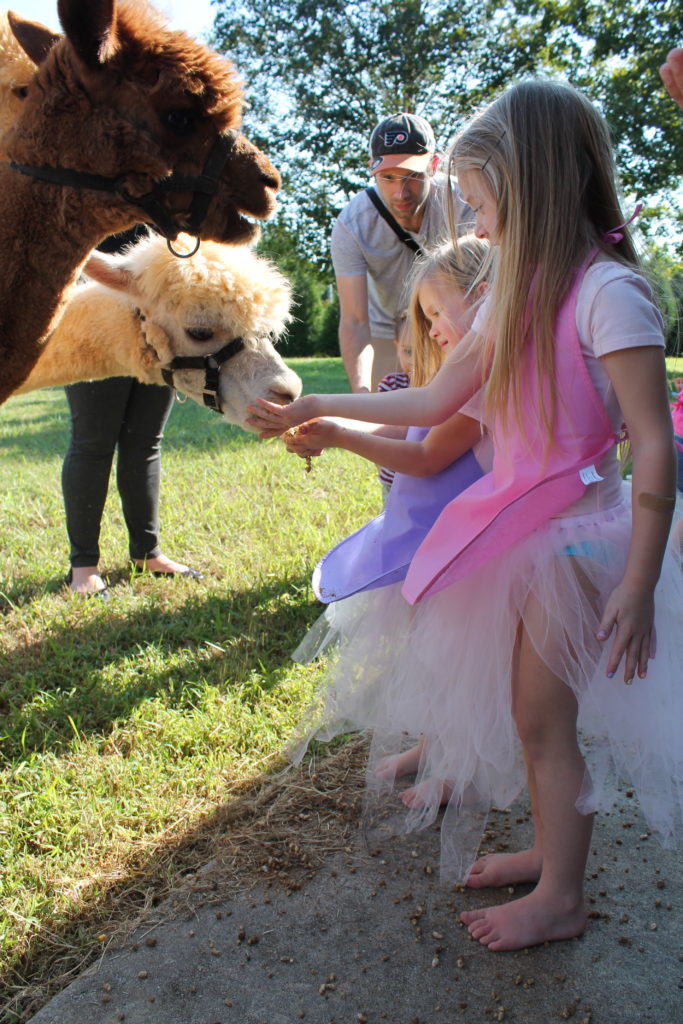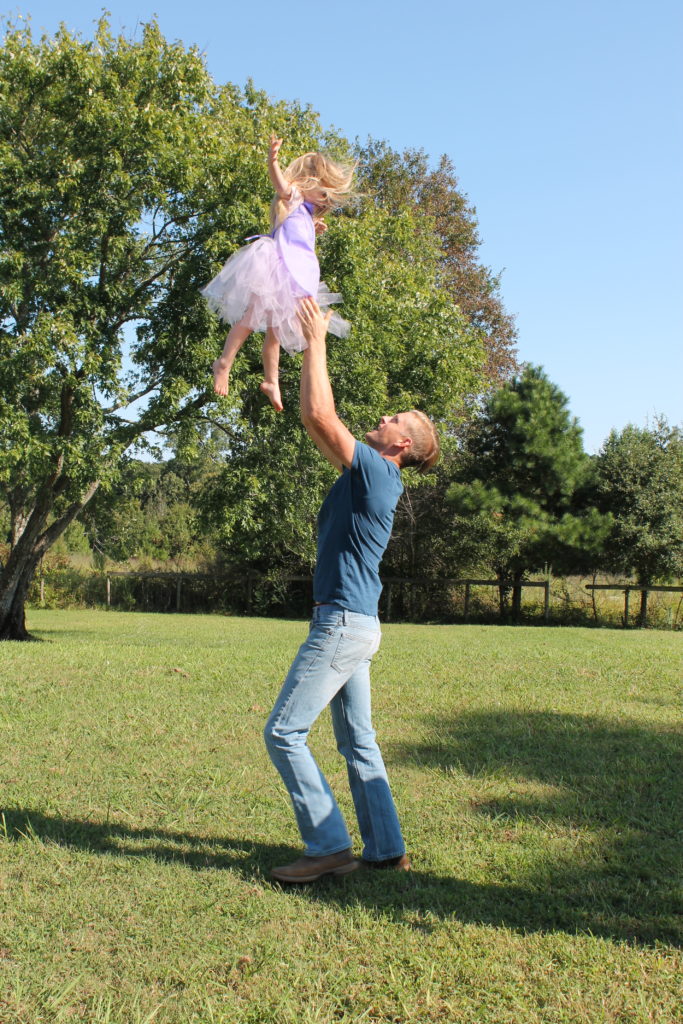 When the alpacas were all full, we headed in to wash up for birthday cake and presents! The cake of course was spectacular as always. My mother makes the most dreamy cakes. I look forward to them all year long.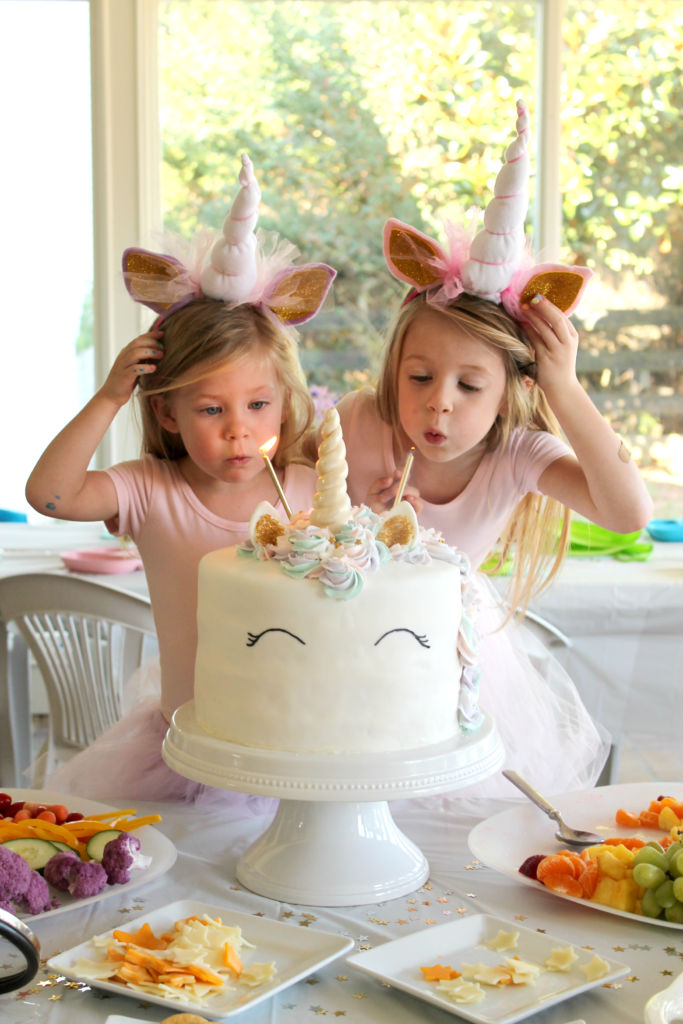 The unicorn costumes were a three part project. The leotards came from Walmart. I got some glittery gold iron on fabric and hand cut the numbers. The tutus were made with strips of tulle ties around an elastic. The headbands were the most complicated. I made a cone shape out of white felt and stuffed it with pillow stuffing. Then I tied a strip of tulle around to give it the twisty shape. I secured that at the bottom with hot glue. The ears were cut from felt, and the inner ear from gold glitter foam. Those were all hot glued onto a headband, and then finished with a little tulle tied beside the ears. The girls loved prancing around in their outfits.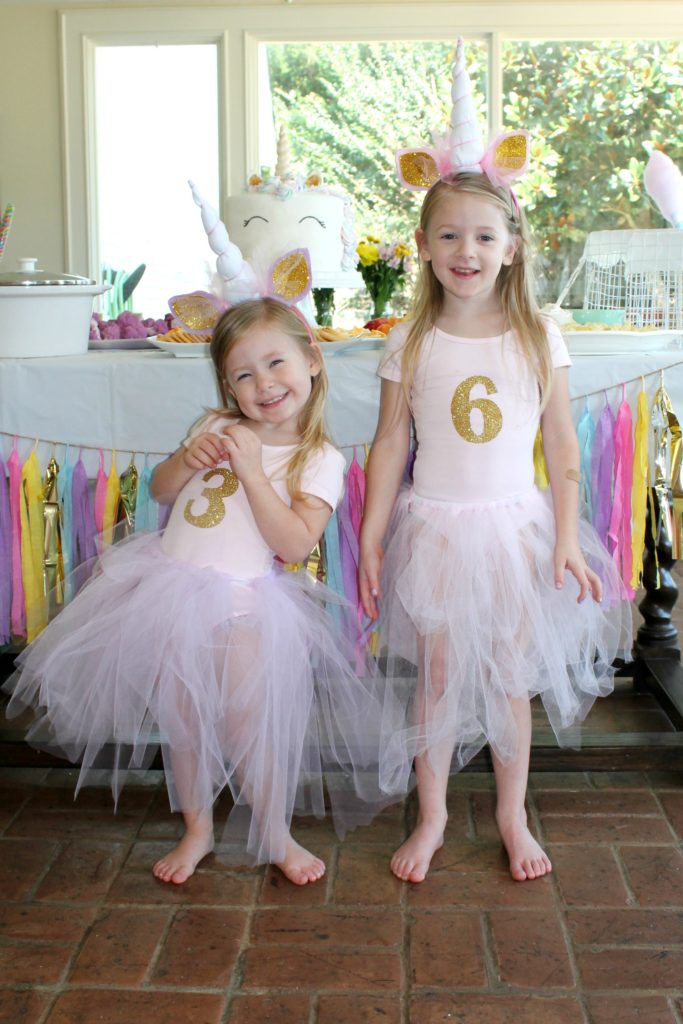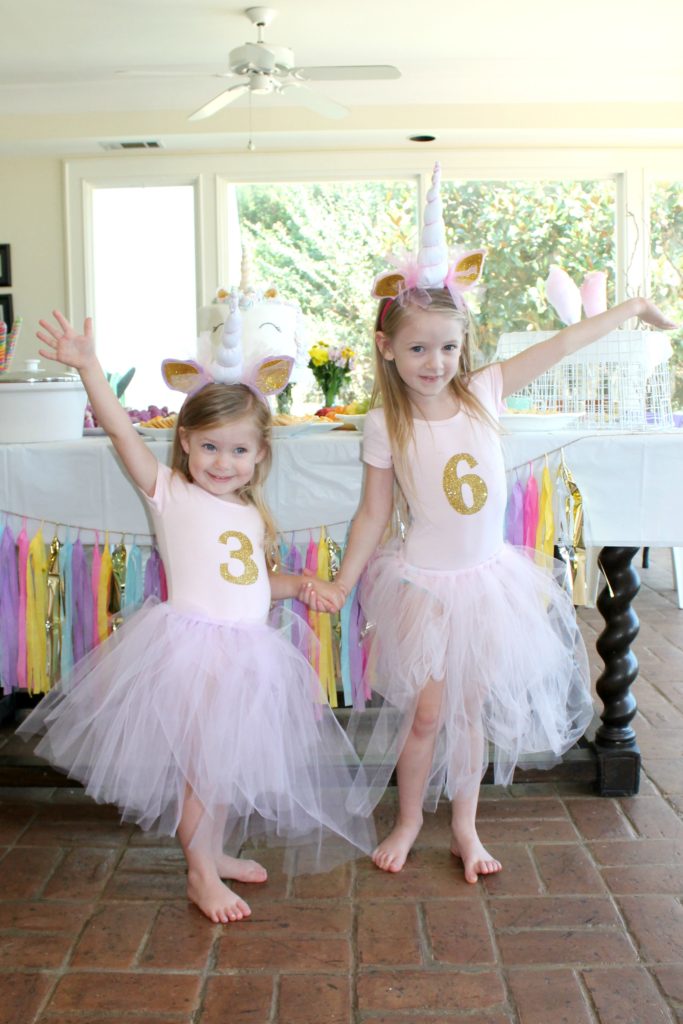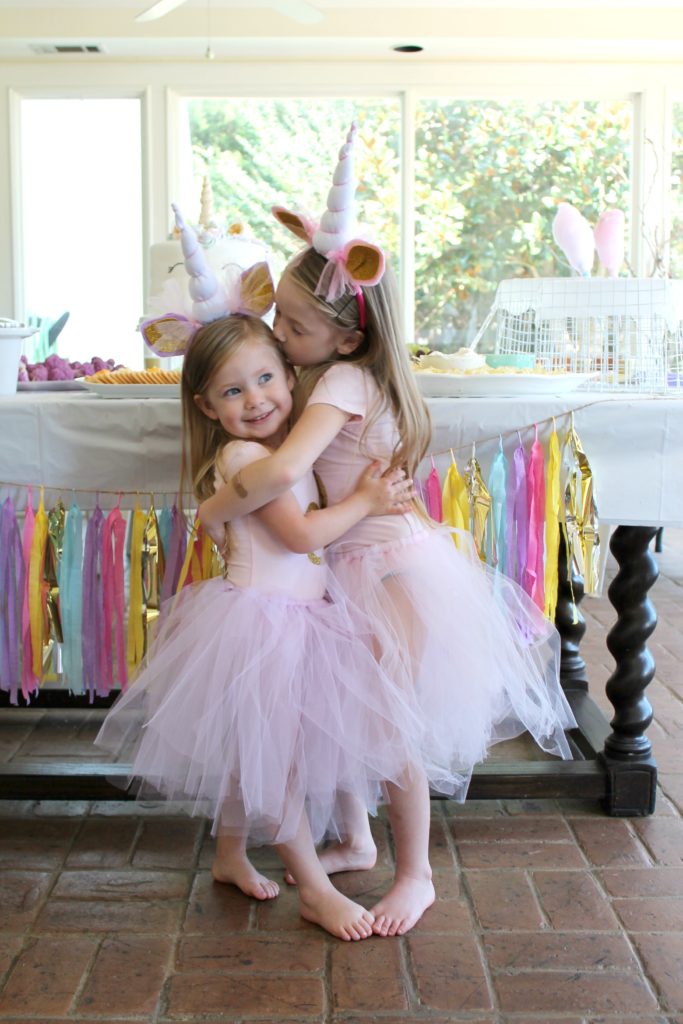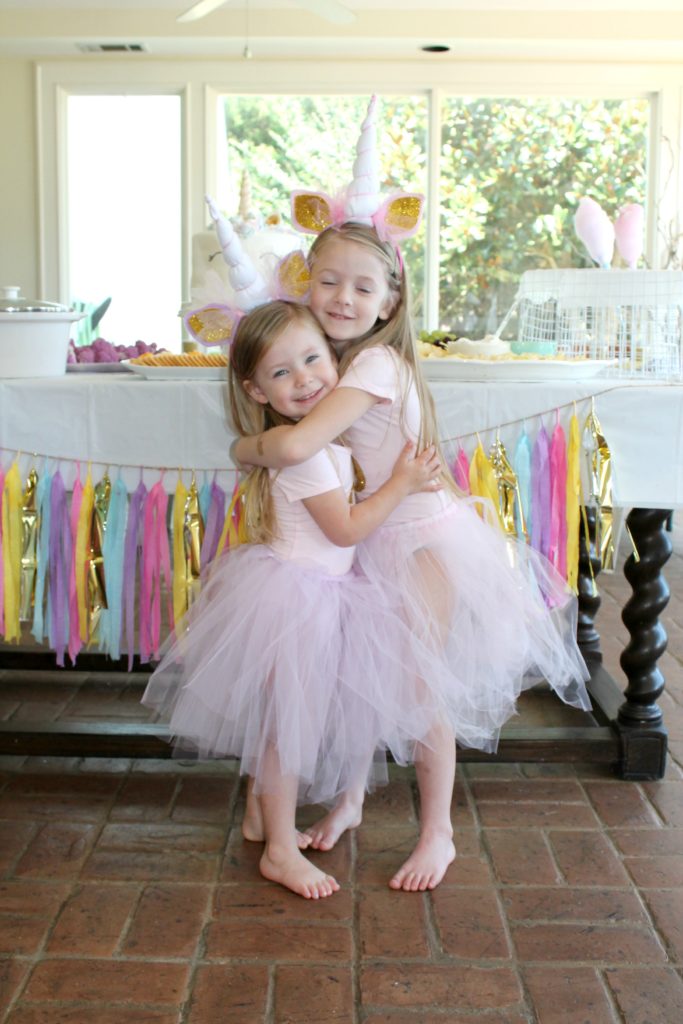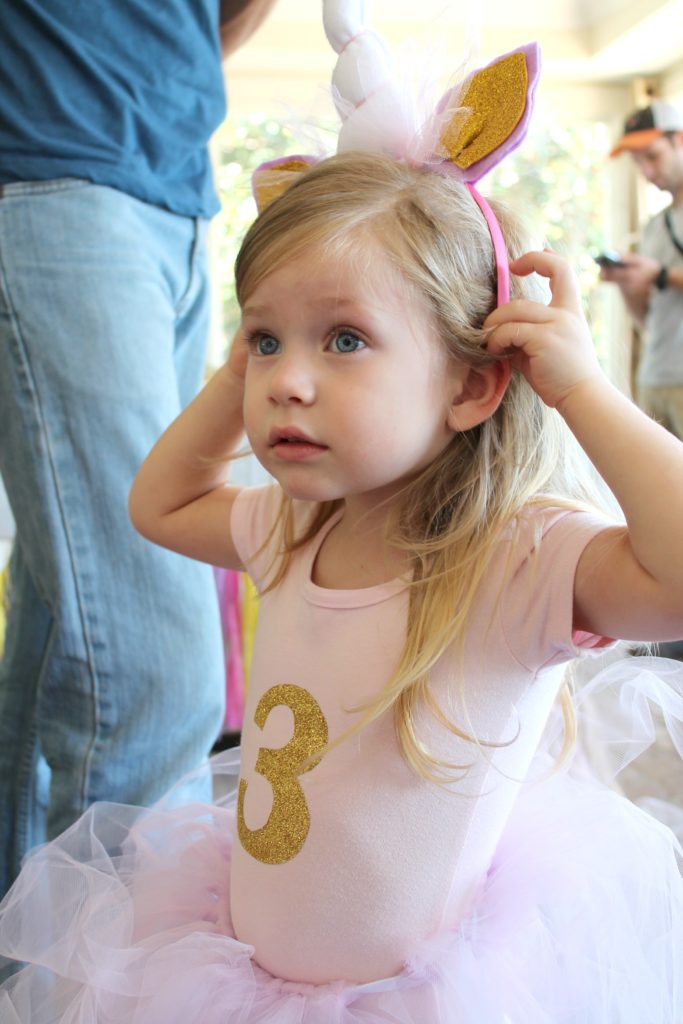 We had such a wonderful day celebrating with friends and family. It was such a joy to see all of the kids having so much fun creating and playing. Another successful birthday party in the books!