Gluten Free Cranberry Orange Cake Cookies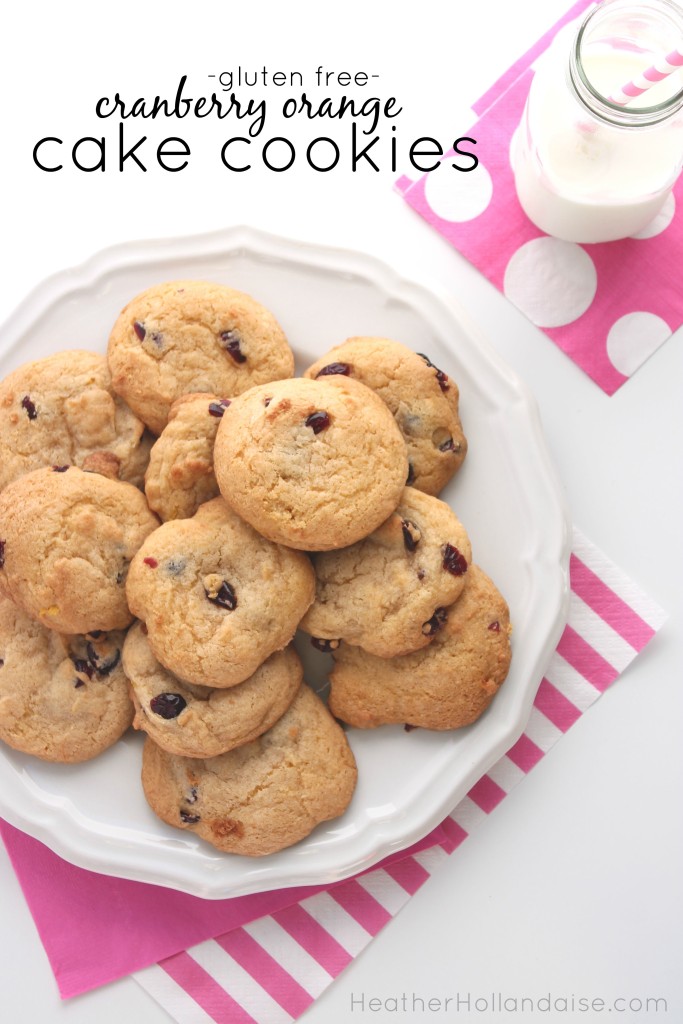 6 TB butter, melted
3 oz cream cheese, softened
¼ C organic shortening (i use Spectrum brand)
2 eggs
1 C sugar
1 3.4 oz pack instant orange pudding mix
½ tsp baking powder
¾ tsp baking soda
½ tsp salt
1¾ C gluten free baking flour (i use Bobs Red Mill gluten free 1 to 1 baking flour)
zest of one orange
½ tsp almond extract
1 C dried cranberries
Preheat oven to 350.
In a large mixing bowl, cream together butter, cream cheese, shortening, eggs, sugar, and almond extract.
Add pudding mix and stir until combined.
In a separate mixing bowl, combine baking soda, baking powder, salt, and flour.
Add to wet ingredients and mix well.
Fold in cranberries and orange zest.
Scoop heaping tablespoons onto a parchment or silpat lined baking sheet, 2 in apart.
Bake 10-12 minutes until edges are golden.
Allow to cool a few minutes before transferring to a cooling rack.
Recipe by
Heather Hollandaise
at http://heatherhollandaise.com/2015/09/gluten-free-cranberry-orange-cake-cookies.html