Gluten Free Cranberry Orange Biscotti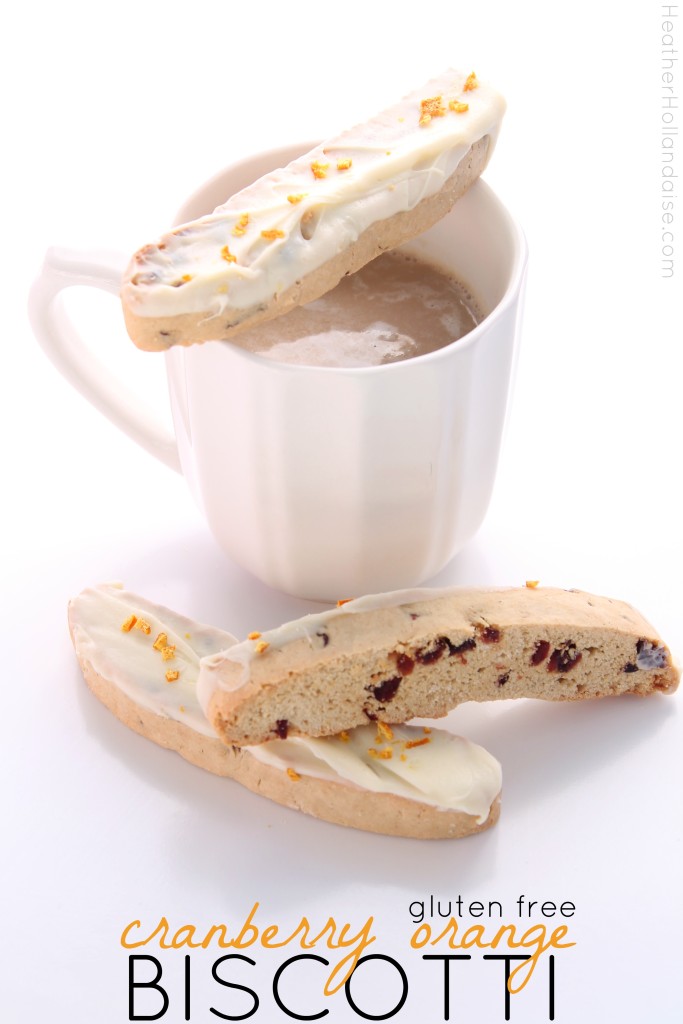 3 C gluten free baking flour
½ C sugar
½ C brown sugar, packed
¼ C butter, softened
4 tsp grated orange peel, divided
3 eggs
3 tsp baking powder
¼ tsp salt
1 C dried cranberries, chopped
8 oz white chocolate chips (optional)
preheat oven to 350.
in a large mixing bowl, beat sugar, brown sugar, and butter with electric mixer until combined.
add 2 tsp orange peel and eggs. mix well.
add flour, baking powder and salt. mix well.
fold in cranberries.
Shape dough into 3 rolls, about 7 inches long.
Place rolls on lined baking sheet, about 3 inches apart.
Flatten each roll to about ¾ in thickness. They should make a 3in x 7in rectangle.
bake 20-25 minutes until slightly golden brown and center is firm.
Transfer to cooling rack and cool 5 minutes.
Slice each rectangle into ½ in slices. Place slices cut side up on cookie sheet.
Bake 6-8 minutes each side until dry. Remove and cool completely.
Melt chocolate in a double boiler (or in the microwave at 30 second increments) and dip one length of each slice.
Sprinkle immediately with remaining orange peel.
Let stand until chocolate is set.
Store in an airtight container.
Recipe by
Heather Hollandaise
at http://heatherhollandaise.com/2015/10/gluten-free-cranberry-orange-biscotti.html