Paleo Butternut Squash Venison Casserole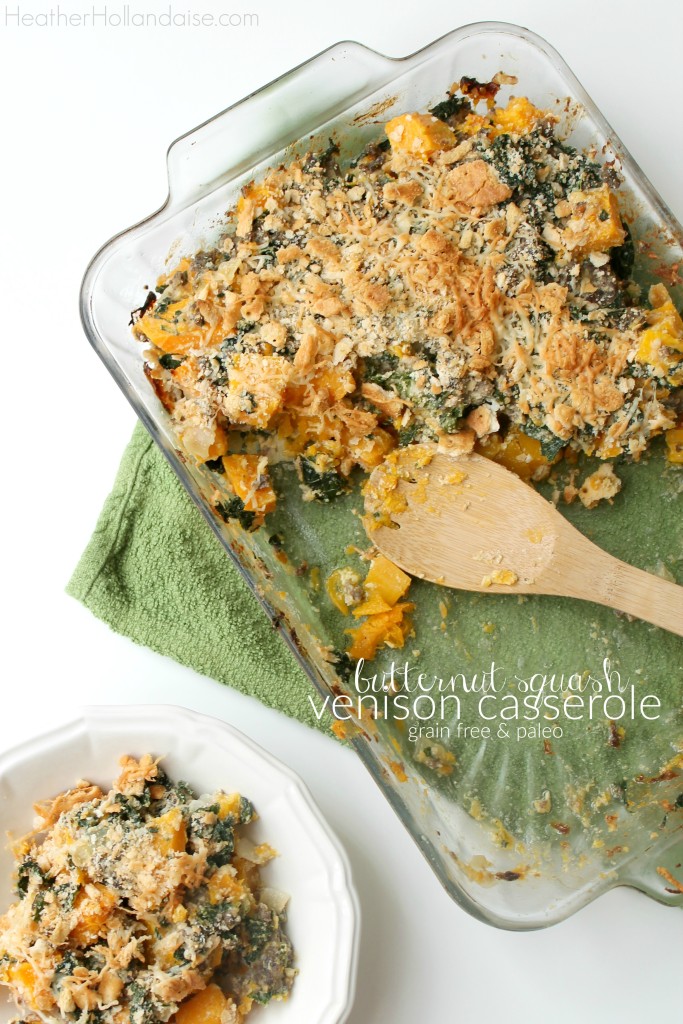 1 lb ground venison sausage
8 oz fresh kale, chopped
1 lg butternut squash, peeled and cubed
½ sweet onion, chopped
2 eggs
½ c parmesan cheese
½ c coconut milk or half & half
1 c grain free crackers, crushed*
2 TB butter
2 TB olive oil
½ tsp salt
½ tsp black pepper
¼ tsp thyme
¼ tsp rosemary
¼ tsp sage
preheat oven to 400.
arrange diced squash in a 13x9 in baking dish.
Drizzle with olive oil and season with salt and pepper.
Cook 20 minutes.
Meanwhile, melt butter in a large skillet over medium heat.
Add onions and cook 2 minutes, until fragrant.
Add sausage, kale, thyme, rosemary, and sage. Cook 4 minutes, stirring, until browned.
Remove from heat.
In a large mixing bowl, whisk eggs and milk.
Add ½ C cracker crumbs and ¼ C parmesan cheese and stir.
Add sausage mixture to mixing bowl and stir.
Pour mixture over squash and toss gently.
Top with remaining cheese and crackers.
Return to oven for 10 minutes.
* I used "Absolutely" gluten free crackers, which are paleo friendly.
Recipe by
Heather Hollandaise
at http://heatherhollandaise.com/2015/11/paleo-butternut-squash-venison-casserole.html