Paleo Venison Stroganoff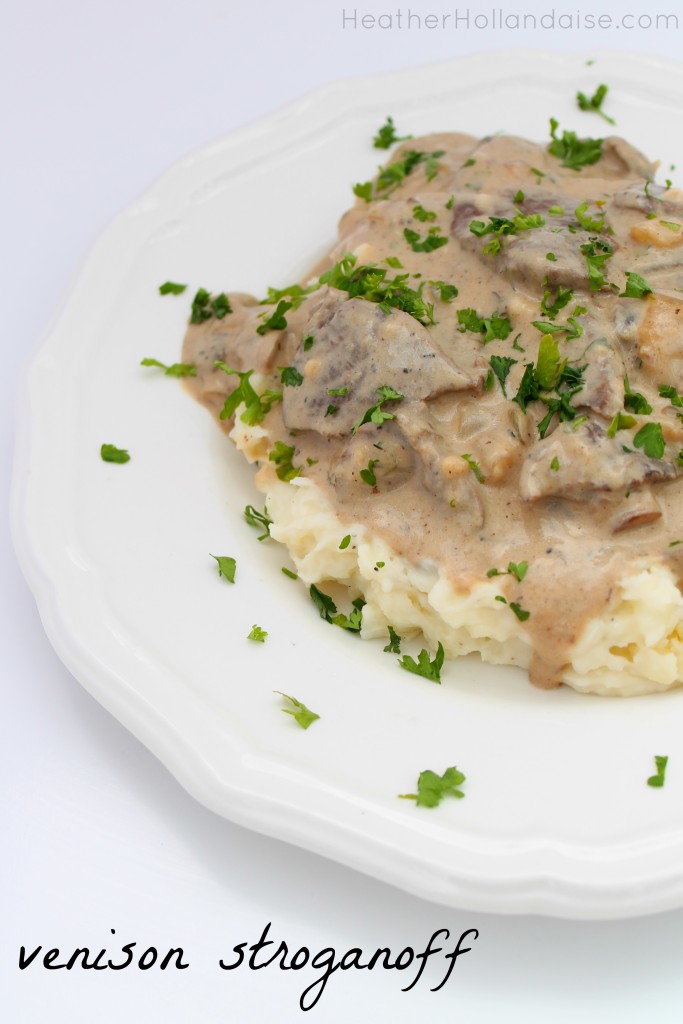 1½ lbs Venison stew meat
8 oz white mushrooms, rinsed and sliced
1 sweet onion, diced
1 C Venison stock
1½ C full fat coconut milk (or half & half)
2 TB unsalted butter
¼ C red wine
1 tsp minced garlic
1 tsp fresh thyme, minced
1 bay leaf
Parsley to garnish
salt and pepper to taste
In a large skillet, melt butter over medium heat.
Add garlic and onions.
Cook, stirring frequently, about 3 minutes until soft and translucent.
Add meat to skillet and cook 3 minutes per side. Dont stir too much, you want a nice sear on each side.
Add mushrooms to the pan and toss.
Stir in venison stock, coconut milk (or half & half), cooking wine, thyme, and bay leaf.
Reduce heat to low and cover.
Cook 15 minutes, stirring occasionally, until thickened.
Season with salt and pepper, to taste.
Serve over mashed potatoes.
Add parsley to garnish.
Recipe by at http://heatherhollandaise.com/2016/02/paleo-venison-stroganoff.html