Pan Seared Pork Chops with Cherry Fig Chutney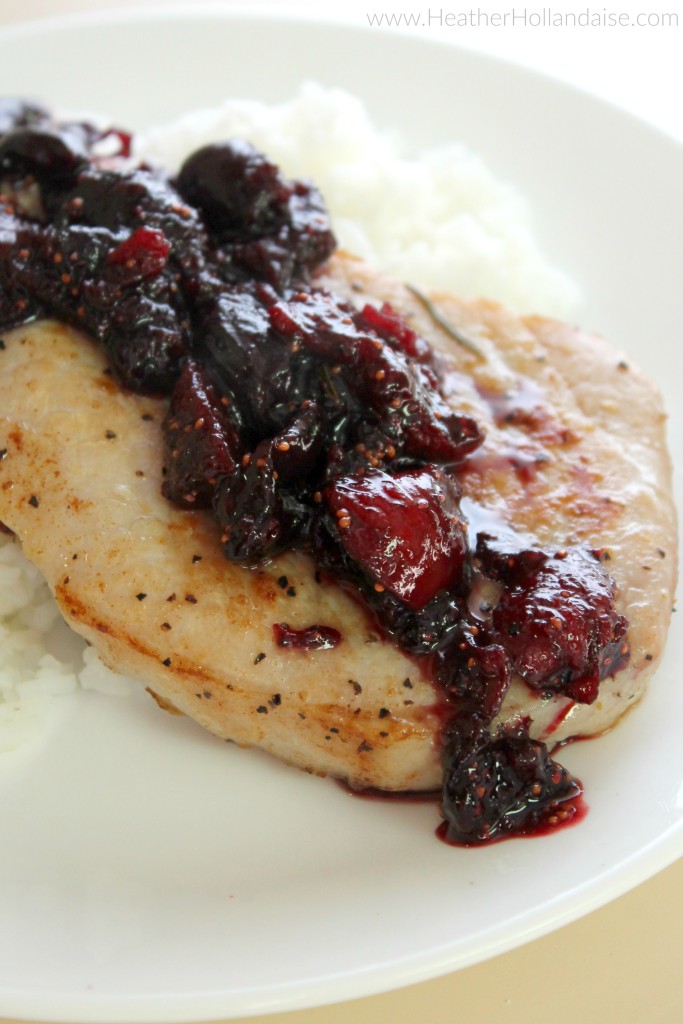 4 pastured pork chops
1 C fresh or frozen cherries, halved
½ C apple cider
½ C dried figs, roughly chopped or quartered
2 TB coconut sugar
1 tsp red wine vinegar
¼ tsp sea salt (+ more to taste)
¼ tsp black pepper (+more to taste)
1 TB snipped fresh rosemary, divided
1 TB olive oil
In a small saucepan stir together cherries, apple cider, figs, coconut sugar, and ½ TB rosemary.
Bring to a boil, then reduce to a simmer over medium low heat.
Simmer, uncovered for 6-8 minutes, stirring occasionally.
Stir in vinegar, salt, and pepper.
Meanwhile, season both sides of pork chops with pepper and very minimal salt.
Place a large skillet over medium heat and add oil.
Toss rosemary into the skillet for a minute, until fragrant.
Add pork chops to skillet and cook about 3-4 minutes each side, until juices run clear and fat renders.
To serve, spoon the warm chutney over the pork chops.
Delicious served over California white rice
Recipe by
Heather Hollandaise
at http://heatherhollandaise.com/2016/04/pan-seared-pork-chops-with-cherry-fig-chutney.html