Cinnamon Streusel Banana Bread // Paleo & Gluten Free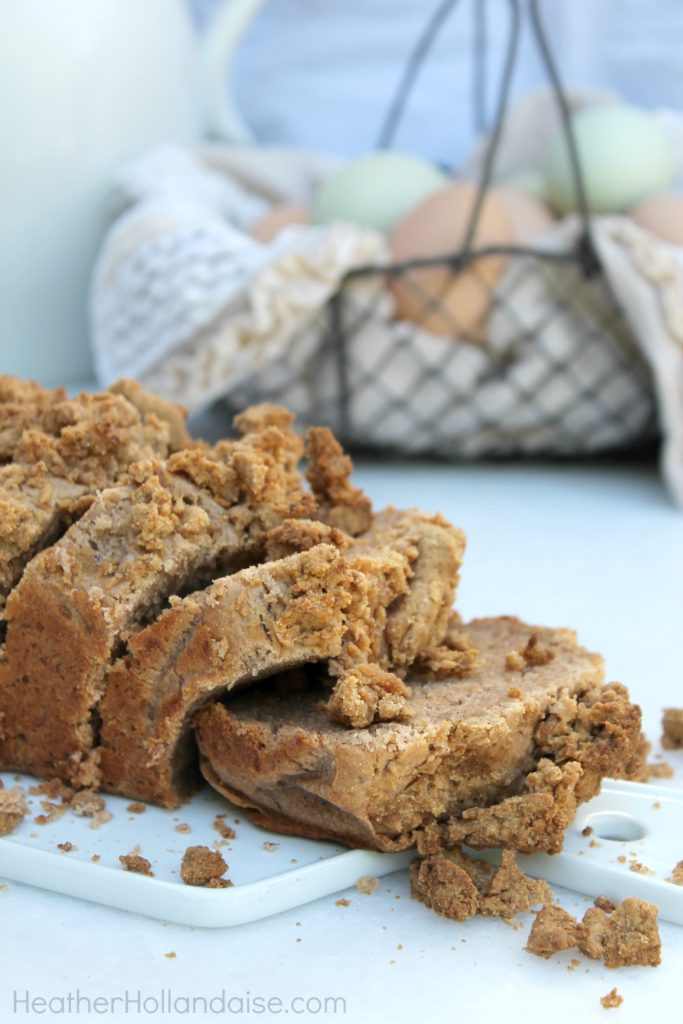 2 C Otto's Cassava Flour
¾ C coconut sugar
⅓ C coconut oil
3 over-ripe bananas, mashed
½ C coconut cream
2 eggs
2 tsp cinnamon
1 tsp baking powder
¼ tsp salt
Streusel-
½ C Otto's Cassava Flour
½ C coconut sugar
1 tsp cinnamon
¼ C ghee (chilled)
Preheat oven to 350 and line a 9x5 in loaf pan with parchment paper.
In a large mixing bowl, whisk together eggs, sugar, coconut oil, bananas, and coconut cream.
Add flour, cinnamon, baking powder, and salt. Mix until combined.
Pour mixture into prepared loaf pan.
In a separate dish, add flour, coconut sugar, and cinnamon. Mix well.
Add ghee by the tablespoon, and mix with your hands, breaking the butter into smaller crumbs.
Crumble the mixture onto the top of your batter, covering it evenly.
Bake 55-60 minutes, until a toothpick inserted in the center comes out fairly clean (no wet batter).
Allow to cool 5 minutes and remove from pan. Serve warm.
Store leftover banana bread in an airtight container. May be enjoyed room temperature, refrigerated, or warmed.
Recipe by
Heather Hollandaise
at http://heatherhollandaise.com/2017/06/cinnamon-streusel-banana-bread.html