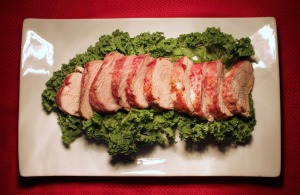 Fall is here. But rather than obsess over pumpkin and spice, I have been drawn to cranberries so far this year. They are beautiful, and I love their sweet tartness. They were a wonderful accompaniment to this pork tenderloin I picked up at Kroger for under five bucks. Made for one easy, low budget Monday night dinner.

Cranberry Glaze:
Ingredients:
1 bag cranberries, rinsed
1 C water
1 C "Just Like Sugar"
Directions:
Add water and sugar to a medium sauce pan, and bring to a boil, stirring frequently
Add cranberries, and return to a boil
Reduce heat and boil 10 minutes
Place colander over bowl, and strain cranberries, pressing with the back of a spoon.
Chill 15 minutes, or until needed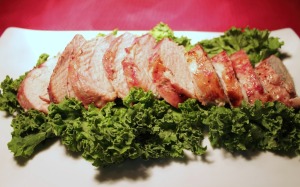 Cranberry Glazed Pork Tenderloin:
Ingredients:
1 Pork Tenderloin
1 recipe cranberry glaze
Salt and pepper
Directions:
Preheat oven to 425
Place pork in a glass baking dish or roasting pan, and season with salt and pepper. I was generous with the pepper.
Cook 15 minutes, and turn.
Brush pork with 1/2 cranberry glaze, and cook 15 minutes.
Top with remaining glaze, and cook 10-15 minutes more, until internal temperature reaches 145
Rest 5 minutes before slicing.