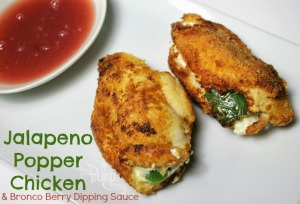 On one of my cheat days, before I realized that cheat days are intended for those of you who do NOT suffer from an auto-immune disease, I decided to make a trip to Arby's for some of their spectacular jalapeno poppers. The only kind of poppers I will put my gut at risk for are the kind filled with cream cheese. I'm not sure why these spicy little critters have such a hold on me, but I will almost always cheat for a cream cheese popper. Don't judge.

Arby's serves their Jalapeno Poppers with a Bronco Berry dipping sauce. Ironically, there are no berries anywhere in the list of ingredients. There is, however, plenty of sugar, corn syrup, and food coloring. Regardless of how terrible for my tummy those poppers were, I could not stop dreaming about them. Seriously. Drooling day and night for some of those things. So I took matters into my own hands. And I came up with a recipe even more satisfying than the treats I splurged on. Completely Paleo. Well, completely Lacto-Paleo, I should say. I even recreated the Bronco Berry dipping sauce. No artificial coloring, and made with real berries! You're welcome.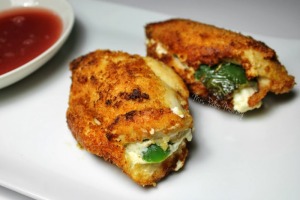 Great. Now I'm drooling for some of this chicken.
Jalapeno Popper Chicken
Ingredients:
2 chicken breasts, butterflied
1 egg, whisked
1 C crushed pork rinds
1 tsp creole seasoning
1 Jalapeno, halved, seeds removed
4 oz cream cheese
olive oil (just enough to cover the bottom of the pan)
(toothpicks)
Directions:
Fill each jalapeno half with 2 oz of cream cheese
Place jalapenos in the creases of each chicken breast, fold over and secure with 2 toothpicks
Coat chicken in egg
Mix seasoning with pork rinds, and coat chicken.
Heat oil to med-high.
Cook about 6 minutes each side, depending on thickness.
(Juices run clear and chicken is opaque/no longer pink when done.)
Bronco Berry Dipping Sauce
Ingredients:
3/4 C + 2 TB water
**1/2 C "Just Like Sugar"**
3 TB honey
2 tsp tapioca starch
1 tsp apple cider vinegar
1/3 C raspberries, crushed and strained
Dash cayenne pepper
Dash onion powder
Dash garlic
Dash paprika
(for extra kick, add 1 tsp minced jalapenos)
Directions:
In a small sauce pan, whisk together 3/4 C water and 1/2 C "Just Like Sugar"
Bring to medium heat and stir until dissolved.
Add honey, raspberries, and seasoning. continue to stir.
In a separate bowl, stir tapioca starch into 2 TB water.
Whisk tapioca mixture into sauce pan
Increase heat to med-high and bring to a boil, stirring.
Boil 1-2 minutes, until slightly thickened. (it will thicken more once cooled)
Remove from heat and set 10 minutes.
**What is Just Like Sugar?? I am so glad you asked. Just Like Sugar is my absolute favorite sugar alternative. Completely natural, it gets its sweetness from chicory root, vitamin C, and orange peel! Those are the only ingredients you will find in a bag of this white, powdery sweetener. No sugar, no carbs, no gluten. And to top it off, chicory root is healing to the gut! For this recipe, and any other recipe I share using Just Like Sugar, I use the green "tabletop" bag.**