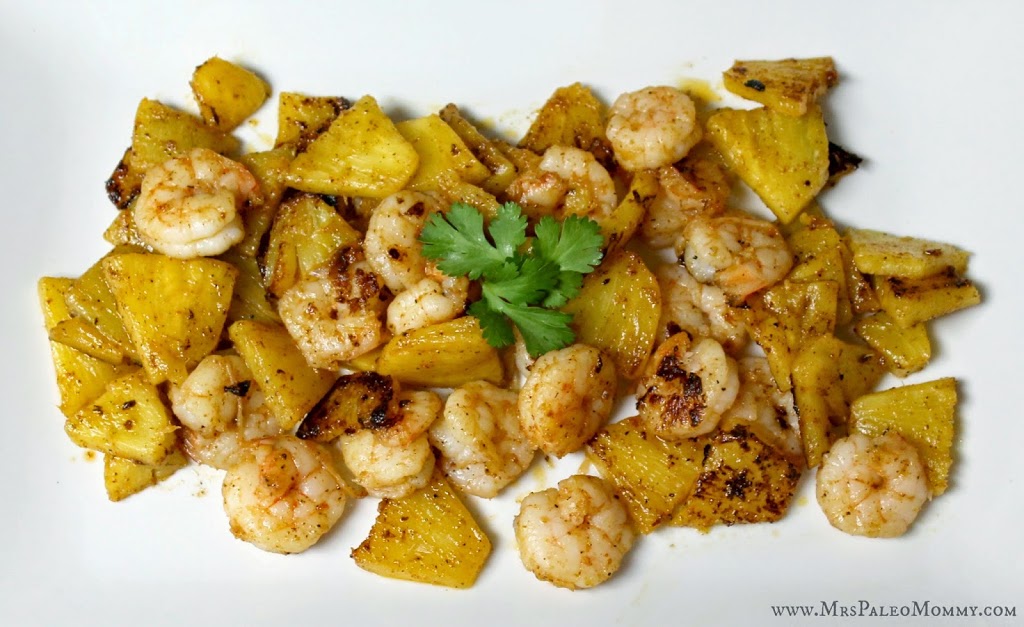 Apparently I've been in a shrimpy mood lately. I just love how easy they are to cook, and the fact that my 2 year old will down a whole plateful of them. I had originally intended on doing some grilling, since the weather is pretty perfect right now. However, I forgot to buy some skewers….and by the time my husband got home from work it was too dark outside to grill anyways. So….into the pan they went. They turned out great! I really enjoyed the nice little bit of crispiness they got on the edges from the pineapple juice caramelizing. So yum.

I didn't think to take a photo at the time, but as an amazing side to this dish, I prepared some parboiled white rice, using coconut milk in place of the cooking water, and adding the juice of one lime. It was SO delicious, and balanced the meal out perfectly, adding a nice cooling element to the spicy entre. 🙂
Blackened Pineapple Shrimp
serves 2
Ingredients:
1 lb shrimp, cooked peeled and deveined
1/2 pineapple, cut into bite-size slices
1-2 tsp Blackened Seasoning, to taste ( a little goes a long way )
2 TB coconut oil
Directions:
In a large skillet, melt oil over medium-high.
Rinse shrimp and pat dry.
Add shrimp and pineapple to a large bowl and season as desired. Toss to coat.
Transfer to skillet, and cook 3-5 minutes, tossing occasionally.