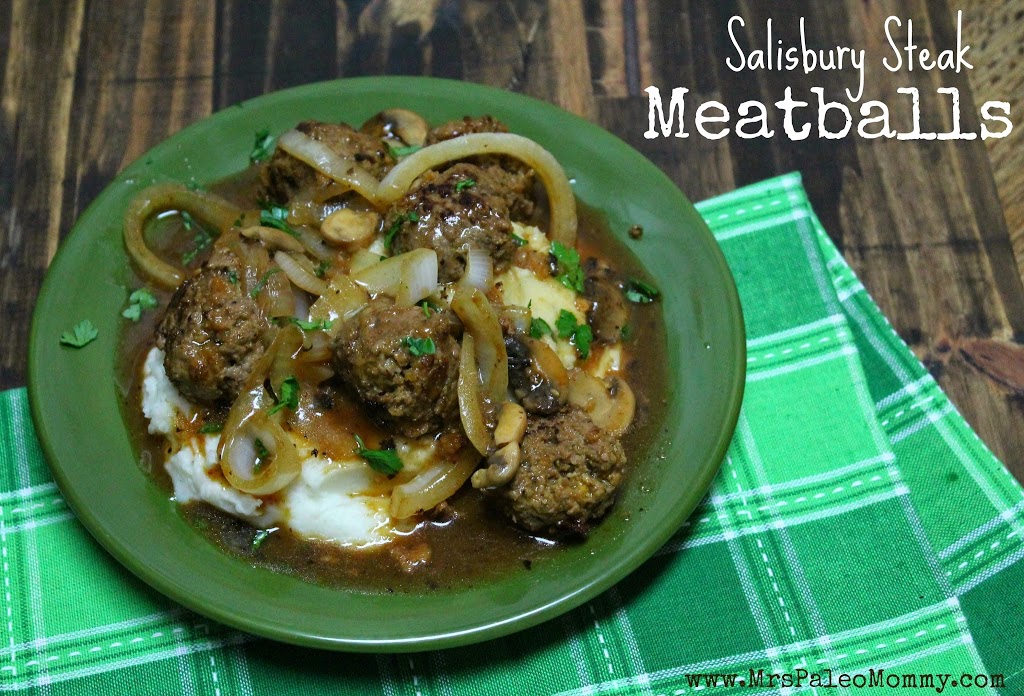 A spin on the traditional meat-and-potatoes manly meal, these meatballs were made with both my Cowboy, and my little one in mind. Everything is more fun in the shape of a ball! And just as I hoped, they both gave me rave reviews. As if their clean plates and requests for seconds didn't say enough 😉
Salisbury Steak Meatballs
serves 3-4
Ingredients
For the balls:
1 lb ground beef
1/2 C pork rinds, crushed
2 TB mustard
2 TB ketchup
1 TB beef broth
1/2 TB coconut aminos (or you can use a paleo Worcestershire sauce.)
1/4 tsp salt
1/4 tsp pepper
For the gravy:
2 TB butter
1/2 onion, thinly sliced
1 1/4 C beef broth
1/2 TB coconut aminos (or Worcestershire)
1/2 TB ketchup
1 TB tapioca flour
Directions:
Mix together first 8 ingredients and form into meatballs, about the size of a golf ball. Make sure they are all about the same size to ensure they all cook through evenly.
Add butter to a large skillet and melt over medium-high heat.
Add meatballs to the skillet and brown all over. (They don't have to cook all the way through, they will cook more later.)
Remove meatballs from pan and set aside.
Toss in the onions and sauté 2-3 minutes until softened.
Pour in 1 C broth, coconut aminos, and ketchup. Stir around, scraping up all the flavor on the bottom of the pan. Cook until bubbly.
In a small dish, stir together 1/4 C of broth with tapioca flour.
Reduce heat to medium and slowly stir in broth mixture until gravy thickens.
Add the meatballs back to the pan, cover and simmer about 10-15 minutes, until cooked through.
Serve these bad boys over a nice pile of my Creamy Mashed Potatoes, or some white rice.
Or if you don't do those, you can whip up a batch of my Parsnip Puree.
Enjoy!